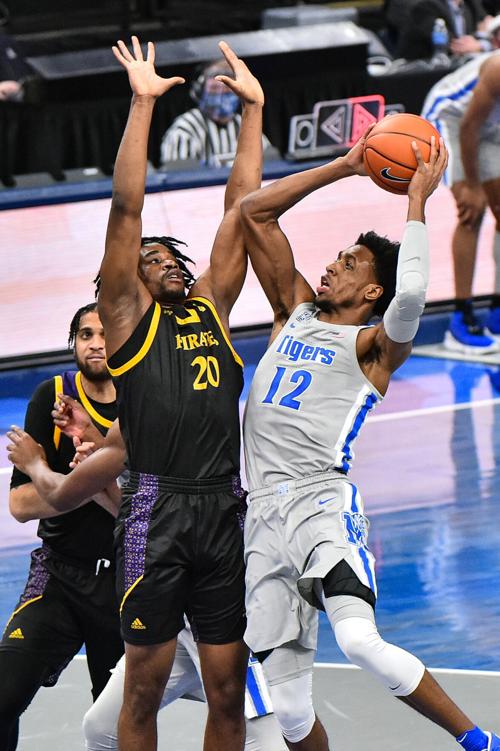 East Carolina Pirates Versus Memphis Tigers Recap
Final Score: East Carolina 59-Memphis 66
Location: FedEx Forum, Memphis, Tennessee 
Nothing has always come easy for the Memphis Tigers basketball team in the 2020-2021 season. They have had their games where they were just better than their opponents. However, those games have been few and far between this season.
Today, they were up against the East Carolina Pirates. A program fighting to stay afloat in American Athletic Conference and seeding placement for the upcoming NCAA tournament. In the earlier to mid-stages of the first half, Memphis took control of the game. Shots were going in, and all signs were pointing to Memphis winning this game easily.
However, East Carolina would start to get things going as they slowly cut into the Tigers' lead in the first half. Going into halftime, Memphis would be in front by nine 35-26. The Pirates shifted into another gear to open up the second half and got physical with the Tigers. The efficient scoring that we saw from Memphis in the first half was not there, as they went into their typical phase of struggling to score points.
Due to their style of play, the Pirates were able to take the lead on multiple occasions in the second half. Their leading scorer Jayden Gardner was difficult for the Tigers to contain as he led the team with 23 points and nine rebounds. As the second half of the game progressed, it seemed as if Memphis was on the verge of losing another hard-fought battle as East Carolina's physical play style to fold.
Things would start to bounce the Tigers way with 3:31 left in the second half. Guard Alex Lomax forced a turnover, which would result in Memphis taking the lead due to a DJ Jeffries jumper. The Tigers would gain the lead with 3:08 left in the game and never looked back. The Pirates attempted to fight back in the game's final stages, but it was not enough as Memphis prevailed in a tough battle versus an AAC opponent.
The Tigers' victory was sealed when guard Lester Quinones three-point shot increased the lead by five 65-59 with 0:26 left in the second half. Landers Nolley ll finished the game with 12 points while fellow teammates Alex Lomax and DJ Jeffries chipped in for a total of 22 points. On the schedule next for the Tigers is a matchup against the Cinncinnati Bearcats. The game will be played at FedEx Forum on Feburary 11th.
Photo courtesy of Justin Ford/USA Today Sports.