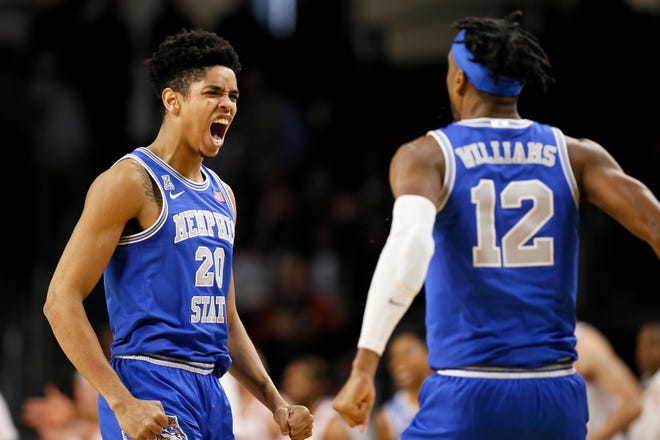 Ever since Memphis Tigers head coach Penny Hardaway went off on the local media for questioning his ability to lead the program after the January 20 loss to SMU, the program has gone on a tear in the AAC. After their latest victory over the Cincinnati Bearcats, Memphis is now on a six-game winning streak.
The contest with Cincinnati was another much-needed victory to stay alive for an NCAA tournament bid. It was the first time Memphis swept their arch-rival since the 94-95 season. Guard Tyler Harris led all Memphis scorers with 15 points while fellow teammates Landers Nolley lll and Jalen Duren chipped in with 13 points apiece.
Lester Quinones scored 12 points, and Josh Minott had 10. Cincinnati may have had the more experienced roster, but Memphis was the better overall team. The Tigers started the game with a lot of energy and gained momentum from the opening tip-off. Memphis would go into halftime with a 41-26 lead over the Bearcats.
Cincinnati attempted to erase their first-half deficit; however, Memphis would counter any second-half attempt that could have made things interesting on Tuesday night. With 26 seconds left, Cincinnati would cut the Tigers' lead down to five, but Memphis would capitalize on an area they have struggled with in the past, such as converting on free throw attempts.
Consecutive trips to the free-throw line would allow the Tigers to leave Fifth Third Arena with an 81-74 victory. Overall, the Tigers shot 53.4 percent from the field, 41.2 percent from behind the arc, and 80 percent from the free-throw line. Memphis scored 38 points in the paint, and the bench combined for 38 points. On the defensive side, the Tigers were efficient.
The team held the Bearcats to 35.9 percent from the field and 24.1 percent behind the three-point line. The season sweep of Cincinnati goes a long way regarding the Tigers' aspirations of earning an NCAA tournament bid. They already have big-time wins over programs such as Alabama and the highly ranked Houston Cougars.
Imagine if the game with Tennessee did not get canceled due to a coronavirus outbreak within the Memphis program? If the game was played and the Tigers won, it would have been another significant victory added to their resume. However, they cannot change the past and only hope for the best. The Tigers road trip concludes this Saturday with another huge matchup. They will take on the SMU Mustangs.
Show Your Support
Support the great work of the Strike 7 Sports Memphis Tigers Section by purchasing licensed NCAA fan gear. Items ranged from Memphis hats, jerseys, t-shirts, socks, and so much more. We would greatly appreciate it if you would purchase these items from the text link listed below. The revenue generated from today's offer goes into the funding of the Strike 7 Sports platform. Click on the link below if you are interested.