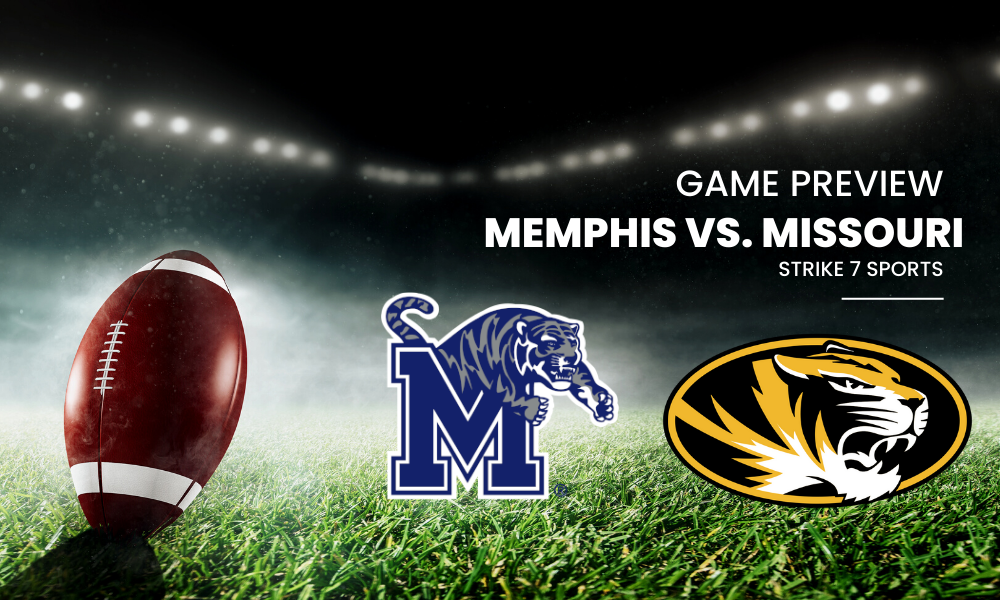 Week 4 Game Information
Memphis Tigers vs. Missouri Tigers
Venue: The Dome at America's Center – St. Louis – Missouri
Week 4 features the battle of the Tigers as Memphis heads to Missouri for what should be a challenging game. Missouri just edged an impressive victory over Kansas State and will be coming in with a lot of confidence. They begin a brutal three-game gauntlet for Memphis following clashes against Boise State and Tulane.
After remaining undefeated following last week's victory over Navy, Memphis should also feel confident coming into this game. If the Tigers want to live up to Coach Ryan Silverfield's promise of title contention, games like this will be critical.
Defense
The big storyline coming into this weekend's game is the status of Brady Cook. Cook sustained a knee injury during last week's victory over Kansas State, briefly leaving the game before returning to lead the team to success. The injury has been considered day-to-day, but at this point, it would be a surprise if he is not out there.
Cook's presence makes life harder for the Memphis defense. He has completed 72% of his passes this season, throwing for 732 yards and five touchdowns in Missouri's three games. He has also added a touchdown on the ground in these games, showing good speed and elusiveness on his 15-yard touchdown against South Dakota. This should remind the Memphis defense that they must be wary of him using his legs when approaching the end zone.
The other key attribute that Cook has is his ability to protect the ball. He has yet to throw an interception this season, and the Missouri team has only had one turnover from backup quarterback Sam Horn. Forcing turnovers has been a regular part of Memphis' defensive success, generating seven across their three games. Can they cause Brady Cook and the Missouri offense to offer a rare turnover? If they can, it could be a critical factor in the game.
A big part of Missouri's success has come from Cook's good connection with his star receiver, Luther Burden. Burden can produce an explosive play at any time, and his 114 yards and two touchdowns were the key to Missouri defeating Kansas State last week. Keeping that connection in check will be important in limiting the Missouri offense from scoring.
Memphis will have their hands full on the ground, with Cody Schrader averaging 93.3 yards per game. He sits 4th on the SEC rushing leaderboard, and his 5.49 yards per carry is solid. With Memphis fresh off conceding 299 rushing yards to Navy, they hope their defensive line can return to the run-stopping form that helped them limit their previous two opponents to a combined 116 yards.
Offense
Offensively, the Tigers have enjoyed a high-scoring start to the season. Weeks one and two saw Memphis win with 93 points to 17 combined. Seth Henigan has been solid, throwing for over 200 yards in each game and totaling five passing touchdowns. He has also thrown three interceptions but recovered nicely each time.
Blake Watson will be one of the keys to the game for the Tigers. After a dominant showing against Navy, he now faces up against a solid Missouri defense that will offer a much stiffer test. The Navy game was a blow-up performance for Watson, and his 169 yards on ten carries show what an impact player he can be. He started the season hot, running in 3 touchdowns against BCU, which puts his season total at 4, with an impressive 8.7 average yards per carry. It will be tough sledding for him this weekend, though, with the Missouri front only giving up a stingy 2.5 yards per carry. Missouri will look to take Watson out of the game and make Henigan beat them through the air.
A big part of Missouri's success on defense can be attributed to linebacker Ty'Ron Hopper, one of the best linebackers in the college game. In 2022, Hopper contributed 77 tackles, 13.5 tackles for loss, 2.5 sacks and four pass breakups. He is a machine and a big obstacle for Memphis to navigate around.
On the defensive line, Missouri's edge defenders have turned up this year, with Nyles Gaddy and Johnny Walker Jr. already notching two sacks each. Seth Henigan is an experienced quarterback, but this Missouri defense has playmakers all over the field. He will have to be smart with the ball if Memphis is to get the win in Missouri.
Game Prediction
Both teams come into the game with some form behind them, and both quarterbacks should give their offenses a chance to score points. Brady Cook's injury has the potential to sway this game massively in the favour of Memphis, but he looks set to have a good chance to play, and last week's victory over Kansas State proved what a tough player he is.
Cook's connection with Luther Burden has already brought the team great success this year, and stopping them will be a key for Memphis. When on offense, Memphis will have to deal with talented playmakers at every level, and Missouri might just match up too well for them. It promises to be a close affair, but Missouri has the edge on paper.
Predicted Score: Missouri 38, Memphis 31
Show Your Support
Support the great work of the Strike 7 Sports Memphis Tigers Section by purchasing licensed NCAA fan gear. Items ranged from Memphis hats, jerseys, t-shirts, socks, and more. We would greatly appreciate it if you would buy these items from the text link below. The revenue generated from today's offer goes into the funding of the Strike 7 Sports platform. Click on the link below if you are interested.
Sports Betting
Are you going to place a bet on the latest Memphis Tigers game or any sporting events happening throughout the week? If so, then you need to check out BetUs. BetUs is the ultimate destination for online betting, sports betting, live betting, racebooks, etc. If you are interested, click on the text link BetUs, and you will be redirected to their website. We shall receive compensation if you decide to sign up through our affiliate link below.