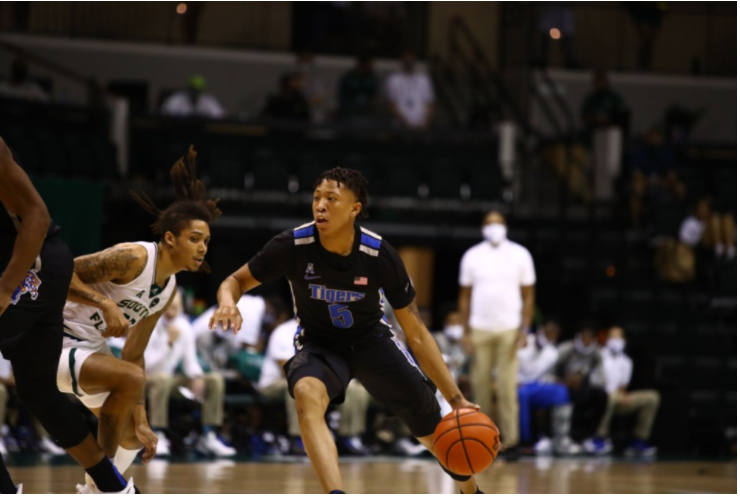 USF Bulls Versus Memphis Tigers Recap
Final Score: Memphis-73-USF-52
Location: Yuengling Center, Tampa, Florida
The Memphis Tigers extended their winning streak to six games after defeating the South Florida Bulls on the road last night. It was one of their best performances as a team for this season. Once the Tigers defense got a stronghold on what the Bulls could accomplish offensively, the game was pretty in the books for Memphis.
Guard Boogie Ellis led all Memphis scorers with 18 points in Tuesday night's victory over South Florida. Ellis's fellow teammates DeAndre Williams and Lester Quinones, chipped in by scoring a total of 25 points.
Overall, the Tigers had a 42.6% average for field goal percentage than the Bulls 32.0%. "I'm just proud of the guys for winning two tough games on the road," Hardaway said. "We just wanted to come and beat Cincinnati, beat South Florida, and then give ourselves the opportunity to go into Houston on Sunday having two wins this week already."
The Tigers' sixth-straight victory sets them up for a Sunday showdown with conference heavyweight, the Houston Cougars. Sunday's game versus Houston has a lot riding on the line for the Tigers. A victory over the Cougars would put the Tigers in an even better situation for the NCAA tournament selection committee. The game is also recognized as one of the essential matchups in Head Coach Penny Hardaway's tenure at the University of Memphis.
According to ESPN's college basketball analysis Joe Lunardi's bracketology post, the Tigers are apart of the following four teams out that will not qualify for the NCAA tournament. Even though Lunardi's bracket may be accurate to a certain extent, it is not the official setup for the NCAA tournament. Memphis can only impact what is currently on their schedule. A win over Houston would significantly boost the Tigers' resume as the 2020-2021 regular season comes to a close.
Support the great work of the Strike 7 Sports Memphis Tigers Section by purchasing licensed NCAA fan gear. Items ranged from Memphis hats, jerseys, t-shirts, socks, and so much more. We would greatly appreciate it if you would purchase these items from the text link listed below. The revenue generated from today's offer goes into the funding of the Strike 7 Sports platform. Click on the link below if you are interested.
Memphis Tigers Fan Gear Offers from Fanatics.com.
Photo courtesy of University of Memphis