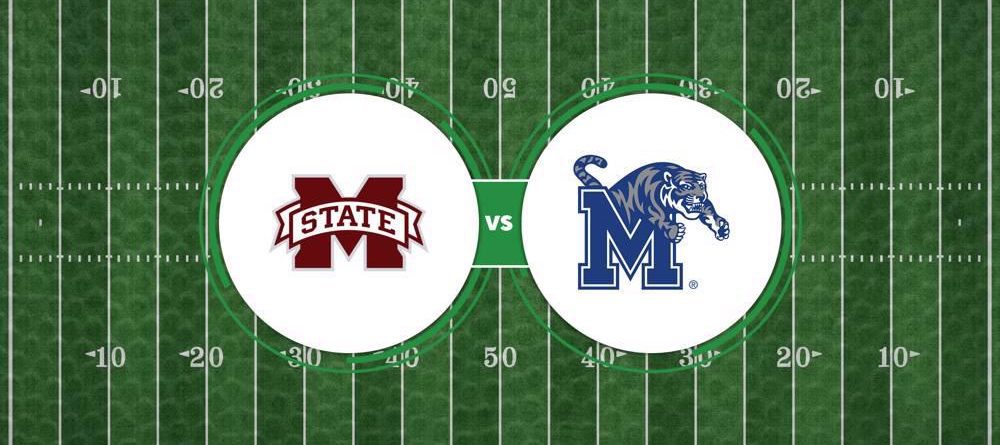 Mississippi State Bulldogs vs. Memphis Tigers Preview for Week 3
After coming off a high-scoring affair with the Arkansas State Red Wolves, the Memphis Tigers return home to a showdown with the Mississippi State Bulldogs. The game is being billed as one of the Tigers' most difficult matchups of the 2021 season. The Bulldogs are coached by one of college football's best minds regarding offensive production in Mike Leach.
Everywhere that Leach has coached, his offenses have been known to generate historical numbers every year. The unique factor with Mississippi State is that Leach will have an opportunity to bring in elite talent on defense to go with his air raid offense.
The Memphis defense should be familiar with the type of attack that Leach may utilize in Saturday's football game. They have endured shootouts with conference foes such as UCF, Cincinnati, and SMU. Leach's air raid style should be no different. Today, we shall list the Tigers' keys to victory that they must utilize against the Bulldogs this Saturday.
Tigers Keys to Victory Versus Mississippi State
1. Control the Time of Possession as Much as Possible
The best formula to slow down an opposing team that has a high-powered offense is to keep them watching from the sidelines. The way to accomplish that is by having a solid running game. During the past two matchups, Memphis has shown that their rushing attack is one of the best in the nation. Brandon Thomas has emerged as the next great running back to put on a Tigers uniform. Last Saturday against Arkansas State, Thomas rushed for 191 yards and two touchdown scores.
He currently leads the team with 338 yards on 34 carries (169.0 yards per game) while scoring three touchdowns. The Bulldogs are ranked 22nd in the nation (71.5) against the run. The Bulldogs' 22nd ranked rush defense is not a high-ranking unit, but it's not terrible either. Memphis's vaunted rushing attack will be their biggest challenge of the season so far.
2. Exploit Potential Miss Matches Within the Bulldogs Pass Defense
Memphis has the personnel on offense that should be able to exploit weaknesses in the Mississippi State defense. The Bulldogs are ranked 75th in total offense allowed (357.0) and 114th against the pass (285.5). They have given up this type of offensive production by facing Louisiana Tech and North Carolina State teams.
Memphis has a tight end in Sean Dykes that could be deemed a difficult matchup for the Bulldogs' defense. If they decide to assign a linebacker to cover him, but if he struggles, it will play into the hands of the Memphis offense. Also, the role of Calvin Austin lll will be huge in this football game. However, other playmakers outside of Austin will need to make an impact against the Bulldogs.
3. Do Not Allow Mike Leach to Have a Short Field to Work With
One of the common mistakes that occur with young quarterbacks is their lack of situational awareness. They tend to turn the football over and give their opponent a shorter field to utilize. Memphis QB Seth Henigan must realize the type of play-caller he is dealing with in Leach. If he turns the football over repeatedly, it will enable Leach to capitalize on those mistakes and possibly win the game.
Final Outcome
Memphis has always shown up to play on the biggest stages in college football. Saturday afternoon against the Mississippi State Bulldogs will be no different. However, after last week's performance against the Red Wolves, in which they gave up over 500 yards of total offense, the Tigers could be facing another tough challenge versus the Bulldogs. The game will be close throughout, but Memphis's inability to stop explosive offenses will lead to their downfall this Saturday.
Mississippi State 52, Memphis 45
Support the great work of the Strike 7 Sports Memphis Tigers Section by purchasing licensed NCAA fan gear from Amazon. Items ranged from Memphis hats, jerseys, t-shirts, socks, and so much more. We would greatly appreciate it if you would purchase these items from the text link listed below. The revenue generated from today's offer goes into the funding of the Strike 7 Sports platform. Click on the link below if you are interested.
Memphis Tigers Fan Apparel Deals At Amazon
Image courtesy of Lines.com.