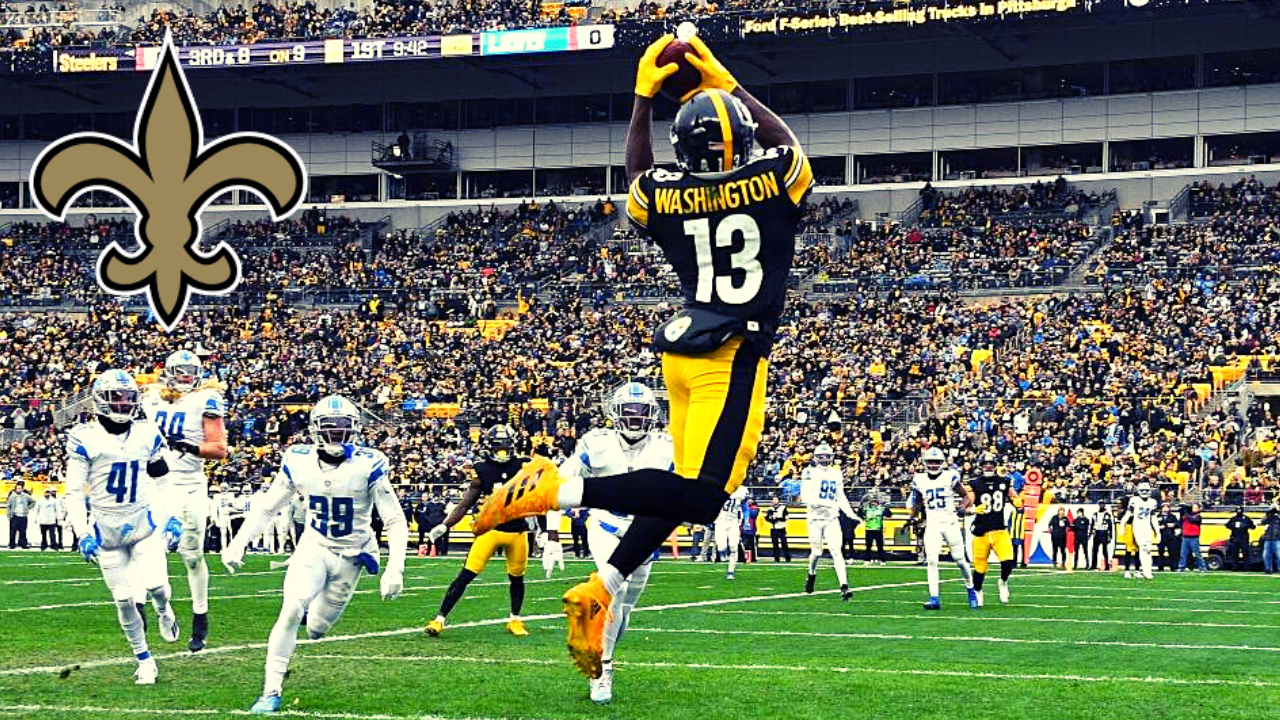 As reported by ESPN's Jeremy Fowler, the New Orleans Saints have made an intriguing addition to their wide receiver corps by signing James Washington to a one-year deal. Washington, a former second-round pick of the Pittsburgh Steelers, brings valuable experience and depth to the team.
However, he joins a talented and crowded receiver room with notable names like Chris Olave, Michael Thomas, Rasheed Shaheed, Bryan Edwards, Tre'Quan Smith, and rookie sensation A.T. Perry. Our latest video delves into the implications of the Saints' signing and offers a comprehensive viewpoint on how James Washington will fit into this stacked receiver group.
Exploring Washington's Background
Before joining the Saints, James Washington spent his first four seasons with the Pittsburgh Steelers, where he showcased his abilities as a versatile wide receiver. In 2022, he briefly joined the Dallas Cowboys, adding another dimension to his professional journey. Now, with a fresh start in New Orleans, Washington has an opportunity to make his mark on the team.
The Challenge of a Crowded Receiver Room
With many talented receivers already on the roster, Washington faces the challenge of carving out his role within the Saints' offense. Chris Olave, Michael Thomas, Rasheed Shaheed, Bryan Edwards, Tre'Quan Smith, and the promising rookie A.T. Perry create fierce competition. Each player brings unique skills and strengths, making the battle for playing time intense and intriguing.
Analyzing Washington's Potential Impact
In our video, we analyze how James Washington's skill set and experience can complement the strengths of the existing Saints receivers. We delve into his ability to stretch the field, make contested catches, and contribute as a reliable target in critical situations. Additionally, we assess how Washington's arrival can enhance the overall depth and versatility of the wide receiver group, providing valuable options for the Saints' offensive scheme.
As the Saints welcome James Washington to their already stacked wide receiver room, the competition for playing time and the potential for dynamic offensive performances are at an all-time high. We encourage readers to watch our video to gain a more in-depth viewpoint on the signing and explore the implications for the Saints' offense. Join us as we delve into the exciting prospect of James Washington's integration into the Saints' receiver corps and its impact on the team's quest for success in the upcoming season.

Show Your Support
Support the great work of the Strike 7 Sports Saints Discussions Section by purchasing licensed NFL fan gear. Items ranged from Saints hats, jerseys, t-shirts, socks, and more. We would greatly appreciate it if you would buy these items from the text link listed below. The revenue generated from today's offer goes into the funding of the Strike 7 Sports platform. Click on the link below if you are interested.