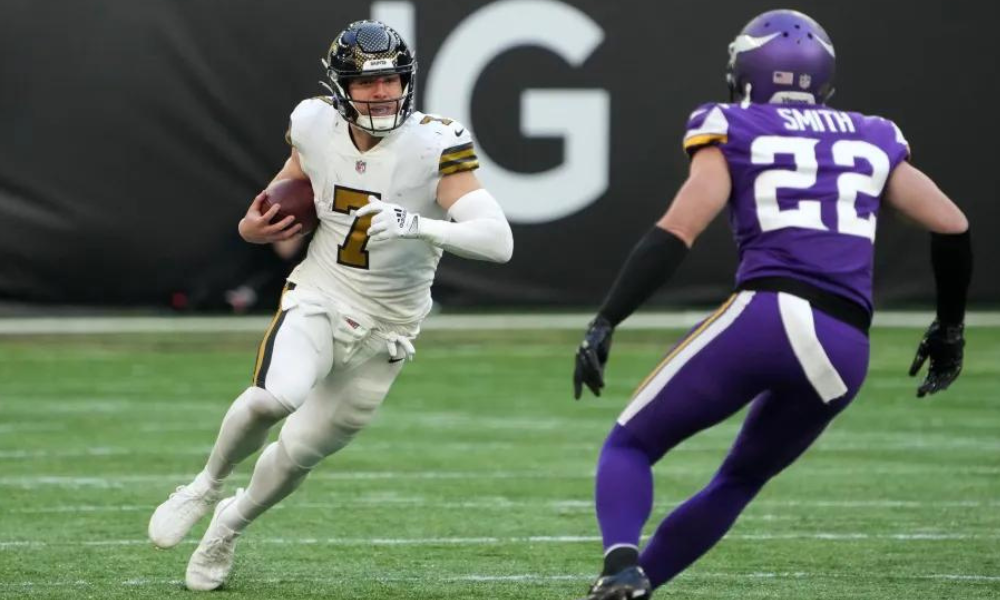 Through ten weeks of the 2023 NFL season, Dennis Allen's New Orleans Saints sit atop the NFC South with a 5-5 record. This year began with the Saints as favorites for the division at least, and fans across Louisiana and beyond had reason to be excited with the arrival of veteran quarterback Derek Carr in free agency. But despite currently leading the division, this year hasn't gone as many had hoped, with several disappointing losses. As the Saints and the Who Dat Nation take this bye week off, we'll look at various factors contributing to an often-frustrating Saints campaign.
Derek Carr is Still in Learning Mode
After a decade and a half of being one of the league's elite passing sides with Drew Brees under center, the last two have been tough for the Saints, cycling through the likes of Andy Dalton, Jameis Winston, and Trevor Siemian. Last year's troubles in the air led to the signing of Derek Carr, who was given a four-year, $150 million contract after leaving Las Vegas. Carr has been largely inconsistent. He has had some excellent performances, such as his showing in Indianapolis a few weeks ago, in which he went 19 for 27 with 310 yards and 2 TDs with zero picks.
That matchup demonstrated the best of this passing game, as Carr diced up Indianapolis with shorter passes and three successful deep balls to Rashid Shaheed. However, there have also been poor showings, such as the Week 4 loss to Tampa, where 37 pass attempts resulted in just 127 yards and no TDs. As we'll discuss, this offense undoubtedly has firepower, but the Saints have spent ten weeks trying to unlock the potential.
This is not necessarily a reason to hit the panic button. Still, Pete Carmichael appears under pressure in his inability to get the best out of this unit. That said, the Saints are currently 8th in the league in passing yards with 2,374, and hopefully, this can improve as the year goes on and the unit continues to gel.
Defensive Struggles
While there have been issues on offense, Joe Woods' defense has primarily been solid, ranking 10th in yardage defense and 9th in scoring. However, there has been a slight drop off from last year, where the unit was top five in football and kept a flagging offense in the divisional hunt for most of the season.
The Saints have had an inability to get to the quarterback. Only four teams have recorded fewer sacks this year, which may have to do with the change of personnel on the defensive line. Saints' legend Cameron Jordan has retained his spot, but he has been joined by new faces such as Khalen Saunders, Nathan Shepherd, and impressive rookie Bryan Breese.
The unit also blitzes less than the league average, doing so on just 23.3% of plays, but any issues on this front are arguably canceled out by an excellent secondary. Only San Francisco has recorded more interceptions this year, with those 12 picks shared amongst eight players. If the Saints can cause more problems for quarterbacks up front, who knows where those numbers could go?
Running Game is a Non-Factor
One concerning aspect so far this season has been the lack of production on the ground. Seven-year team veteran Alvin Kamara served his three-game suspension at the beginning of the year, and unsurprisingly, the team's rushing output suffered as a result. But now, with Kamara back in the lineup, the running game still isn't fully firing.
Kamara is averaging just 55.4 yards per game and 3.7 yards per carry, and the latter figure is the lowest of his career so far. Sunday's narrow but disappointing loss to the Minnesota Vikings was an abysmal showing for the team, as they racked up just 65 yards on the ground.
And while Kamara is the team's feature back, he hasn't been the only disappointment on the side.
Jamaal Williams was brought in after leaving Detroit in free agency, having been the league leader in touchdowns last season with 17. So far this year, Williams has not found the end zone and is averaging just 2.9 yards a carry. Williams did spend a few weeks on IR, and since then, he has struggled to impact the game, with just 13 yards on seven carries in the last two games combined.
For the Saints to impact January football, they will hope for greater contributions on the ground to complement the passing attack.
Dennis Allen's Game Preparation
Dennis Allen's second year as a head coach continues to be scrutinized, as the side sits at .500 despite having quality personnel across both sides of the ball. There have been impressive performances, but the team has struggled to play sixty good minutes of football too often, with the one comfortable win this year coming against the hopeless New England Patriots.
Allen has talked about the positives this year, and he doesn't seem too panicked, but too often this year, the Saints have started slowly and been unable to recover. The defeat in Jacksonville was an example of this: Trevor Lawrence and his Jags had an easy time while the Saints struggled to get going on offense.
The Saints ultimately came close in that one but still came away with the loss. The Minnesota game was similar, and you have to wonder why the team – especially the offense – starts slowly so often. Allen has been given the benefit of the doubt by ownership so far, but if the Saints fall short of the division, he could be on borrowed time already.
Struggles with Consistent Identity
During the Sean Payton era, the Saints' identity was an explosive, dynamic side capable of setting records through the air and putting up at least 30 points on anyone. This era of Saints football is somewhat different; week-to-week, this team can be hard to predict.
The hope was that Derek Carr – while not Drew Brees – would help return this team to the pass-happy glory days, but the reality has proved tricky as this rebuilding era was always likely to be. But the Saints remain a challenge for just about any side on their day, particularly at home.
In the Superdome, the Saints can often be a different beast in one of the loudest stadiums in the country. And with four of the remaining seven games at home, the Who Dat Nation is bound to play their part.
Taysom Hill is a Key Contributor Compared to Last Season
However, one of the year's bright spots this season has been BYU alumnus Taysom Hill in his usual hybrid role. Hill has been the Saints' Swiss Army Knife over the last six seasons and is one of the league's most unique players, shown by the fact that he recently became the first player since 1964 to rack up ten passing, rushing, and receiving touchdowns in his career.
Hill's spell as a starting QB in 2020 didn't quite go to plan, but his value to this offense cannot be overstated, and he strikes fear into defensive coordinators across the league as they aim to plan for him for 60 minutes of football. Hill has made up for shortcomings in the running game with his 5.2 yards per carry and his constant ability to keep drives moving in short-yardage situations.
Teams see Hill under center and can generally predict the play will be QB Power, but stopping it is another matter. Hill's speed and size make him a crucial part of this offense on the ground and in the air, and keeping him involved is critical for Pete Carmichael and his unit.
Michael Thomas is Still an asset Despite Two Years of Inactivity.
Michael Thomas's injury worries have been one of the most frustrating aspects of being a Saints fan in the past three years. After a superb first four seasons in the league – which culminated in a 2019 season in which he won Offensive Player of the Year – Thomas managed just ten games between 2020 and 2022, leaving many wondering if he would ever return to his best.
So far this year, Thomas hasn't hit the same heights as his first four seasons, but he remains the short-distance threat he always was and was consistent throughout the first eight weeks, albeit without having any 100-yard games.
However, Thomas suffered a 'significant' injury recently and sat out most of Sunday's loss in Minnesota. Saints fans will be hoping that the upcoming bye week gives him a good opportunity to recover and get back up to speed for Week 12's matchup with Atlanta.
Chris Olave is Still on Track Despite a Slight Sophomore Slump
The emergence in the last season of exciting young receiver Chris Olave is partly why Thomas's output hasn't hit his previous heights. Olave had a great rookie season in 2022, with 1,042 yards in the air, earning him 4th place in Offensive Rookie of the Year voting. The former Ohio State Buckeye became WR1 in Thomas's absence, and that arguably remains the case this season.
Olave has been targeted 94 times this year and leads the team with 657 receiving yards, good for 16th in the league. Olave has had some quiet games for the 2023 season but remains a vital team component and has considerable playability.
His catch that re-ignited the Saints' comeback on Sunday was an exceptional play by an elite receiver, and a few more of those will have fans salivating over the next few weeks. As the weeks go on, his rhythm with Carr looks to improve, and the sky's the limit for one of the league's most exciting young receivers.
Midseason Performance Grade: C
So, overall, this campaign has been frustrating but nowhere near a disaster, as the team is still on course to secure the divisional title they were targeting at the season's opening. This defense can keep the Saints in about any game, while most of the biggest frustrations have come on the other side of the ball. Pete Carmichael's position at OC has been questioned more than once this year, perhaps deservedly.
This offense has the firepower to cause issues for anyone, but Dennis Allen and his coaching staff have yet to solve the puzzle through ten weeks. This bye week will give the side a much-needed rest and hopefully give Thomas, Lattimore, and Carr (amongst others) some time to rest and recuperate from various injuries.
The first game after the bye is on November 26th in Atlanta, and indeed, no one on the roster needs too much extra motivation for that eternal grudge match, which both sides will consider a must-win. There are still two games with Atlanta left on the schedule and a trip to Tampa Bay. In this tight division, all three games could prove pivotal to determining who hosts a playoff game in January.
And if the Saints don't take advantage of this year's weak schedule and weak division, it will be a significant missed opportunity in New Orleans. We've seen glimpses of how good this Saints team can be, and if they can be more structured and consistent on offense, more January football in New Orleans should be on the cards.