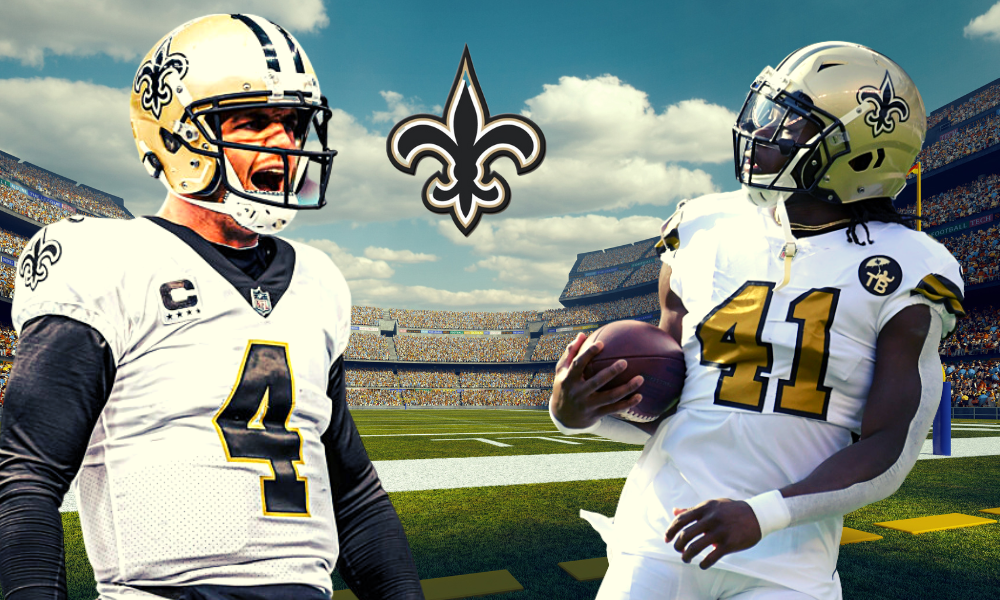 New Orleans Saints 2023 Season Preview & Record Prediction
2022 Record: 7-10
The NFC South was one of the more complex divisions to watch last year and a frustrating one for the New Orleans Saints, who fell into a three-way tie for second place with a 7-10 record. It was a mesh of mediocrity behind an uninspiring Tampa Bay Buccaneers, who became the fourth team to win a division with a losing record this millennium.
The Saints will undoubtedly feel that it was a missed opportunity and one that heaps plenty of pressure on second-year head coach Dennis Allen. He finds himself in charge of a roster that was the oldest in the NFL in 2022 and has just made its first decisive move at the quarterback position since Drew Brees retired. It is now or never for Allen, who must reach the playoffs to remain in his role beyond the 2023 season.
Last year, they got off to a perfect start, returning to score 17 fourth-quarter points in week 1 to defeat division rivals, the Atlanta Falcons. New wide receiver Jarvis Landry went for 114 yards, and Taysom Hill had 81 yards and a touchdown on the ground to give Saints fans a teaser of what could be to come. Unfortunately, what followed was an injury-plagued season in which the Saints ranked fourth worst in games missed due to injuries, with 268.
This offseason's decisive move at the quarterback position comes in the form of Derek Carr, on a four-year, $150m contract. Despite not being the most exciting name in the quarterback market, Carr brings some competence to a quarterback room that has relied on five different starting quarterbacks in the last two years.
Having now signed their quarterback of the future and added depth across the roster, the Saints will be looking at a weak NFC South as an opportunity to have a strong year and reach the playoffs for the first time in the post-Drew Brees era.
Previewing the Saints' Offense
The Saints' offense was graded 17th by PFF in 2022, and the team hopes that the addition of Derek Carr will spur them onto bigger and better things in 2023. Before a slight dip last year, Carr had thrown for over 4,000 yards three years in a row and achieved a quarterback rating of over 100 in two seasons.
Saints fans will be looking for Carr to help sophomore receiver Chris Olave achieve a breakout year in 2023. Olave is one of the most exciting young receivers in the league, and Derek Carr has a track record of achieving good results with a dynamic offensive weapon. Last year with the Raiders, he helped Davante Adams to 1,516 yards, and after going for 1,042 yards in his rookie season, Olave will be hoping he can form a similar connection with his new quarterback.
The backfield should be in safe hands, with an exciting combination of veteran Alvin Kamara and highly-touted rookie Kendre Miller. Thanks to suspension, Kamara will miss the first three games of the season, which may benefit the former Pro Bowl running back. He may be grateful for these few extra weeks on the sideline when it comes to the home stretch trying to clinch a division victory after another grueling season.
After putting together a strong college career at TCU, Miller was selected in the third round. In his last two seasons, he averaged 7.5 and 6.2 yards per carry, running in 17 touchdowns in 2022. Saints fans are excited to see what their young rookie can bring to the table.
The final question mark hangs over Michael Thomas. The once-dominant wide receiver started his career with four straight 1,000-yard seasons, highlighted by a career year of 1,725 yards in 2019. Since then, however, a litany of injuries and alleged disputes with the team have resulted in three lost seasons. Now 30 years old, it remains to be seen what Thomas has left in the tank, but even just half of the player we saw a few years ago would be a handy addition to the offense.
Previewing the Saints' Defense
The Saints' defense has changed over the offseason, with Marcus Davenport, Kaden Elliss, and Shy Tuttle among those who have left the team. Davenport never quite worked out for the Saints, who traded up in the first round to draft him in 2018. The aggressive move involved them also giving up an additional first-round selection in 2019, making it an undeniable bust of a trade. Davenport contributed only 20.5 sacks in his five seasons, logging just half a sack last year in what his final season with the Saints would be.
The Saints quickly brought in some extra resources on the defensive line to account for their losses, with the team signing Khalen Saunders and Nathan Shepherd. The name that Saints fans will be most excited to see is their newest first-round draft selection, Bryan Bresee. Before being selected 29th overall, Bresee was a second-team All-ACC selection in 2022, and he will be looking to contribute to a defensive line that needs some playmakers. Camp reports suggest that he has started strong, already spending some time with the first team.
The Saints' secondary is old but gold, with veterans holding down many vital positions. Tyrann Mathieu and Marcus Maye are still delivering in the safety position. Mathieu, now 31 years old, gave up a measly 7.6 yards per reception when targeted (tied for fourth) in 2022, also snagging three interceptions.
Marshon Lattimore was lost to injury for most of last season, but the former Defensive Rookie of the Year (2017) should be healthy and ready to add more firepower to the team's best unit. He was joined in the cornerback room last year by rookie Alontae Taylor, who flashed some impressive performances in 2022 on his way to securing the other starting outside cornerback position. If they decide to go with Paulson Adebo on the outside, expect Taylor to operate in the slot.
PFF graded him as the fourth-best cornerback last year based on passer rating allowed, highlighted by a week 15 matchup against the Falcons, where he recorded three pass breakups and an 86.7 coverage grade. Saints' fans have much to look forward to from him if he can continue this trajectory and learn from some of the best in the game.
Important Games
Patriots (October 8th)
Jaguars (October 19th)
Vikings (November 12th)
Falcons (November 26th & January 7th)
Lions (December 3rd)
Giants (December 17th)
Projected Outlook
Despite the aging roster, there is plenty to be excited about for the New Orleans Saints, and the good news is they are in what might be the softest division in the NFL. The even better news is that the Saints' schedule is the easiest in the NFL. They kickstart the season by battling Ryan Tannehill, Bryce Young, Jordan Love, and Baker Mayfield, which provides a fantastic opportunity to build some early momentum and chemistry.
All of this emphasizes the importance of a strong season for second-year head coach Dennis Allen. After faltering in 2022, it is all there for the taking in 2023, and it will likely be playoffs or bust on his Saints career. He hopes the injury bug steers clear of the Saints locker room. If not, the Saints' playoff chances and the future of his career will be in the hands of the team's second and third-string players yet again.
The biggest threat from within the division comes from the Atlanta Falcons. The Falcons opted for a true luxury pick in this year's draft, adding Bijan Robinson to an already-loaded backfield. Robinson is one of the best running back prospects to come out of the draft, and he adds to a fascinating offense that boasts a top-10 draft selection at wide receiver (Drake London) and tight end (Kyle Pitts) as well. The only question mark for the team comes at the most important position. Desmond Ridder featured just four times in his rookie season, only managing to play well enough to land him 35th out of 37 on PFF's quarterback rankings from 2022. Any further hiccups from him and the door will be wide open for the Saints.
Predicted Record: (11-6) (NFC South Champion)
Show Your Support
Support the great work of the Strike 7 Sports Saints Discussions Section by purchasing licensed NFL fan gear. Items ranged from Saints hats, jerseys, t-shirts, socks, and more. We would greatly appreciate it if you would buy these items from the text link listed below. The revenue generated from today's offer goes into the funding of the Strike 7 Sports platform. Click on the link below if you are interested.