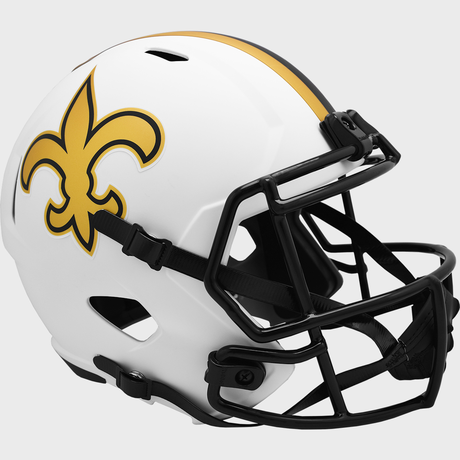 Many concepts are being floated around on what the New Orleans Saints helmets should look like if they decided to change the design. Some ideas looked like the perfect fit, while others did not. Recently, our affiliate partners over at Fanatics chose to unveil a unique helmet with the help of sports equipment manufacturer Riddell. They decided to create the lunar version of every NFL team.
The New Orleans Saints Fanatics Authentic Riddell LUNAR Alternate Revolution Speed Mini Football Helmet is the perfect gift for any Saints fan. The mini-helmet would look great in any setting, such as the living room, man cave, or bedroom layout. If you are interested in this offer, click on the product image below and purchase it. 
Disclaimer Info: If you decide to purchase this item, I shall receive a percentage of the sale. The revenue generated from this product goes into the funding of the Strike 7 Sports platform.