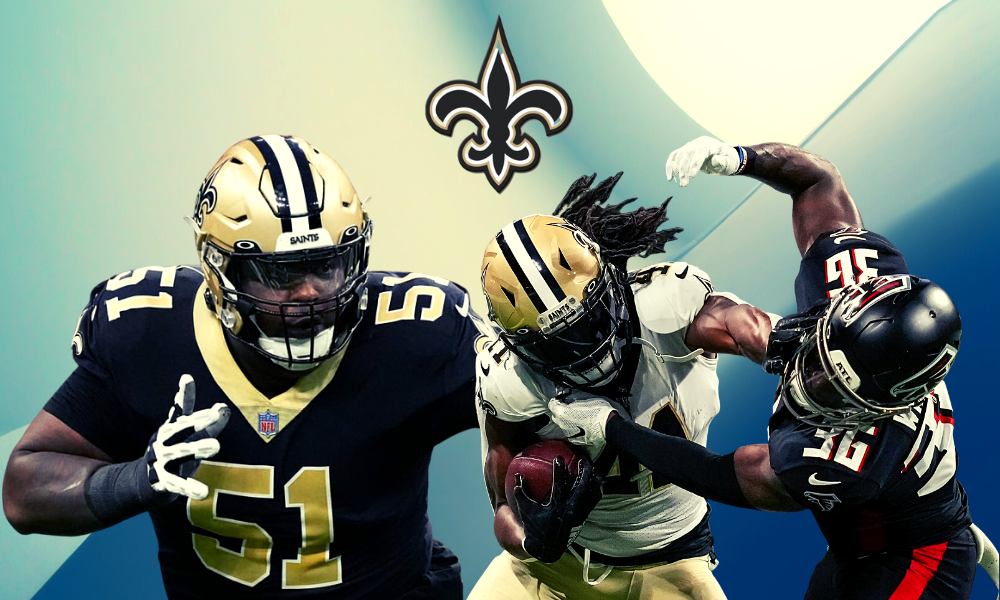 As the 2023 NFL season gets underway, a significant opportunity is ahead for the New Orleans Saints. This is not because the roster, on paper, looks like any sort of juggernaut. Instead, it is because the Saints have enough talent and experience to give themselves a chance in an NFC South that many are projecting to be particularly weak.
Look around at the various preseason predictions and projections flooding the internet, and you'll find some dire predictions for this division. Many see the Panthers, Bucs, and Falcons struggling to stay around .500. In fact, some have the Panthers and Bucs falling well below that mark. There are those in NFL pundit circles who project struggles for New Orleans as well, but the closest thing to a consensus is that the Saints are likely to be the most playoff-worthy team of the bunch.
This puts pressure on the organization and head coach, Dennis Allen, to build a winner in 2023. The Saints may be well past the days when Sean Payton, Drew Brees, and Co. habitually led one of the most talented rosters in the league. But this roster is talented enough to win games in a weak division, earn a playoff berth, and potentially develop into a postseason threat.
With that in mind, here's a look at the 30 players most critical to New Orleans meeting those goals.
1. Derek Carr – QB
2022 Stats (with Las Vegas Raiders): 15 games; 3,522 passing yards; 60.8 CMP%; 24 pass TD; 14 INT; 57.6 QBR; 102 rushing yards
A successful season for the Saints begins and ends with Derek Carr. In 2022, New Orleans relied primarily on Andy Dalton, an average quarterback past his prime, and Jameis Winston, who dealt with injuries in back-to-back seasons. Carr is by no means a superstar in the mold of Brees, but he projects as the Saints' most stable, professional option at the position since the franchise icon retired.
Carr is a volume passer who, at his best, can drive a high-octane offense. Two seasons ago, he was fifth in the NFL in passing attempts at 626 and completed 68.4% of those passes –– more than any of the four men who threw more than he did. Meanwhile, Carr had something of a down year in 2022 but still threw for 24 touchdowns– just one fewer than Justin Herbert or Tom Brady and two fewer than Aaron Rodgers.
All things considered, Carr is an above-average passer capable of top-10 numbers at his position. He also has enough weapons with New Orleans to reach those numbers.
2. Alvin Kamara – RB
2022 Stats: 15 games; 223 carries; 897 rushing yards; 2 rush TD; 57 receptions; 490 receiving yards; 2 receiving TD
While Carr will play a significant role in driving any successful season for the Saints, a rebound year by Alvin Kamara would also go a long way. Just two seasons ago, Kamara was a Pro Bowl player and universally recognized as one of the best running backs in the NFL. In 2022, he fell off in virtually every major category, finishing 20th in the league in yards on the ground with just 2 touchdowns (and losing carries to Taysom Hill along the way).
A rebound season might be difficult. Kamara will miss the first three games of 2023 due to a league suspension. He will also compete for carries with Jamaal Williams, who will appear later on this list. Despite these hurdles, however, he is only 28 years old and has had a healthy career. With Carr under center, Williams sharing the load, and a generally revamped offense, Kamara could at least be better than he was in 2022.
3. Chris Olave – WR
2022 Stats: 15 games; 72 receptions; 1,042 yards; 4 TD
Perhaps the brightest spot in the New Orleans offense, Chris Olave, is coming off an exceptional rookie season. As noted by Pro Football Focus, his 2.42 yards per route run (arguably the best metric for WR success) led all rookies and was 7th in the NFL –– one spot behind Davante Adams, who incidentally was catching passes from Derek Carr. As PFF put it, "only opportunity" prevented Olave from a truly impressive statistical campaign.
That opportunity should be there in 2023. The transition from Dalton to Carr will make a world of difference for Olave, particularly given that he thrives as a deep threat and Carr has a cannon for an arm. Saints fans shouldn't be surprised if Olave is recognized across the board as a top-10 receiver in the league by season's end.
4. Marshon Lattimore – CB
2022 Stats: 7 games; 29 tackles; 0 fumbles forced; 1 INT; 12 yards; 1 TD
Undoubtedly the most talented player in the Saints' secondary in 2022, Marshon Lattimore unfortunately missed half the season due to a lacerated kidney. This led to sub-par numbers compared to those from his best years to date. However, Lattimore appears to be fully recovered and should be back to full strength in 2023.
If that's the case, he'll be a blue-chip contributor in the New Orleans defense. Lattimore was widely recognized for his ability to match up with opposing number-1 receivers, and he was voted into NFL.com's top-100 players list for 2023. This is a list of selections voted on by players throughout the league, which speaks to how much respect there is for Lattimore's talent. At full health, he can lead the way for a very capable Saints defense.
5. Cameron Jordan – DE
2022 Stats: 16 games; 66 tackles; 8.5 sacks; 2 fumbles forced
Cameron Jordan is entering his 13th season in the NFL at age 34. By any ordinary measure, he should be considered to be on the wrong side of his prime. As much as this may be the case, however, Jordan remained a dominant defensive force in 2022. He had 66 tackles (his most since 2012), 8.5 sacks, and 13 QB hits. He was selected to the Pro Bowl for a sixth consecutive season.
Jordan's impact in 2022 was enough to get him voted to the #50 spot on the NFL Top 100 entering 2023. At some point, logic dictates that he'll begin to fall off due to age. But to this point, he's remained dominant, and he should anchor the Saints' defensive line as one of the best DEs in the league.
6. DeMario Davis – LB
2022 Stats: 17 games; 109 tackles; 6.5 sacks; 0 fumbles forced; 1 INT; 4 yards
DeMario Davis doesn't quite have the pedigree Cameron Jordan has built up over the course of his career. He is at a similar point in his career, but like Jordan, he's exhibited that even in his mid-30s, he's one of the best in the NFL at his position. Case in point, his peers ranked him as the 43rd-best player in the league for the 2023 season.
If Marshon Lattimore is to lead the secondary, and Cameron Jordan will anchor the defensive line, it will be DeMario Davis commanding the middle of the field. He is a fearsome, versatile terror of a linebacker whose 109 tackles and 6.5 sacks in 2022 earned him a debut Pro Bowl appearance. Expect more of the same this season.
7. Michael Thomas – WR
2022 Stats: 3 games; 16 receptions; 171 yards; 3 TD
Michael Thomas has to be considered one of the biggest wild cards in the NFL heading into the 2023 season. On the one hand, he has missed the better part of three seasons –– and the last two almost entirely –– due to various injuries. On the other, his 2019 campaign was one of the best by a wide receiver in recent memory, and he's still only 30 years old.
It's highly unlikely that Thomas will recover his full Offensive Player of the Year form from 2019. With that caveat aside, however, it's fair to say this season could play out any which way. Thomas might not return to form at all; he could get hurt again or simply not have the ability he had before his slew of injuries. However, if he does regain some form, his presence in this New Orleans offense could be a game-changer. With Olave slotted in as the #1 wide receiver and plenty of other talent balancing out the offense, a Michael Thomas operating at even 75% of his former capacity would be very dangerous.
8. Rashid Shaheed – WR
2022 Stats: 12 games; 28 receptions; 488 receiving yards; 2 receiving TD; 4 carries; 57 rushing yards; 1 rushing TD
Rashid Shaheed is somewhat easy to overlook for anyone other than a dedicated Saints fan. This is first and foremost because he was an undrafted rookie from Weber State in 2022. Given the assumption that Olave and Thomas will have greater statistical value, he is also largely overlooked in betting, fantasy, and general stat-watching circles. However, considering Shaheed as a cog in Derek Carr's attack, it becomes clear how integral he may be to the Saints' success.
That's because Shaheed was actually very good as an undrafted rookie. Per Fantasypros, he averaged 14.4 yards per target and 2.59 yards per route run, which ranks among the most efficient marks in the NFL. Shaheed's consistent ability to get open and convert catches is an invaluable asset as a potential third WR.
9. Ryan Ramczyk – OT
2022 Stats: 16 games; 95% of offensive snaps
Ryan Ramczyk is not the kind of player who jumps off the screen to casual viewers. He is not a household name, nor is he someone fantasy players are typically aware of. However, he is one of the more consistent forces on the offensive line in the NFL.
Since arriving in New Orleans as a 23-year-old rookie in 2017, Ramczyk has started in every game he's been active for. He plays virtually every offensive snap and has been a stabilizing right tackle on a line that has had gaps elsewhere in recent seasons. He may be the best tackle Derek Carr has played within a few seasons, which should help the new Saints quarterback feel comfortable.
10. Erik McCoy – C
2022 Stats: 13 games; 96% of offensive snaps
On an offensive line that has seen some turnover in recent seasons, Erik McCoy is another consistent presence despite being in just his fifth season. He's started in every game for which he's been active since his rookie season and played 96% of offensive snaps in 2022.
Despite being generally reliable to hold down the center position, McCoy was less dominant on the Saints' line in 2022. The hope in New Orleans is that he'll see positive regression, however, because there were flashes of dominance in his first few seasons when the Saints allowed some of the fewest sacks in the NFL. If McCoy regains his form and establishes chemistry with Carr, this offensive line's ceiling will be raised considerably.
11. Juwan Johnson – TE
2022 Stats: 16 games; 42 receptions; 508 yards; 7 TD
Juwan Johnson's 2022 season is easy to summarize: He was relatively average for some stretches and dominant for others. In particular, Johnson turned heads between Week 7 and Week 14. During this span, he topped 40 receiving yards in 4 out of 6 games played and scored all 7 of his touchdowns on the season.
That 6-game stretch made it clear that Johnson, once a wide receiver in college, has the talent to produce at his position. It may also be true that a healthy Thomas and a revamped running attack open the field enough to give Johnson more opportunities. What remains to be seen, however, is how Carr will see fit to use Johnson. According to SI.com, Andy Dalton targeted tight ends 10th-most among all QBs in 2022, while Carr did so the 7th-fewest times.
12. Pete Werner – LB
2022 Stats: 12 games; 80 tackles; 0 sacks; 2 fumbles forced; 0 INT
Third-year linebacker Pete Werner may prove to be one of the most pivotal members of the Saints in 2023. In his first two seasons, he was relied upon to provide some depth at his position alongside (and sometimes behind) DeMario Davis and Kaden Elliss. With Elliss now playing in Atlanta, however, Werner will have to complement Davis more directly and consistently.
From a talent perspective, he's up to it. His 80 tackles last season were 18 more than he managed as a rookie in 2021, even though he played in three fewer games. He was a vaunted linebacker at Ohio State. What New Orleans needs from him this season is continued growth and consistency. If Werner can up that tackle number a little more and provide more QB pressures, it will make a world of difference for the defense.
13. Jamaal Williams – RB
2022 Stats (with Detroit Lions): 17 games; 262 carries; 1,066 rush yards; 17 TD; 12 receptions; 73 receiving yards
The Detroit Lions decided to blow up their running back room after 2021, even though Jamaal Williams had just produced a 1,000-yard rushing season for them. One consequence of this team-building approach was that Williams wound up in New Orleans, where he will fill in for Kamara during Kamara's suspension –– and ultimately either complement or supplant the longtime Saints RB.
Simply put, this could prove to be an enormous addition. Williams not only topped 1,000 rushing yards in 2022 but led all running backs with 17 touchdowns. That kind of TD production can be situation-dependent, but the bottom line is that Williams gets results, and Saints runners in 2022 did not. Williams will make the New Orleans offense more dynamic in 2023, whether he takes Kamara's job or forms a tandem with him.
14. Kendre Miller – RB
2022 Stats: N/A (rookie)
As if welcoming Kamara back and signing Jamaal Williams to a three-year deal wasn't enough, New Orleans further bolstered its rushing attack by using a third-round pick on Kendre Miller. A strong, versatile running back out of TCU, Miller projects as a solid passing option and potentially a regular starter at the NFL level.
Where Miller fits in for 2023 is difficult to say. He's starting the season nursing a hamstring injury and figures to line up below Kamara and Williams on the depth chart. Still, a team can never have too much talent in this position. If Kamara misses more time or Dennis Allen simply wants to mix things up, Miller could still be a high-impact rookie.
15. Tyrann Mathieu – SS
2022 Stats: 17 games; 91 tackles; 1 sack; 1 fumble forced; 3 INT; 44 yards
Ever since his days at LSU, Tyrann Mathieu has been recognized as one of his generation's most intuitive and impactful defensive football players. He's had his mercurial stages, to be sure, but he's remained a productive player and, at this point, has the ability to serve as an invaluable leader for a New Orleans defense looking to improve in 2023.
Fresh off three seasons (and the 2020 Super Bowl) with the Kansas City Chiefs, Mathieu produced one of his best statistical seasons in his first year in New Orleans. His 91 total tackles were a career-high, and he threw in 3 tackles for loss and three interceptions along the way. If he can replicate those numbers and be a leader alongside Cameron Jordan and DeMario Davis, he'll raise the ceiling for the Saints.
16. Marcus Maye – FS
2022 Stats: 10 games; 60 tackles; 0 sacks; 1 fumble forced; 0 INT
Marcus Maye is among the more difficult Saints players to make projections for in 2023. He has missed significant playing time in each of the last two seasons. When active in 2022, he struggled to adjust at times to new defensive schemes under co-defensive coordinator Kris Richard. And now he faces pressure from incoming rookie Jordan Howden, whom New Orleans drafted in the fifth round.
Despite all of these factors, Maye remains a talented option at safety. In past seasons, he has proven adept at making efficient tackles, breaking up passes, and occasionally pressuring the quarterback. And at just 30 years of age, there's no reason to expect a talent drop-off. If Maye is healthy and used well in new defensive coordinator Joe Woods's schemes, he will be an asset (and likely keep Howden at bay).
17. Khalen Saunders – DT
2022 Stats (with Kansas City Chiefs): 16 games; 48 tackles; 3.5 sacks; 0 fumbles forced
Khalen Saunders will be a fascinating case for the Saints in 2023. He's entering his first year in New Orleans after spending his first four NFL seasons in Kansas City. He was largely a backup there, though he did progress toward a more high-impact role throughout his time. By the end of his tenure in Kansas City, Saunders was a key contributor on the line in the 2022 Super Bowl.
In New Orleans, Saunders will be able to serve effectively as the team's lead defensive tackle. There will be a lot of pressure on him as he steps into this bigger role, but he has typically proven up to the task when provided with the opportunity. He's also a massive presence at 6'0'' and 325 pounds.
18. Taysom Hill – QB/TE/WR/RB/ST
2022 Stats: 16 games; 240 passing yards; 68.4 CMP%; 2 pass TD; 0 INT; 79.7 QBR; 96 carries; 575 rushing yards; 7 rush TD; 9 receptions; 77 receiving yards; 2 receiving TD
There isn't a more unique player in football than Taysom Hill. San Francisco's Deebo Samuel flashes some similar versatility and greater talent; for that matter, the Niners' Christian McCaffrey could even be the closest thing to Hill, given that he's been floated as an emergency quarterback in San Francisco. But the bottom line is that Hill and Hill alone can comfortably play running back, receiver, quarterback, and tight end as needed.
That almost makes his statistical output irrelevant. Hill is not a producer but a Swiss Army stop-gap: He's there to ensure all offensive needs are met. With all that said, however, 2022 was Hill's most productive season. He may be at the peak of his powers and is both a valuable backup to Carr and a crucial rushing and receiving depth piece.
19. Carl Granderson – DE
2022 Stats: 16 games; 53 tackles; 5.5 sacks; 0 fumbles forced
One slight issue for the Saints in 2023 is that they lack a star-caliber DE to start opposite Cameron Jordan on the defensive line. Not many teams have two bonafide stars at the position, but New Orleans may spend a portion of the season trying to figure out who works best on the line.
Carl Granderson probably has the inside track on that job. He improved over the course of the 2022 season, and it's no coincidence that as he did so, the Saints' defense got better. He also has a natural opening to fill with DT David Onyemata, having moved on to Atlanta. Granderson will compete with second-round pick Isaiah Foskey, who has starting potential coming out of Notre Dame. But the best outcome for New Orleans may be for Granderson to rise to the occasion, with Foskey developing behind him.
20. Paulson Adebo – CB
2022 Stats: 13 games; 60 tackles; 0 sacks; 0 fumbles forced; 0 INT
Paulson Adebo is entering his third season in the NFL, and it already feels like a make-or-break one –– at least where his place with the Saints is concerned. Selected in the third round of the 2021 draft, Adebo was a promising rookie who looked like a potential fixture in the New Orleans secondary. In year two, however, Adebo saw declines in tackles for loss, sacks, and interceptions.
Adebo's prospects are important to this team because he showed as a rookie that he has the talent to start and contribute, opposite Marshon Lattimore. If he can't do that, the second CB spot in New Orleans becomes a question mark. Which way this will go is anybody's guess, but there are two small reasons for optimism. The first is that there's a chance the usual sophomore slump factored into Adebo's year-two slide, and things should be more stable in 2023. The second is that Alontae Taylor is pushing for Adebo's spot, and competition can lead to improvement.
21. Alontae Taylor – CB
2022 Stats: 13 games; 46 tackles; 0 sacks; 0 fumbles forced; 0 INT
The Saints drafted Alontae Taylor out of Tennessee in the second round of the 2022 draft and wound up starting him in 9 games. Taylor was nothing exceptional, but he acquitted himself reasonably well for a rookie cornerback inserted into an up-and-down defense. At the very least, he showed the potential to develop into a solid second CB who can cover, if not wholly disrupt, opposing second wide receivers.
As with Adebo, the upside here might be rooted in the competition between the two. Adebo and Taylor have battled for a starting spot throughout the preseason and should continue incentivizing one another to improve. Neither is spectacular, but this isn't a bad way for the Saints to develop their #2 CB of the near future.
22. Cesar Ruiz – G
2022 Stats: 14 games; 100% of offensive snaps
There are two factors that define Cesar Ruiz to this point in his career. The first is his prospect pedigree: Ruiz was a first-round pick out of Michigan in 2020, believed to be capable of lifting an offense meaningfully. The second is his consistency: Save for when he missed time with an injury in 2022, Ruiz has played every game and virtually every snap for which he's been active as a pro.
The issue has been that Ruiz hasn't quite reached his potential. He has been a good but not great feature on the offensive line to date. In a sense, though, that's why he's such an important player for New Orleans. If the Saints get more of the same from Ruiz, the O-line will continue to be a mild weakness. If he can get closer to maximizing his talent, he could help Ryan Ramczyk and Erik McCoy make the unit more of a strength for new QB Derek Carr.
23. Nathan Shepard – DT
2022 Stats (with New York Jets): 17 games; 33 tackles; 1.5 sacks; 0 fumbles forced
After five seasons with the New York Jets, Nathan Shepard will arrive in New Orleans looking to compete for a starting role. Whether or not he can find one is difficult to say. As demonstrated by his 33 tackles, four tackles for loss, and 6 QB hits, playing just 37% of snaps in 2022, he has the strength, speed, and talent to produce. He will be pushed, however, by Bryan Breese (who is next on this list).
Even if Shepard doesn't wind up starting or winning a majority of the snaps, though, he will be a valuable piece in what looks to be a deeper Saints defense in 2023.
24. Bryan Bresee – DT
2022 Stats: N/A (rookie)
Bryan Bresee was a star at Clemson, having won ACC Freshman of the Year in 2020 and earned multiple subsequent All-ACC selections despite overcoming a torn ACL. The Saints selected him with the 29th overall pick in the 2023 draft, and the coming season will go a long way to determining whether, in doing so, the team found a long-term solution at defensive tackle.
Bresee profiles as an aggressive, high-impact force on the line at the pro level. He may still face an adjustment period, but New Orleans hopes for him to contribute to winning defensive football as the season progresses.
25. Foster Moreau – TE
2022 Stats (with Las Vegas Raiders): 15 games; 33 receptions; 420 yards; 2 TD
The Saints' decision to add Foster Moreau was an interesting one. There is no question, with this team, that Juwan Johnson is the starting tight end and will be unless he has an injury. In seeking a backup at the position, though, New Orleans may have been clever in turning to one of Derek Carr's teammates from Las Vegas.
Foster Moreau is not a game-changing player; he won't put up gaudy numbers, even if he plays a prominent role. But he is a solid option who blocks well, has decent hands, and has excellent size at roughly 6'4'', 250 pounds. Moreau won't make or break the season, but he's a nice addition to the roster.
26. Jimmy Graham – TE
2022 Stats: N/A (inactive)
Jimmy Graham is not too far removed from being a reasonably productive tight end. In 2020, he scored eight touchdowns on 456 yards with the Chicago Bears. However, he dropped off considerably in 2021 and was out of football in 2022.
It's safe to say Graham's starring days are long behind him at this point. But he's also a New Orleans legend and presumably an excellent leader to welcome into the clubhouse. The Saints are not necessarily relying on young talent; they have strong veteran players in place. But they are still in the midst of a transition, and Graham will attempt to infuse that transition with some of the team culture that made him and his team successful in the early 2010s.
27. Andrus Peat – G
2022 Stats: 11 games; 84% of offensive snaps
Andrus Peat is not the most talented player on the Saints' offensive line. He does, however, have about as much experience as anyone else on said line. He has been a reliable player at different positions for years and will bring a clear understanding of multiple roles to the table in 2023.
For the most part, though, Peat looks to be slated as the left guard on the New Orleans line. He'll play a vital role in keeping Derek Carr protected –– which, with the Saints' likely focus on expanding the passing attack, will be the whole ballgame in some cases. A strong season for Peat will mean a smoother transition for Carr.
28. Trevor Penning – OT
2022 Stats: 6 games; 35% of offensive snaps
Trevor Penning was the Saints' first-round draft pick in 2022. Not only that, but the team traded additional draft capital to the Eagles to move up and select Penning. They did so in order to make the Northern Iowa product their long-term solution at left tackle, fortifying the offensive line and providing reliable pocket protection after veteran Pro Bowler Terron Armstead moved on.
Penning didn't get much chance to fill this role in 2022. He missed all but six games due to injury. Heading into 2023, however, he is healthy and ready for a second chance to make a first impression. Penning has the potential to significantly improve the line and make life easier than it would otherwise be for Carr.
29. Jameis Winston – QB
2022 Stats: 3 games; 858 passing yards; 63.5 CMP%; 4 pass TD; 5 INT; 34.7 QBR; 16 rush yards
In limited appearances in 2022, Jameis Winston showed two things. The first was that he still hasn't shaken off the interception problem that cut his career as a starting QB short and which has plagued him throughout his career. The second was that he could still throw an accurate ball and put up numbers when asked.
It may be that none of this matters all that much. Derek Carr almost never misses time, and even if he takes a snap or series off here or there, Taysom Hill has a chance to throw some passes. Nevertheless, having a talent like Winston available for backup work doesn't hurt.
30. Blake Grupe – K
2022 Stats: N/A (rookie)
Blake Grupe reportedly beat Will Lutz to earn the starting role as the Saints' kicker in 2023. The rookie out of Notre Dame is an unknown quantity at the NFL level, but he does have excellent college stats to back up his position. Grupe was notably 211-for-218 for his career on extra points, including 49-for-49 during his senior season. He also holds the record for most field goals converted at Arkansas State, where he played before transferring to Notre Dame.
One can never say with certainty how a rookie kicker will perform. Grupe looks the part of a solid NFL kicker, however, and will have a chance to solidify his role for a team that is looking to produce a high-volume offense.
Show Your Support
Support the great work of the Strike 7 Sports Saints Discussions Section by purchasing licensed NFL fan gear. Items ranged from Saints hats, jerseys, t-shirts, socks, and more. We would greatly appreciate it if you would buy these items from the text link listed below. The revenue generated from today's offer goes into the funding of the Strike 7 Sports platform. Click on the link below if you are interested.