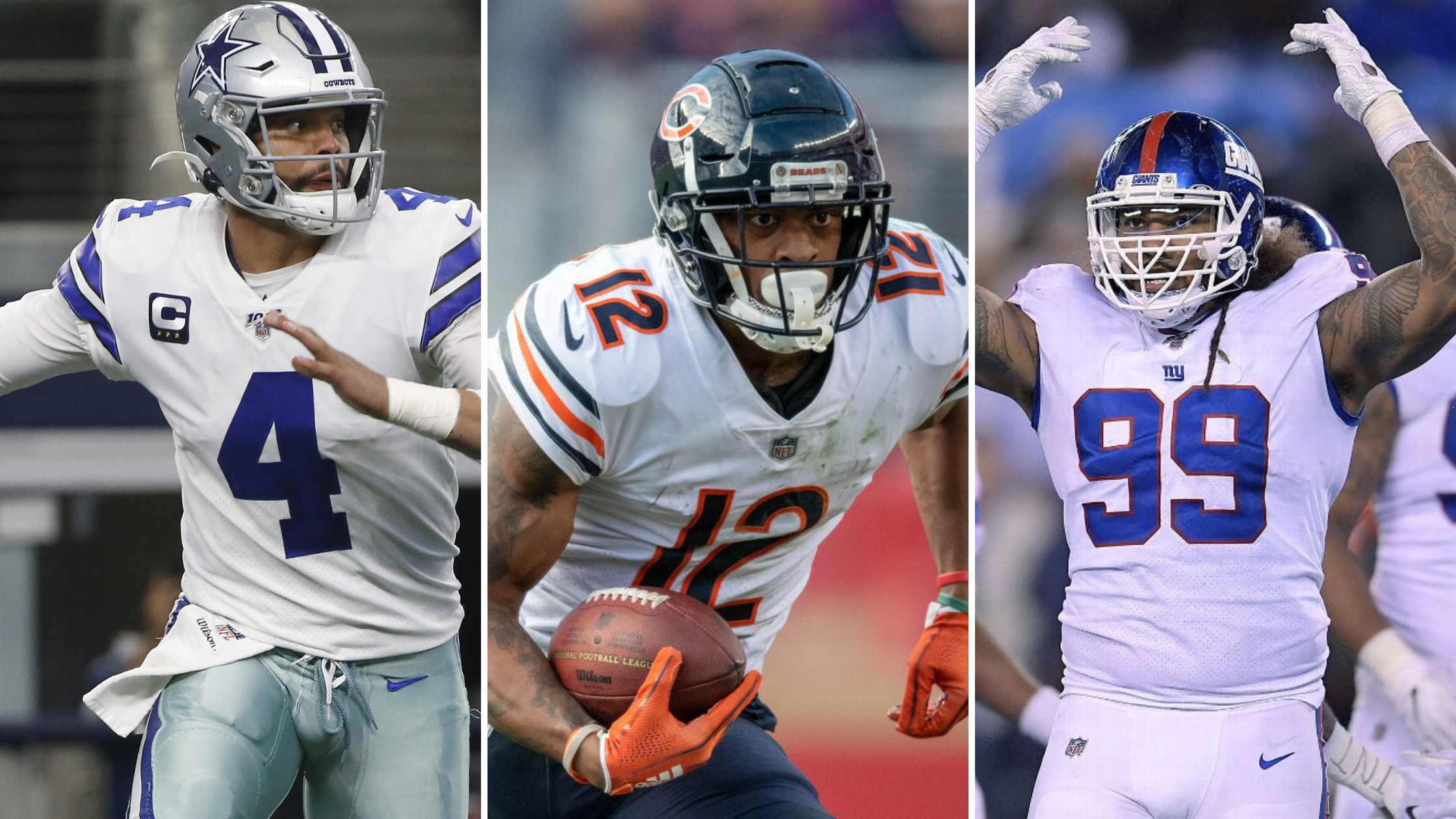 NFL Top 15 Free Agents for 2021 
The NFL 2021 league year is almost here. The new league year will be starting from the 17th of March, which means that all NFL players who will not be signed off or franchise tagged by then will become unrestricted free agents. 2021 is shaping up to be one of the best free agency's classes of recent years.
With the NFL becoming more and more competitive every year, so are the players and coaches. Everyone wants to win and break as many records as possible, meaning changing teams, changing coaches, or changing the organizational structure. In this article, we will discuss the top 15 best possible free agents for the 2021 NFL league year.
DAK PRESCOTT (Quarterback)
I mean, there shouldn't be any doubt that we have Dak at number 1. Statistically speaking, the 2020 regular season was almost the best year of his career until it was cut short due to his injury. Dak threw at least 450 yards in 3 consecutive games, a record in the NFL. The best quality about Dak is that he throws extremely accurately regardless of whether the throw is short or deep. Dak can also extend plays, throw on the run, and scramble in a rush to avoid a sack. Moreover, he is only 27 years old and is respected as a team leader.
Dak has much more football ahead of him, and all of these attributes make him a dream of every team that needs a good QB. Dak's best and the obvious option should be right in Dallas as their featured starting QB. Any new quarterback in Dallas will have to learn all of the things Dak already knows and is correctly adjusted in the Cowboy's system as one quarterback in any team could be.
However, stranger things are happening this year.
No one would have predicted 12 months ago that starting quarterbacks of the Lions, Rams, and Eagles will be with different teams with several other quarterbacks looking to do the same. We can see Carolina Panthers, 49ers, Denver Broncos, NY Jets, and Chicago Bears as potential hotspots for the star QB. In a crazy scenario, we can see the Houston Texans making a move on Dak if DeShaun Watson is traded to another team since Dak's contract will probably be in the same range as Watson's.
CHRIS GODWIN (Wide Receiver)
Chris Godwin is a rare talent. He has only gotten better over the years. Although his overall numbers weren't as impressive as his record-setting 2019 number, Godwin still made his presence felt in Brady's offense in the 2020 season.
Godwin had to battle injuries in the 2020 season, but that can also be counted as his quality trait because he played at least half of his regular-season games while dealing with low to mild injuries. The best part about Godwin is his ability to run after catching the ball. His YAC has been impressive in all his years at the Bucs.
Although he is not that tall, he got a sturdy set of hands with the ability to drop any passes rarely. He can run between the tackles and can be very fast in open spaces. As much as Buccaneers fans want Godwin back in 2021, the chances of that happening are 50/50 since the Bucs are loaded with receiving talent. Other teams interested in him are SF 49ers, New York Giants, Cincinnati Bengals, Philadelphia Eagles, and NY Jets.
ALLEN ROBINSON (Wide Receiver)
Consider this. Allen Robinson has played for two different teams for five other quarterbacks in 7 seasons. He holds multiple franchise records as a player both in the Jacksonville Jaguars and as a Chicago Bear. He will be a free agent in the 2021 league year if not signed back by the Bears, and despite being a well-experienced player, Robinson is only 27 years old.
He is a dream WR of every team looking for a reliable wideout. His best traits include his ability to catch the ball in crowded situations, the ball control, and a reliable catcher in clutch situations. Robinson will be a perfect fit for any team out there. However, if he remains a free agent, he'll fit perfectly well in Jaguar (his old team), Colts, Cincinnati, NY Giants, and NY Jets, Eagles Raiders, Ravens, Texans, and Patriots.
KENNY GOLLADAY (Wide Receiver)
If Golladay somehow ends up reunited with his former quarterback Matthew Stafford in the LA Rams, it wouldn't be a bad deal for anyone. Admittedly, the Rams have a great receiving core. Stafford will fit right in the right from the start; still, the Golladay-Stafford collection reminded most analysts of Stafford and Calvin Johnson's connection, and rightly so. Golladay made some of the most impressive catches while playing as a wide receiver at the Lions.
Golladay's reach is excellent, and he can extend and catch the ball. He has incredible speed, a right height of 1.93m, and the ability to draw double coverage. It's highly doubtful that the Lions will let him go, but they have lots of draft picks this year, so that they may have other plans in terms of wide receiver in mind. Potential landing spots other than Rams for Golladay would be Jaguars, Texans, Jets, Bengals, Browns, Colts, and Eagles.
TRENT WILLIAMS (Offensive Tackle)
Trent Williams is projected to be one the highest-rated free agent -based on position- if the 49ers can't keep him in the team. Williams is 32 years old, and he is looking for a long-term contract. Williams already had a disputed year with the Washington Football Team in the 2019 NFL season.
Williams's best quality trait is that he can prevent edge rushers well, giving the quarterback peace of mind in the pocket. Williams is also equally talented in creating the gap for the running backs to find the space.
With talent like that, most of the teams will be looking for him after 17th March. Perhaps the Cincinnati Bengals are in dire need of a good OT, but as stated earlier, he will be getting lots of interest from most teams, specifical teams with adequate cap space. NY Jets, Indianapolis Colts, Jacksonville Jaguars, Denver Broncos are the other potential places for the talented OT. Right now, William is looking for an excellent long-term contract, and I think the 49ers should do whatever they have to to keep Williams on the team.
SHAQUIL BARRETT (Outside Linebacker)
How do you start an NFL season after a record-setting 19.5 sacks season in the previous year? By being a Super Bowl champion. Shaquil Barrett just did that. What a great acquisition Shaquil Barrett was for the Buccaneers at the start of 2019. Barrett broke multiple records in his first year as a Buccaneer. Barrett showed the rare ability of strength, speed, and stamina in both his years as a Buccaneer.
Barrett is only 27 years old, and if he wants to test the market, he will get some great offers. Buccaneer's 2020 SB winning team was incredibly talented, and although it will be great to see all the potential free agents coming back with the team, still, there will be few players opting to join other groups. Right now, aside from Buccaneers, Jaguars and Jets can benefit the most from acquiring Barrett in the free agency.
LAVONTE DAVID (Linebacker)
Lavonte David is an extremely talented athlete at any level when it comes to reliability. He has played 137 games out of a total of 144 games in 9 seasons as a Buccaneer. He has been with the Bucs ever since he was taken as 58th overall pick back in 2012.
Apart from being reliable, David excels at his position as an inside linebacker, and he is fast to react depending on the offensive play. Even at the age of 30, he is playing exceptionally well.
David knows all the ins and outs of the Buccaneers defense, and he should be retained back by the Bucs, which will work immensely well for both the team and David. Apart from the Buccaneers, other organizations that can benefit from David are the Dolphins, Broncos, and Bills.
LEONARD WILLIAMS (DT, DL)
Williams is only 26 and has the best year of his career in 2020. He recorded 11.5 sacks, and at times he looked like an elite DT. Williams's best quality is that the guy carries his weight well and can speed up and speed down depending on the situation. Williams played the 2020 season under the franchise tag, and it will cost the Giants a lot of money to franchise tag him again; and since he is only 26 right now, it would be a good idea to sign him for a long-term deal.
BRANDON SCHERFF (Offensive Guard)
The free agency market for offensive guards is usually quite slim everywhere, and the chances of someone entering as talented as Brandon Scherff are almost zero. But should Scherff enter the FA market, he will be an instant hit with most of the teams. Every NFL franchise which is looking to build their teams from the beginning will seek him. Scherff is definitely in the top 5 guards currently playing in the NFL.
He has been selected to the Pro Bowl from 2016 to onwards consecutively. He has immense knowledge of the game, and he is extremely reliable, especially when it comes to pass blocking. In the run game, Scherff has the power at the point of attack and the quickness to make any block in space. Washington has a great defense.
Their offense is in the building process, and while there are lots of pieces at the play of any offense, and for the Washington Football Team, Brandon Scherff is the best choice right now.
JUSTIN SIMMONS (Free Safety)
Justin Simmons is another player who has been coming back after being franchise-tagged. There are only a few highlights of the Broncos 2020 season, and Simmons is one of them. Simmons is speedy to reach with a great football IQ. He reads quarterbacks exceptionally well and has a good awareness of the surroundings.
Simmons will be looking for an excellent long-term contract with the Broncos, but since there aren't many options available in Denver, Simmons might end up being franchise-tagged again. If Simmons ends up being a free agent, he will be a perfect fit for many teams, including the Lions, Ravens, Giants, Houston, and Patriots.
HUNTER HENRY (Tight End)
Henry will be the best tight end looking for a new contract (and possibly a new team) in the 2021 league year. Henry showed great rapport with the rookie quarterback Justin Herbert. Many analysts are already comparing him to Kittle and Kelce. In 2020 the Chargers and Henry couldn't agree on a deal, so he was franchise tagged. Henry excels in hauling tough catches under challenging situations. He will be in the top five most paying tight ends by the end of the free agency period whether he contracts with the Chargers or any other team.
WILL FULLER V (Wide Receiver)
The Texan drafted will Fuller in 2016 specifically for his speed, and at times he didn't disappoint, but mostly he was overshadowed by dynamic DeAndre Hopkins. Fuller finally got to show his skills in the 2020 season after Hopkins was traded to the Cardinals and Fuller became WR1 for the Texans.
He is no Hopkins, but by the time Fuller got suspended, he was on pace to score more than 1300 yards and 12+ touchdowns. Due to Fuller's speed, he could create the separation from the CB's right from the start and play at the slot.
We don't know what will happen with Fuller at the moment. Texans should try to get him back since their receiving core is already weak. Still, the Texans have to deal with the whole DeShaun Watson situation. Then try to get Fuller back and hopefully land on a good quality wide receiver in the upcoming draft or even try to pick someone like Kenny Golladay or Allen Robinson if Watson decided to stay in Houston.
MARCUS MAYE (Free Safety)
Marcus Maye was selected in the second round of the 2017 NFL draft, and he has been an integral part of the Jets' defense ever since. Although, Jamal Adams saw much more attention who was also picked as 6th overall in the same draft. But Maye has been doing his part and has been just as good all this time. Maye should be given a fair contract. Maye has an excellent knowledge of offensive plays, and he plays most of the defensive snaps.
Perhaps the best thing about him is his stamina. There is a considerable possibility that Maye maybe franchises tagged in 2021; however, if he ends up being a free agent, there will be several teams who can benefit from him. Bengals, Eagles, Giants, Ravens, and Patriots. All of these can get a massive uplift in their secondary should Maye end up with them.
14. JJ WATT (Defensive End)
JJ Watt finally decided to call quits with the Houston Texans. I think Watt wants to be a Super Bowl champion before he finally retires. It's not like Texans didn't have the opportunity. In Watt's 10-year career, Texans managed to reach the playoffs six times but failed to reach the Super Bowl every time. Watt is not precisely the same as he used to be five years ago. He will be 32 at the start of the 2021 regular season.
However, no one can deny Watt's work ethic, and we believe that he has much more to give. Currently, he will be an excellent fit for any team in need of a quality edge rusher. Right now, there are some vast speculations that he will either end up with the Packers or may be united with his brother at Steelers. However, the teams such as Dolphins, Chiefs, Washington, Seahawks, and few others can also benefit from Watt's quick, quality, and powered up edge rusher. Whichever team chooses to pick Watt up, we do know that Watt only wants to win.
Player Update: JJ Watt recently signed a two-year deal with the Arizona Cardinals.
15. MARCUS WILLIAMS (Free Safety) 
Ever since Marcus Williams has joined the New Orleans Saints, he has established himself as one of the best young safeties in the NFL. Williams has been consistently in the top tier for securities. The best thing about Williams is his extraordinary ability to cover the well-thrown passes. He has one of the highest forced incompletions and passes deflections rates among safeties in the last four years.
Apart from that, William can block the run. He hasn't had many blown coverages; however, one of them includes the famous Minneapolis Miracle when Williams failed to cover Steffon Diggs in the last play of the NFC divisional playoff, and the Saints ended up losing the game.
However, Williams was a rookie back then, and he didn't make that mistake to jeopardize his later seasons where he excelled. Marcus will be back with the Saints. However, if he ends up being a free agent, he will get lots of attention from every team with a decent cap-space. Jaguars, Bengals, Giants, Cowboys, Eagles, and Lions will be hotspots for Williams.
CONCLUSION
Until the 9th of March, the teams have to either get a contract extension or franchise tag. (aside from JJ Watt) and after that, all of the top 15 free agents will be tested in the market. However, for sure, this 2021 class of free agents is the most talented one in recent years.
Support the Strike 7 Sports platform's growth by heading over to Fanatics.com and purchasing officially licensed gear from the National Football League. Each purchase made through the text link below goes into the funding of the Strike 7 Sports brand. To proceed, click on the link below and enjoy shopping over at Fanatics.