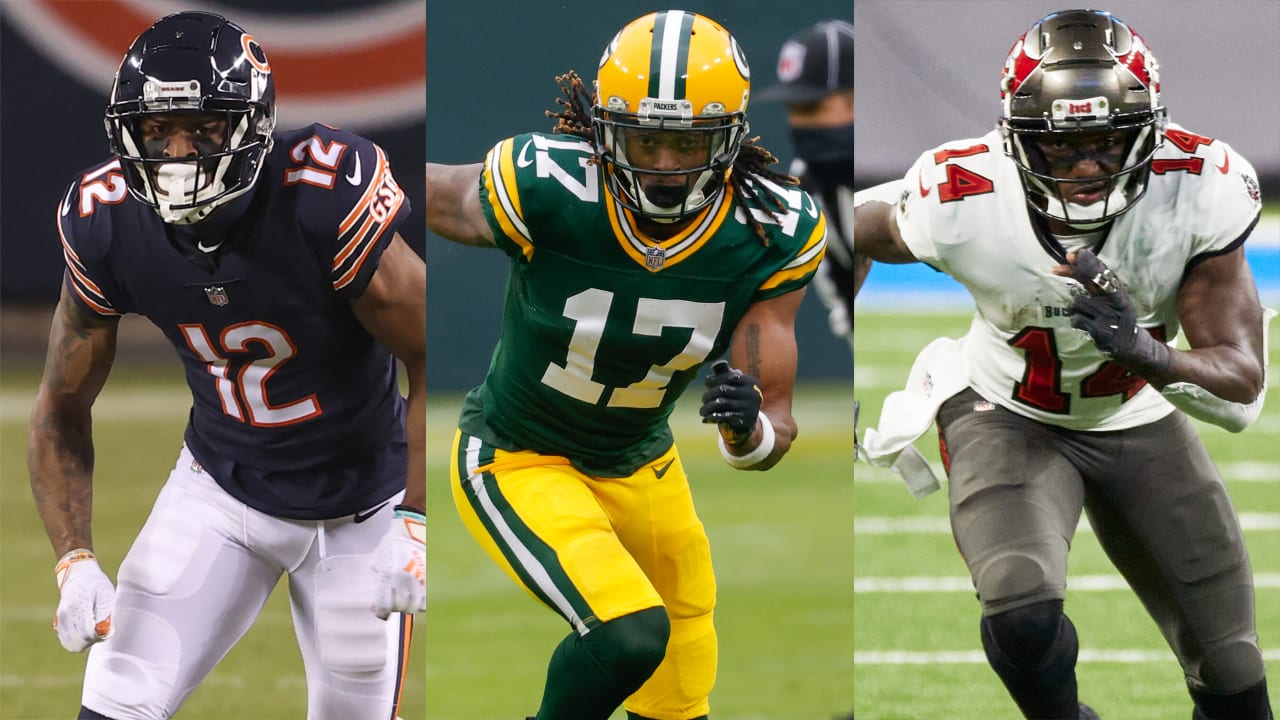 With free agency looming on the horizon in the NFL, many players have uncertainties about their futures. Will the players on the open market re-sign with their previous team, or will they find a new home somewhere else? Free agency can change the dynamic of the league drastically, and it is one of the most critical aspects of the offseason. Today, we discuss the top 25 free agents on offense for the 2022 offseason.
1. Davante Adams
Wide receiver Davante Adams would not only be the top free agent at his position but the top free agent in the NFL if he hits the open market. However, Green Bay is reportedly doing its best to sign him to a long-term deal. 
They could also place the franchise tag on Adams if they cannot work out a long-term contract for the receiver. But the franchise tag would cost the Packers $19 million, so it is possible that they would opt not to go in that direction. 
Adams would be a hot commodity on the open market, and multiple teams would immediately express interest in acquiring his services. He is coming off of a season that saw him reel in 11 touchdown receptions to go along with 1,553 receiving yards.
2. Chris Godwin 
The Tampa Bay Buccaneers have an interest in re-signing wide receiver Chris Godwin. But the interest may not be mutual given Tampa Bay's questionable quarterback situation. 
He played under the franchise tag in 2021 and reeled in 98 catches and five touchdowns in just 14 games for the Bucs. His season ended prematurely due to an ACL injury, but he is expected to return near the beginning of next season. 
A return to Tampa Bay might still be in the cards for Godwin, but teams such as the Chiefs and Jaguars could be potential landing destinations for the wideout as well.
3. Allen Robinson 
Wide receiver Allen Robinson is set to hit the open market in 2022. He is one of the most talented receivers in the league, but the Bears' shaky quarterback play has limited his ceiling in previous seasons. He is coming off a limited year that saw him produce just one touchdown reception and over 400 receiving yards. 
If Robinson ends up signing with a team with even a decent quarterback, he could be in store for a true breakout campaign in 2022. There is a chance that he remains in Chicago, but one would figure that Robinson would desire a fresh start somewhere else.
4. Terron Armstead 
Armstead has developed a reputation as one of the most prominent offensive linemen in the NFL. He is someone who teams will undoubtedly be interested in as they attempt to protect their franchise quarterbacks. The Saints will have difficulty retaining him since they are currently limited financially. 
Despite dealing with an underwhelming 2021 campaign, Armstead had previously made three Pro Bowls and should be in line for one more big contract before he calls it a career. The Cincinnati Bengals are an obvious fit for Armstead as they will indeed look to upgrade their questionable offensive line this offseason.
5. Mike Williams
Williams would be in high demand on the open market in 2022. After all, he totaled nine touchdown receptions and over 1,100 yards this past season. But multiple reports have stated that the Chargers are expected to utilize their franchise tag on the receiver. 
Los Angeles would prefer to work out a long-term extension. Still, they will not hesitate to use the franchise tag if necessary, meaning Williams will likely be a Charger in 2022, barring unforeseen circumstances.
6. Michael Gallup 
The Dallas Cowboys decided to move away from wide receiver Amari Cooper. Many people around the league question this choice, but it is becoming increasingly clear what led to this decision. NFL insider Adam Schefter recently reported that the team is close to finalizing a deal with impending free agent Michael Gallup. 
Dallas seems to view Gallup as their star receiver of the future alongside CeeDee Lamb. Gallup was limited to just nine games in 2021 but still posted over 440 yards and two touchdowns during that span. He could be in line for a monster season with the Cowboys-loaded offense in 2022 if a deal does come to fruition.
If the deal falls by the wayside, there will be plenty of suitors waiting to sign him. But for now, it appears imminent that Gallup will play in Dallas next season.
7. Odell Beckham Jr.
Beckham Jr. fit exceptionally well in Los Angeles following his release from Cleveland last season. The Rams seemed to enjoy his presence, and Beckham found new life with the organization. 
He finished the season strong, and it looked as if Beckham had rebuilt his stock and was in line for a massive payday on the open market. But then he tore his ACL in the Super Bowl, and teams will now hesitate to offer him a contract since he is expected to miss an extended time. 
However, the Rams could decide to offer him a deal and keep in the fold next year. He would not be able to return until the midway point at the earliest of the upcoming season, but Los Angeles is reportedly willing to be patient with Beckham if they do end up signing him. 
The injury places an unfortunate cap on the overall interest in Beckham, but he could be an X-factor in the second half of the 2022 campaign.
8. Mike Gesicki 
Gesicki profiles as the highest-rated tight end on the open market this offseason. He recorded 780 receiving yards to go along with a pair of touchdown receptions in 2021 and will draw interest from a number of teams on the open market. 
Gesicki is not expected to sign a contract with Miami before free agency begins, so he will likely become a free agent. Although he could re-sign with Miami even after free agency begins, the Jaguars are a team that is expected to make a run at Gesicki. Jacksonville is hopeful that he could build rapport with Trevor Lawrence, and the two would form a respectable quarterback-tight end duo. 
Other suitors will be in line for Gesicki, but Miami and Jacksonville stand out as the two likeliest destinations.
9. Rob Gronkowski 
Many people around the league assumed that Gronkowski would call it a career for the second time once Tom Brady announced his retirement. While that still could be an option, Gronk is still expected to play next season. The longtime tight end will draw some interest on the open market after recording over 800 yards through the air and six touchdowns in 2021.
Gronk made headlines earlier in the offseason when he announced that he would like to play with Joe Burrow. The Bengals have a formidable tight end in C.J. Uzomah, but Gronkowski could still be an option. The Bills have also been linked to the veteran tight end.
10. Jameis Winston 
A recent video posted on social media of Winston working out and rehabbing from his 2021 season-ending injury has many people around the NFL excited for his return in 2022. There are plenty of teams who might be willing to take a chance on Winston after he showed promise in New Orleans prior to the injury, as he had led the Saints to a 5-2 record while throwing 14 touchdown passes. 
The Steelers and Broncos have been in the conversation for just about every QB on the trade block and in free agency this offseason, and that is no different in regards to Winston. He could also re-sign with the Saints, but Pittsburgh and Denver would likely make more aggressive pursuits for the QB as New Orleans has secondary options in Taysom Hill or the NFL Draft. 
11. Leonard Fournette
The 27-year-old running back Leonard Fournette is entering free agency this offseason. Fournette rushed for over 800 yards and added eight touchdowns in limited action during the 2021 campaign.
Health concerns could put a damper on Fournette's free-agent prospects, but there will still be teams in the hunt to sign the running back. The Bills and Eagles are both teams who could swoop in and attempt to lure him away from Tampa Bay. With that being said, the Buccaneers could still re-sign the running back.
12. Orlando Brown
This offseason, Orlando Brown is one of the best offensive linemen on the free-agent market. Brown is a Pro-Bowl lineman coming off of an impressive season in Kansas City with the Chiefs. At just 25 years old, there isn't a team in the league who would not like to have a sturdy offensive lineman in his prime protecting their QB.
Naturally, Brown has been linked to the Bengals, given their well-documented offensive line struggles. But the Chiefs will also be in play to make a run and try to re-sign Brown. Brown is in line to receive a sizable contract given his age and position.
13. Brandon Scherff 
Scherff has developed a reputation as a well-respected offensive lineman in the league. He is fresh off a solid year in Washington and is set to hit free agency this offseason.
The Washington Commanders have reportedly attempted to re-sign Scherff but to no avail. He is expected to hit the open market once free agency begins, and the offers will surely come rolling in. The Jaguars are looking to bolster their offensive front to provide Trevor Lawrence with extra protection, and Scherff might be the answer.
14. JuJu Smith-Schuster
Smith-Schuster is just 25 years old and has the game-changing ability from the wide receiver position. Despite dealing with inconsistencies in 2021, there are still plenty of teams who will attempt to pursue Smith-Schuster on the open market.
He has reportedly expressed interest in returning to Pittsburgh, and the Steelers have met that interest by expressing a desire to re-sign him. But for now, he remains on the open market, and it looks as if he will enter free agency. The Steelers are still the favorites to land Smith-Schuster in the long run, but there is a chance that he signs elsewhere.
15. James Conner 
James Conner bolstered his stock with a tremendous 2021 campaign. The Cardinals running back posted over 750 yards and 15 touchdowns. Conner will be one of the top players at the position this offseason, and there will be no shortage of demand for his services. Arizona will try to re-sign him, but Conner will listen to every offer and then make his decision. He is a running back who can significantly impact a team's running game in 2022.
16. Dalton Schultz
Schultz is fresh off of a strong season in Dallas. The tight end recorded over 800 yards and eight touchdowns for the Cowboys in 2021. He is not a name that jumps off the page, but there is undoubtedly value at a thin position such as tight end.
Schultz has already been linked to the Titans this offseason. Tennessee features a tremendous rushing attack and an elite defense, but their passing attack was underwhelming, to say the least, last season. While most of that falls on the shoulders of quarterback Ryan Tannehill, adding some depth at tight end and receiver would benefit the Titans' passing game without question.
17. Austin Corbett
Austin Corbett is a 26-year-old guard who can positively impact the offensive line. Corbett spent 2021 playing in Los Angeles with the Rams and is a candidate to re-sign. But Corbett has taken the league by notice, and the rumor mill is already swirling around potential destinations for the guard.
Pittsburgh, Washington, and Jacksonville have all been linked to Corbett so that he will have no shortage of options this offseason should he choose to leave LA.
18. Christian Kirk
Christian Kirk is a dynamic player who impacts the game with blazing speed. He is a solid wide receiver who also features punt/kick returning ability.
Kirk reeled in five touchdown receptions to go along with over 980 yards in 2021. Kirk is not expected to re-sign with Arizona before hitting the open market to enter free agency.
One team that makes sense as a destination for Kirk is Cleveland. The Browns traded Odell Beckham Jr. away in 2021, and they can use all of the receiving help they can get to help quarterback Baker Mayfield perform as well as possible. But there will be several teams that inquire about Kirk this offseason.
19. David Njoku
Browns tight end David Njoku is set to hit free agency this offseason. He is coming from a respectable season that saw him produce 475 receiving yards and four touchdown receptions. Cleveland has another tight-end option in Austin Hopper, but they reportedly have more interest in retaining Njoku even if it means cutting ties with Hooper.
They believe that Njoku has built a solid rapport with quarterback Baker Mayfield and they think he can be a valuable weapon for the 2022 campaign. But Njoku is still expected to hit the open market and receive many offers from various teams.
20. Cordarrelle Patterson
Patterson is one of the most exciting players to watch in football because of his elite speed. He is also a talented tailback, evidenced by his 618 rushing yards and six touchdowns in 2021.
Patterson has described himself as "position less" in regards to his versatility.
He also possesses a pass-catching ability to go along with kick returning talent. He has also stated that he would welcome a return to Atlanta with the Falcons, but he is also open to entertaining other offers. Plenty of teams would love to have a player with a unique skill set like Patterson.
21. Melvin Gordon
This past season, Melvin Gordon produced over 900 rushing yards and eight touchdowns in Denver. He is a hard-nosed running back set to hit the open market. Denver would love to bring Gordon back into the fold to strengthen their running attack. The Broncos believe they are a good quarterback from becoming a true contender, but Gordon would undoubtedly be a helpful option out of the backfield. The team does have the young Javonte Williams, but they could opt to implement a running back-by-committee approach and utilize both players in 2022.
22. Zach Ertz
After being traded from Philadelphia, Ertz played a significant role in Arizona's passing attack last season. The tight end reeled in five touchdown receptions and tallied 763 yards. He isn't an elite tight end by any means, but his veteran presence should help provide plenty of interest on the free-agent market this offseason. The Eagles have been mentioned as a suitor for Ertz, as have the Cardinals. However, the dark horse candidate may be the Jaguars as they look for a reliable position.
23. Antonio Brown
Antonio Brown was in the midst of an ongoing campaign before his breakdown in Tampa Bay last year. The veteran receiver recorded over 540 yards to go along with four touchdowns before being cut by the Buccaneers. There could be some interest in the free-agent market based on a talent perspective. But Brown's unpredictable personality is destined to draw some teams away. It will be interesting to see if Brown receives any offers this offseason.
24. Morgan Moses
Moses is a 31-year-old offensive tackle at the back end of his career. But he still provides plenty of talent, which was overshadowed during this past season since he played for the lackluster Jets. However, Moses will likely be interested in signing with a competitive team in what could be his final large contract. The Steelers and Bengals are possible landing destinations for the veteran as both teams look to upgrade their underwhelming offensive lines.
25. D.J. Chark
Chark is young and offers plenty of upsides. But he was limited in 2021 to just four total games. The young wide receiver figures to see plenty of interest on the open market due to his high ceiling and age of just 25. The Jaguars would surely be interested in re-signing the free agent as they look to bolster their offense. But Chark is expected to receive many different offers that could lure him out of Jacksonville. These are your top 25 free agents on offense for the 2022 campaign.
Show Your Support
Support the Strike 7 Sports platform's growth by heading to Fanatics.com and purchasing officially licensed gear from the National Football League. Each purchase made through the text link below goes into the funding of the Strike 7 Sports brand. To proceed, click on the link below and enjoy shopping over at Fanatics.