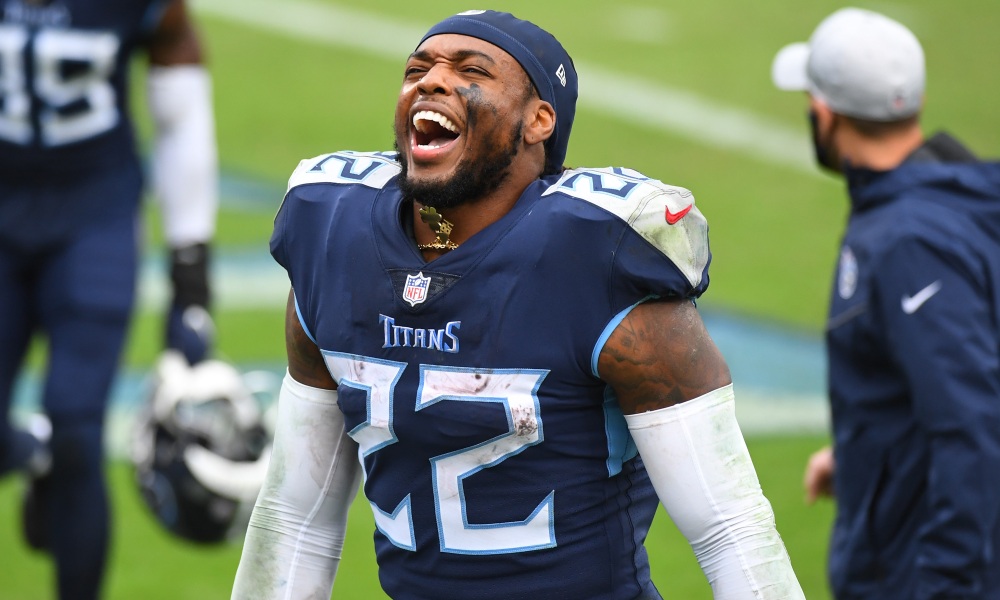 5-1.
Five thrilling wins stained by one giant, stinky loss. Thanks a lot, Eagles +7.5.
If you rode with our betting picks from Super Wild Card Weekend, you probably had a pretty good week. If you faded, I have no remorse. And as this weekend's games get ready to kick-off, I've heard time and time again about how much people love the underdogs.
I disagree. Continue reading to find out why.
Bengals at Titans (-4.5)
Titans fans, you've received your reinforcement.
Weeks of reporting and speculation had us convinced that Derrick Henry was out for the season. When he got injured in Week 8, it seemed certain. As the days and months progressed, optimism was hard to find. That was, until a shocking report in Week 18 that said Henry was back in practice and on pace to be back with the team in time for Tennessee's first playoff game. Less than 48 hours before kickoff, it was confirmed – the Titans will have their former MVP candidate taking handoffs once again.
And I know I've disrespected the Titans a couple of times post-injury this season. I'll have more on that as we get closer to kickoff, but it's always been the objective truth that when Henry is taking snaps, the Titans turn on an extra switch. Hell, the main reason why they clinched the first-round bye was thanks to the scorching hot start they got off to when Henry was still healthy. So take everything I said about Tennessee from early November and onward. Punt it out the window.
The first task is not an easy one. Joe Burrow and the Bengals cast away their postseason demons a week ago and look like a legitimate threat in the AFC. Led by Ja'Marr Chase and CJ Uzomah in their win against the Raiders, Cincinnati boasts a true dual-threat offense with the presence of a resurgent Joe Mixon. On the other side of the ball, they've got the fifth-best rushing defense in the league. That makes things tougher for a running back playing in his first game since Halloween.
While I may have been unusually low on Tennessee in the latter stages of the season, I'm unusually high on the Bengals. Will they win? Hard to say. But they'll keep it close.
Pick: Bengals +4.5
49ers at Packers (-5.5)
As the only underdog to advance to the divisional round, the Niners picked up the most impressive win in Super Wild Card Weekend when they sprinted out of the gate and survived a late comeback push at Dallas. Their reward is a trip to the NFC's top dog.
Unfortunately for San Fran, this win won't come as easy. One of the biggest reasons is Green Bay's potential response to Deebo Samuel. When these teams met back in Week 3, Samuel was quiet – 5 receptions for 52 yards. Of course, this was before Kyle Shanahan turned him into the NFL's Shohei Ohtani, but even as a running back, the Packers have the personnel to potentially keep him quiet. An athletic defensive front that stops the run well may limit him in that department, and when Deebo isn't clicking, it makes things all the more difficult. After all, this team was 3-5 before Samuel became the hybrid superstar that we've become used to over the latter half of the season.
The Packers are elite, rested, and have home-field. Lambeau is not the place you want to play in the playoffs, especially when it's forecasted to be 12 degrees at kickoff. I'll take the Packers and the points.
Pick: Packers -5.5
Rams at Buccaneers (-2.5)
Boy, everyone who said the Buccaneers might struggle without Chris Godwin, Antonio Brown, and some players on defense must have egg on their face now, right? *stares at the ground to avoid embarrassment*
While it's true that Tampa Bay is without two of its three best receivers, the Bucs seem to be moving along just fine. Mike Evans, despite taking a minor knock against the Panthers in Week 18, was his typical self, and the tried and tested due of Tom Brady and Rob Gronkowski connected for a touchdown last week as well.
This game also doesn't bode well for Matthew Stafford deniers. The Buccaneers boast one of the best-run defenses in the NFL, ranking third in yards allowed and fifth in touchdowns allowed. That puts the onus on Stafford, who has a plethora of weapons – including Cooper Kupp, who just posted one of the best single seasons for a wide receiver in NFL history – but has a less than impressive track record in games like these. Can he shake the trend on the road against the greatest to ever do it?
Maybe he can, but I won't be the fool to bet against Tom Brady in the playoffs again. I've already done it once this postseason. Give me the Buccaneers by a field goal.
Picks: Buccaneers -2.5
Bills at Chiefs (-1.5)
The game of the weekend, so of course, we have to wait until all the others have run their course before we can feast on the main dish.
How does one even begin to handicap this game? If you ask me, the Chiefs are the best team in the NFL when they're at their best. They have been since they kicked off their hot streak and won 10 of 11 games, including a thrashing of Pittsburgh in Super Wild Card Weekend. Patrick Mahomes was back to his best, the defense hardly gave up anything, and Travis Kelce both caught and threw for a touchdown (and then was interviewed by his mother in the postgame press conference which was by FAR the best thing that happened that weekend).
But the Bills looked perfect against the Patriots a week ago. Seven drives, seven touchdowns. Five passing scores for Josh Allen. Do you know how good you have to play to get at Mitchell Trubisky sighting in the postseason? This isn't 2018. If Trubisky is taking snaps in the playoffs, something has either gone obscenely well or horribly, horribly wrong.
I'm resorting to fairly simple logic for this game. As I said the Chiefs are the best team in the NFL when they're at their best. Right now, they're at their best. They've seemed destined for the Super Bowl ever since they got out of their rut, and while missing the AFC's top seed made their path harder, I still think they'll get there.
Pick: Chiefs -1.5