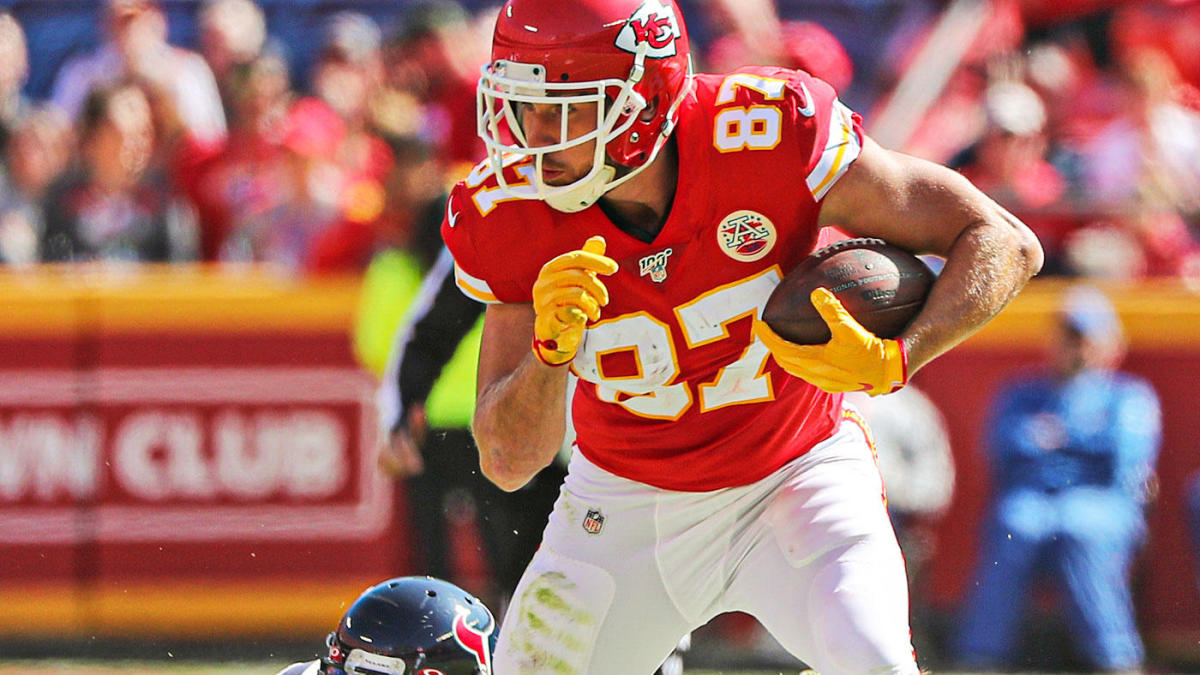 From title contenders losing crucial pieces to fringe playoff teams ripping off long winning streaks, the last month of football has seen everything.
The newest edition of the power rankings reflects that.
There's a shuffle at the top, as the previous no.1 slipped up in primetime and opened the door for the preseason Super Bowl favorite. Further down, Two former no.1s plummeted, one team jumped up five spots, and a new sleeper was introduced.
1. Kansas City Chiefs (10-4, previous ranking: no. 5)
Winners of seven straight after coming out of the gates slow, the Chiefs would be the Super Bowl favorites if the season ended today. That streak includes wins against the Packers, Cowboys, Chargers, Raiders, and Broncos – all of which are still in the fight for a playoff spot.
2. Green Bay Packers (11-3, previous ranking: no. 3)
It's been a fun couple of weeks for Aaron Rodgers and the Packers. Green Bay became the first team to clinch their division this season, and along the way, Rodgers both tied Brett Favre's record for passing touchdowns in Packers history and passed Favre for most passing touchdowns against the Bears.
3. New England Patriots (9-5, previous ranking: no. 1)
As it turns out, the Patriots can still be beaten. Indianapolis took them to the sword on Saturday Night Football in a 27-17 loss, but that was their first loss since October. The Pats are still fully in the hunt for the AFC's top seed.
4. Los Angeles Rams (10-4, previous ranking: no. 8)
A big time win over Arizona in Week 14 followed by a comfortable win over Seattle on Tuesday has the Rams tied atop the NFC West with the Cardinals. It's easy to make the argument that the division is theirs to lose.
5. Tampa Bay Buccaneers (10-4, previous ranking: no. 4)
What the heck happened on Sunday night against the Saints? For the first time in fifteen years, Tom Brady was shutout. To make things worse, Chris Godwin is out for the season. Will Tampa Bay find answers this week at Carolina?
6. Dallas Cowboys (10-4, previous ranking: no. 6)
All the Cowboys have to do to secure a home game (and maybe more) in the playoffs to take care of business. That's exactly what they've been doing, as wins against Washington and the Giants have them in prime position to potentially clinch the NFC East next week.
7. Arizona Cardinals (10-4, previous ranking: no. 2)
It's a tough break for the Cardinals, who have been the class of the NFC all season, but just look like a different team without DeAndre Hopkins. Back-to-back losses (including a stomping from the Lions) should have fans worried, but the Cardinals have already treaded water once this season without Nuk. Can they do it again?
8. Los Angeles Chargers (8-6, previous ranking: no. 9)
We've approached the point in the power rankings where any of the following teams can be ranked anywhere from 8 to 14. React accordingly.
9. Baltimore Ravens (8-6, previous ranking: no. 7)
It's tough to analyze Baltimore's recent run. Three losses in three games, but they've been to playoff contenders and the worst loss was by *checks notes* two points. Unlucky, or unable to close?
10. Indianapolis Colts (8-6, previous ranking: no. 15)
The biggest risers in this week's rankings. The Colts look to be in command of the AFC South even despite not currently topping it, as Tennessee continues to slip and that primetime win against the Patriots has forced fans to take note.
11. Buffalo Bills (8-6, previous ranking: no. 10)
It's been a relentless, painful back-and-forth for Buffalo after starting the season 4-1. They've won the games they were supposed to win and stayed close in games they were expected to stay close in, but something still feels off. How safe is their playoff spot?
12. Cincinnati Bengals (8-6, previous ranking: no. 12)
Keep an eye on this AFC North race – all four teams are within a game of each other. The team in the driver's seat might be the Bengals, although this week's tilt with Baltimore will go a long way in determining who wins the division crown. In a week with plenty of crucial matchups, this one might be the most important of the bunch.
13. Miami Dolphins (7-7, previous ranking: no. 14)
It was so hard to find a place for Miami. Winners of six straight, but are they better than any of the twelve teams sitting above them? Still, the Fins deserve a bunch of credit for turning the season around after starting 1-7. With remaining games against the Saints, Titans and Patriots, a Miami playoff berth will be fully deserved.
14. Tennessee Titans (9-5, previous ranking: no. 11)
It's simply not the same Titans team that looked so dominant when Derrick Henry was taking handoffs. Tennessee has lost three of its last four, including losses to the Texans and Steelers, and with the Colts looking better and better, I wonder if the division-leading Titans are even the favorites to win the South anymore.
15. San Francisco 49ers (8-6, previous ranking: NR)
Niners, Saints, Vikings, Eagles, Raiders, Steelers, take your pick at 15. There are so many teams on this tier that you can make an argument for about ten and you wouldn't hear any complaints from me. San Fran gets the nod thanks to the fact that they've won five of their last six and have beaten the Vikings, Rams and Bengals along the way.