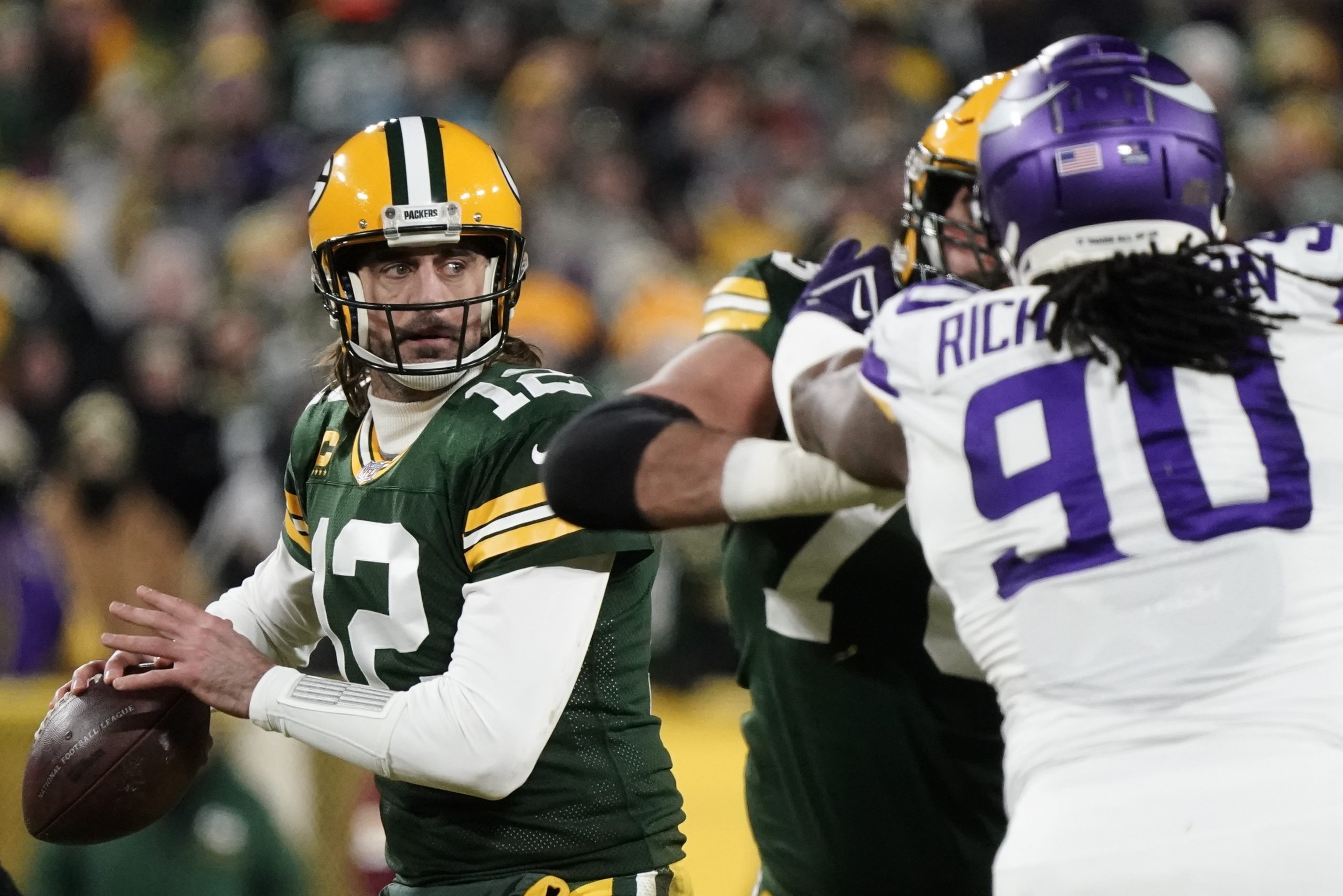 The Bengals grabbed their biggest win of the season, the Cardinals and Titans got back on track, and the Buccaneers barely survived the Jets. Because when can we ever have a normal week of NFL football?
As we approach the NFL's second-ever Week 18, here's a look at the Strike 7 Sports power rankings.
1. Green Bay Packers (13-3, previous ranking: no. 2)
A win against Sean Mannion and the Vikings on Sunday Night Football helped a couple teams, but nobody benefitted more than Green Bay themselves. The Packers got revenge for their Week 11 loss to Minnesota and clinched the top seed in the conference, meaning the NFC's road to the Super Bowl once again runs through Lambeau.
2. Los Angeles Rams (12-4, previous ranking: no. 3)
It once looked like the NFC West would belong to Arizona, but that script has flipped in the last month. The Rams squeaked out a close win in Baltimore, and after things looked bleak after three straight losses in the middle of the season, they've rattled off five straight and control their own destiny heading into the final week of the season.
3. Kansas City Chiefs (11-5, previous ranking: no. 1)
The Chiefs became Joe Burrow and Ja'Marr Chase's latest victim. Simple as that. The Cincinnati quarterback torched Kansas City's defense to the tune of 446 passing yards and 4 touchdowns, while Chase hauled in 266 of those yards and found the end zone three times. The Chiefs' eight-game winning streak has come to a rather unceremonious end and it may just have cost them the AFC's top seed.
4. Tampa Bay Buccaneers (12-4, previous ranking: no. 4)
The Bucs hardly survived the *checks notes* New York Jets, but in the end, Tom Brady handed Gang Green some more of that emotional heartbreak that he gave them for the last two decades. But Tom Brady's game-winning drive wasn't even what captured the headlines — what was more interesting was Antonio Brown's mid-game departure (a la Vontae Davis). At least he didn't hurry out of town!
5. Cincinnati Bengals (10-6, previous ranking: no. 10)
In a season full of pleasant surprises and overachieving, the Bengals' Week 17 win against Kansas City is, without doubt, the watershed moment. Cincinnati was down by as many as fourteen points in the second quarter, but a late comeback and a game-winning field goal as time expired gave the Bengals their first division crown since 2015.
6. Dallas Cowboys (11-5, previous ranking: no. 5)
In what may well have been a preview for a game we'll see again in a couple weeks, the Cowboys came out on the losing end of a fascinating game against the Cardinals. They're still in the Super Bowl discussion, but after falling at home to a shorthanded Arizona team, should this be cause for concern?
7. Buffalo Bills (10-6, previous ranking: no. 7)
The Bills have officially clinched their playoff place with a comeback win over Atlanta. After exchanging wins and losses for the better part of two months, they've won three straight and can seal the AFC East with a win at home against the Jets. That said, Josh Allen still hasn't looked fantastic — he'll need to find a way to regain his 2021 form if Buffalo is to do anything in late January.
8. Tennessee Titans (11-5, previous ranking: no. 11)
I owe the entire state of Tennessee an apology for writing them off after Derrick Henry went down for the season. In my defense, I think we all did, and the fact that the Titans now control their own destiny in the fight for the AFC's home-field advantage is wildly impressive. Oh, and Henry could be back earlier than expected. Why'd we even write them off in the first place?
9. Arizona Cardinals (11-5, previous ranking: no. 9)
Another team that was kicked to the curb after losing a big offensive star, the Cardinals picked up an impressive win at Jerry's World against the Cowboys to keep pace with the Rams in the NFC West race. It will require some help, but there's still a path for Arizona to win the division if it wins against Seattle in the season finale.
10. New England Patriots (10-6, previous ranking: no. 8)
I hate moving teams down in the power rankings after a win, especially when it's a team as good as New England. But a win against Jacksonville, regardless of how big (and in this case, very big), doesn't move the needle. Cincinnati, Tennessee and Arizona picked up massive wins and made jumps. The Pats might be the best '10' in Strike 7 Sports power rankings history.
11. Indianapolis Colts (9-7, previous ranking: no. 6)
Likewise, dropping the Colts five spots for a close loss against a team whose playoff hopes are still alive seems (and is) harsh, but with so many sleeping giants that seemingly came back to life in Week 17, how else can we order 5 through 11? No, seriously. I'm asking. I don't think there's a right answer.
12. Los Angeles Chargers (9-7, previous ranking: no. 14)
The Chargers are playing in the most important game on the entire Week 18 slate when they travel to Vegas to play the Raiders. Both teams are 9-7 and in the fight for a playoff spot. A win gets them there. A loss puts them at the mercy of Indianapolis, Pittsburgh, and Baltimore. Watch that game.
13. Philadelphia Eagles (9-7, previous ranking: no. 15)
Who had the Eagles earning a playoff berth back when Nick Sirianni was introduced as head coach and couldn't find the words to describe simple practice concepts? Well, here they are — seventeen weeks and nine wins later, Sirianni is a playoff entrant in his first year as head coach and the NFC East has two representatives in the postseason.
14. Miami Dolphins (8-8, previous ranking: no. 12)
While they won't play past Week 18, the Dolphins have been one of the stories of the season. The first team in NFL history with both a seven-game losing streak and a seven-game winning streak in the same season, Miami rose from the ashes and went from 1-7 to playoff contenders. Tip of the cap.
15. Baltimore Ravens (8-8, previous ranking: no. 13)
That would've been a lovely way to end this week's power rankings, wouldn't it? Instead, we have to talk about the Baltimore Ravens, who have gone from playoff locks to requiring lots and lots of help. They've been difficuLLLLLt to watch over their last five games.
Show Your Support
Support the Strike 7 Sports platform's growth by heading to Fanatics.com and purchasing officially licensed gear from the National Football League. Each purchase made through the text link below goes into the funding of the Strike 7 Sports brand. To proceed, click on the link below and enjoy shopping over at Fanatics.