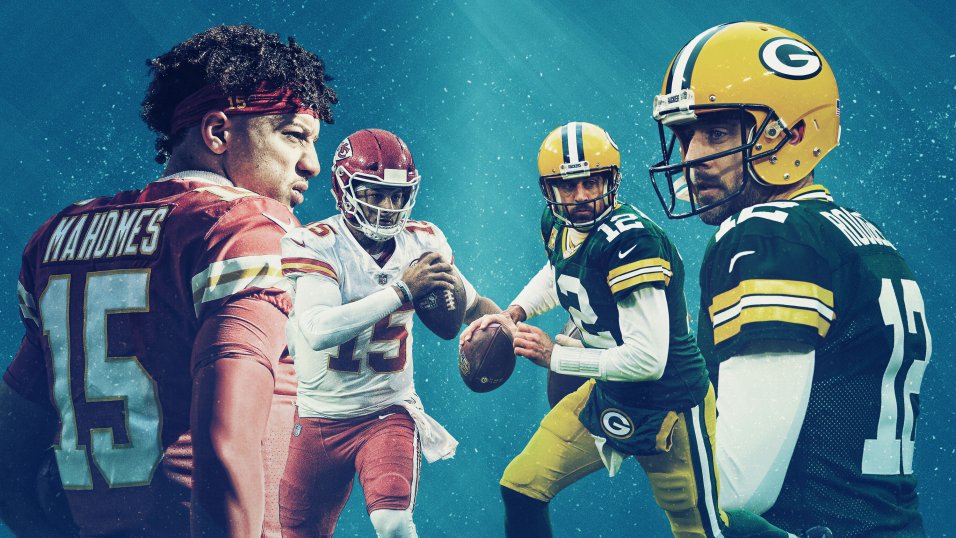 After eighteen grueling, enthralling weeks of football, the postseason field is finally set. And it came down to (quite literally) the final play of the season. Can't script it any better.
But now, it's time to cut off the fat and get to the real business. Which teams actually have chances at lifting the Lombardi Trophy at SoFi Stadium on February 13?
1. Kansas City Chiefs (AFC no. 2, v. Steelers)
I've said it a million times – following a disappointing 3-4 start, the Chiefs have been the best team in the NFL over the last eleven weeks. Over their last ten games, Kansas City has gone 9-1 with the only loss being the nail-biting defeat they suffered at the hands of Cincinnati in Week 17. At one point, it looked like the Chiefs might not even win the division. Now, it's clear – the NFL runs through Arrowhead.
2. Green Bay Packers (NFC no. 1, BYE)
Despite a final week loss to the Lions, the Packers enter the postseason as the best team in the NFC. They have an offense that can score points at will thanks to their MVP-caliber quarterback, and their defense allows some of the fewest yards in the league. The NFC runs through Lambeau Field this postseason, and after faltering in the conference title game in each of the last two years, 2021 represents their best chance in a while to get back to their first Super Bowl in eleven years.
3. Tampa Bay Buccaneers (NFC no. 2, v. Eagles)
The defending champs enter the playoffs a little bit shaky. Not just in terms of their recent results – they were shut out by the Saints and needed a late drive to beat the Jets – but also in terms of their personnel. Antonio Brown is long gone after his debacle at MetLife, Chris Godwin is out for the season, and Mike Evans, while he should be healthy for Philadelphia, took a knock in their Week 18 game against the Panthers. That said, Tom Brady has just posted arguably the best regular season of his career. Will the postseason provide a thrilling epilogue?
4. Tennessee Titans (AFC no. 1, BYE)
Admittedly, I had written off the Titans in recent installments of the power rankings because they looked like a different team without Derrick Henry, who was thickly in the MVP conversation before a "season-ending" injury midway through the season. I use quotes around 'season-ending' because it was not, in fact, a season-ending injury – Henry is reportedly back in practice and should be ready to go for Tennessee's first playoff game in a week. That completely changes the complexion surrounding the AFC's top seed. They're very much back in the Super Bowl conversation.
5. Dallas Cowboys (NFC no. 3, v. 49ers)
All season long, we talked about how important it was for Dallas to take care of business against their divisional opponents. They only went 6-0 against the Giants, Eagles, and Washington, while averaging 40.0 points per game. They're legit, but their playoff struggles have been well documented – they've only won three playoff games since 1997 and they haven't advanced past the divisional round since they won the Super Bowl in 1996. This year offers a great chance to buck the trend.
6. Buffalo Bills (AFC no. 3, v. Patriots)
The Bills were expected to win the AFC East, but I don't think many people expected it to be as close as it ended up being. Buffalo locked up the division (and subsequently, home-field advantage for Wild Card Weekend) thanks to the way they finished the season. Four straight wins, all of which they posted at least 27 points in, got them to the finish line. Are they getting back to their best at the perfect time?
7. Los Angeles Rams (NFC no. 4, v. Cardinals)
Midseason acquisitions of Von Miller and Odell Beckham Jr. have transformed the Rams from good to great, and with the Cardinals faltering towards the end of the regular season, it opened the door for Los Angeles to claim the division crown. While Beckham hasn't always been as advertised, Miller has fit in seamlessly with an already elite pass rush that included Aaron Donald and Leonard Floyd. The Cardinals have a chance for instant revenge during Wild Card Weekend, but the Rams got the best of them in their most recent meeting and they should be favored to do it again.
8. Cincinnati Bengals (AFC no. 4, v. Raiders)
In a division with the Browns and Ravens, you'd be forgiven if you ignored the Bengals as playoff contenders at the start of the season. It's impossible to ignore them now, though – Joe Burrow has emerged as the favorite for Comeback Player of the Year and Ja'Marr Chase just posted one of the best single seasons for a rookie wide receiver in NFL history. It's impossible to predict a team's path to the Super Bowl, but if you're looking for a potential sleeper to lift the Lombardi Trophy in early February, look no further.
9. New England Patriots (AFC no. 6, at Bills)
If you think this is too high for the AFC's 6-seed, I'd like to remind you of two things: the Patriots' hard-fought season series against the Bills and the simple presence of Bill Belichick. New England is always a tough out in the playoffs, and with an overachieving quarterback and an elite defense, they could easily show off that midseason form that saw them rattle off seven straight wins.
10. Arizona Cardinals (NFC no. 5, at Rams)
The Cardinals' hot start to the season and sputtering finish are disappointing yet surefire signs that this is a team that may have just peaked too early. There was a time when Arizona was 10-2 and in the driver's seat in the NFC, but since then, they've lost four of five and saw their best player on offense go down for the season. One of those losses is a 30-23 home defeat to their Wild Card round opponent, the Rams.
11. San Francisco 49ers (NFC no. 6, at Cowboys)
Admittedly, the Niners snuck up on me. There was a time when they were 3-5 and sitting at the bottom of a division that included the Cardinals and Rams. But since then, they've won seven of nine and clinched an impressive postseason berth. Can they get past Dallas at Jerry's World? Unlikely, but regardless of what happens this weekend, San Fran's season has been a success.
12. Las Vegas Raiders (AFC no. 5, at Bengals)
Vegas deprived us of what would have been the single-greatest football story in the history of the sport (not actually, but it's fun to speak in absolutes). But you can't blame a team for trying to win a football game, as funny as a tie would have been. Their reward is a Wild Card date in Cincinnati, where the young, resurgent Bengals await. Will the football gods look down on Vegas kindly or in spite?
13. Philadelphia Eagles (NFC no. 7, at Buccaneers)
Nick Sirianni went from being at the center of the NFL meme universe when he was unveiled to being the only rookie head coach to make the playoffs in 2021. Big respect, but his next task is his biggest to date… a trip to Tampa Bay to take on Tom Brady and the defending champs. *gulp*
14. Pittsburgh Steelers (AFC no. 7, at Chiefs)
We were one Las Vegas gust of wind away from seeing the Steelers sensationally miss out on a playoff berth thanks to a potential tie between the Raiders and Chargers on Sunday Night Football. Instead, the most important play of Pittsburgh's season was from a game that didn't even involve them – Daniel Carlson's field goal at the end of overtime on Sunday knocked out the Chargers, clinching the Steelers a postseason berth. My expectations aren't high, but it'll be cool to see Big Ben in the postseason one final time.