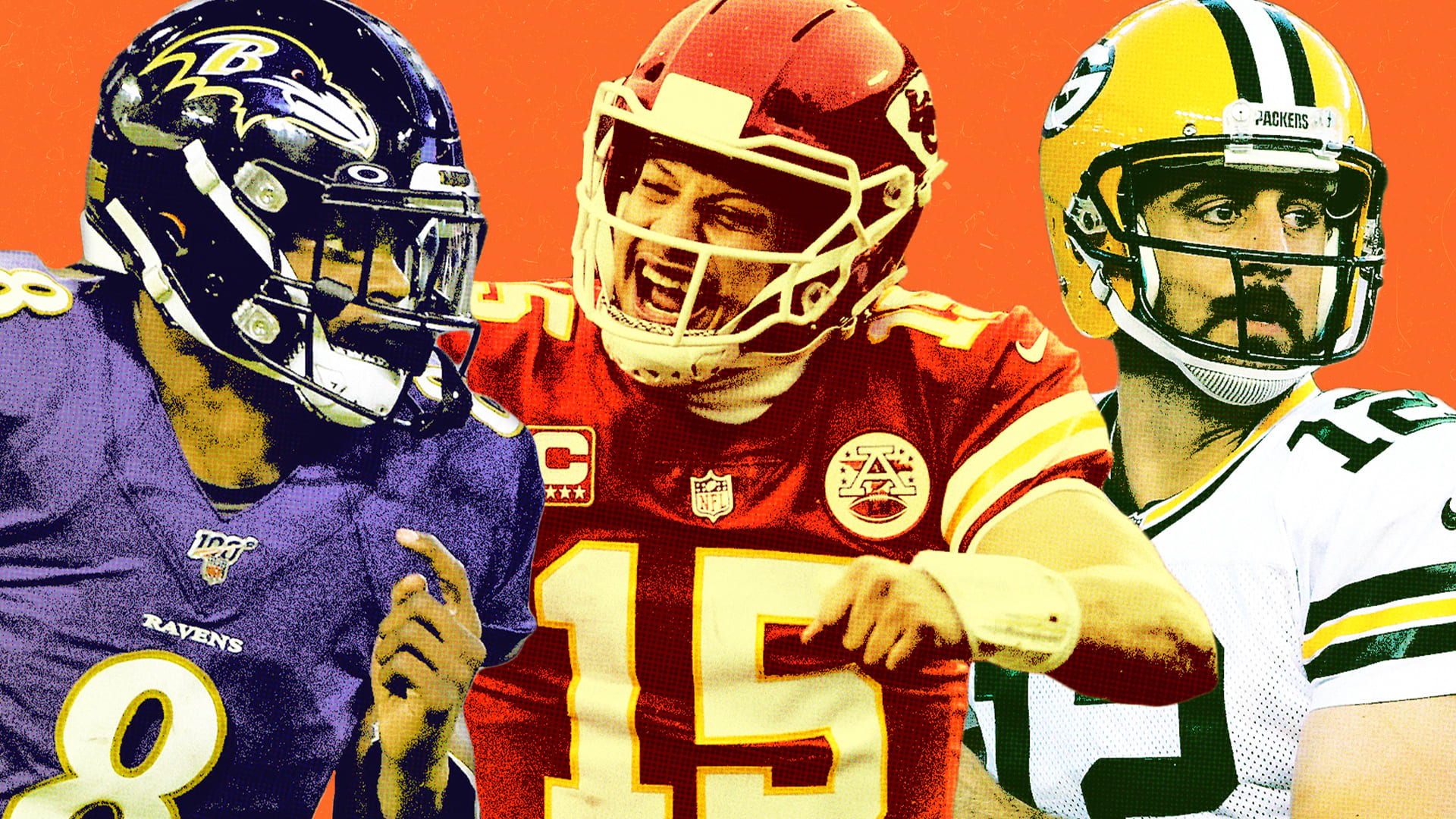 This offseason has seen plenty of changes regarding the 32 quarterbacks set to start the 2022 NFL season (barring injuries). Some quarterbacks (Russell Wilson/Matt Ryan) have moved to new teams and situations. Others, such as (Patrick Mahomes and Aaron Rodgers) have had significant contributors at wide receiver leave for new teams in moves that benefit their rival signal callers on this list (Tua Tagovailoa/Derek Carr).
We are going to take a look at all 32 quarterbacks and try to rank them based on how they ran entering the 2022 season. The immediate takeaway is that there will not be a single rookie starting the year, which does not paint a bright picture for the 2022 rookie crop, given some of the names at the bottom of this list.
32 – Davis Mills (Texans)
Davis Mills might have been better than expected in 2021. But, given that he was 2-9 as a starter, that isn't exactly ideal. Mills passed for 16 touchdowns to just ten picks on the plus side. On the minus side, he feels like a career backup and is on a wretched Texans squad.
31 – Daniel Jones (Giants)
It is hard to tell if the Giants want Jones to be successful. Drafted into a miserable situation that gets worse with every Saquon Barkley injury, Jones is 12-25 as an NFL starter entering his fourth year. He has some tools, and his 45-29 touchdowns to interceptions aren't' even that bad. Nevertheless, it is hard to believe in Jones, given what we have seen.
30 – Mitch Trubisky (Steelers)
The Steelers fought their way into the playoffs last year, even with Big Ben a shadow of his former self. Mitch Turbisky is the new man at the helm, and despite his NFL struggles, he may find the team around him odd enough to move him up this list.
If not, as may well be the case, as he was plain wrong with the Bears, then this will be his sole season as the Steelers starter. Rookie Kenny Pickett is waiting in the wings and may have this gig by midseason.
29 – Drew Lock/Geno Smith (Seahawks)
Well, the Broncos certainly got the better of this trade. However, when battling with Geno Smith to secure a starting gig, it might be time to look at other employment options. Lock enters his Year 4 in the league as a 60% passer with 25 touchdowns to 20 interceptions. However, Seattle is waiting the year to see who they can draft in 2023. Therefore, do not be surprised if the Seahawks decide to name Smith as their starting quarterback. He has been in the league for a while and has significant amounts of experience under center.
28 – Zach Wilson (Jets)
The quarterback with the second most interesting offseason outside of Deshaun Watson didn't do much in his first season with the Jets.
He had a pretty miserable rookie season as he went 3-10 as the Jets starter with nine touchdowns (four more rushing) and 11 interceptions. The biggest worry for Wilson is a passing completion percentage of just 55.6% on the year. Have the weapons (Elijah Moore, Garrett Wilson) been a success? Does he have the talent?
27 – Trey Lance (49ers)
He is the hardest-to-project quarterback on this list due to his sample size. Lance started just 17 games in college and then two last season for the 49ers. His ceiling could be anything; we have no idea, given his lack of experience.
26 – Jared Goff (Lions)
It is hard to believe that this will be Jared Goff's seventh NFL season. Goff was a two-time Pro Bowler in 2017 and 2018 with the Rams, years where he combined to throw 60 touchdowns to just 19 interceptions. Unfortunately, the wheels fell off for Goff in LA, and last year, his first in Detriot, he led the Lions to a 3-10-1 record in his 14 starts. Year 2 in Detriot has to be better, or there might not be a Year 3.
25 – Justin Fields (Bears)
Justin Fields is a quarterback who will rise on this list over the next few seasons. The problem heading into 2022 is that the Bears" skill position players might be the worst in the league. Fields played in 12 games in 2021 and passed or rushed for nine touchdowns with ten interceptions. He did, however, improve as the year went on, and the Bears" new offense is designed around his legs and ability to launch deep. He will get better, but he will need more than the talented Darnell Mooney at wide receiver to reach his potential.
24- Marcus Mariota (Falcons)
Is it weird to anyone else that Marcus Mariota is still a starting quarterback in the NFL? The Falcons are not a good team, and one aspect that Mariota brings is the ability to gain a first down with his legs. This makes him much more helpful to a rebuilding team like Atlanta than most other options. The suspension of Calvin Ridley for gambling on games is a real problem for a quarterback without a lot of playmakers on the roster
23 – Baker Mayfield (Panthers)
If Baker Mayfield returns to his 2020 level, he is about 12 spots too low at No. 23. Mayfield might be the most polarizing quarterback in the league because of his perceived attitude issues.
In 2021, however, he played the entire year with one shoulder after tearing the labrum in his non-throwing joint. Nevertheless, 2020 Mayfield was a beast as he threw for 3,500+ yards and 26 touchdowns to eight picks. A change of scenery – plus playing alongside a healthy C-Mac – will see Baker back to his best.
22 – Tua Tagovailoa (Dolphins)
Tagovailoa has proven that he is a quarterback accurate enough to be a starter in the NFL. However, he has not demonstrated that he can throw an excellent sufficient deep ball to take the Dolphins into serious playoff contention. The acquisition of Tyreek Hill to play alongside Jaylen Waddle gives the Dolphins a Top 5 (at worst) 1-2 punch out wide. This is Tagovailoa's year to prove he deserves the job.
21 – Mac Jones (Patriots)
Mac Jones started his rookie year hot but cooled off in the second half. One issue he has is that the Pats have plenty of pieces at wide receiver but lack a true star on the unit. He finished the year with a 10-7 record, throwing 22 passes to 13 interceptions. Questions about his offensive coordinator situation stop Jones from being higher on this list.
20 – Trevor Lawrence (Jaguars)
A poor rookie season has taken some of the pressure off of Trevor Lawrence. The firing of Urban Meyer instantly makes Lawrence a candidate to improve in 2022. Doug Pederson is a Super Bowl-winning head coach, and getting Travis Etienne on the field at running back will be huge. Lawrence's 12:17 touchdown: interception ratio is a worry moving into Year 2.
19 – Carson Wentz (Commanders)
After a one-year stop in Indianapolis, Carson Wentz will be the first quarterback for the rebranded Washington Commanders. Wentz had never bounced back from his season-ending injury in 2017, where he had the Eagles at 11-2 before his season ended. Since then, he has been erratic and error-prone, with the odd game here and there showing who he used to be. On the plus side, he isn't' Taylor Heinicke.
18 – Jalen Hurts (Eagles)
Hurts were better than most people thought in 2021, but he has the major issue of trying to please the Philadelphia crowd. He was 8-7 in 15 starts and should improve on that in a winnable division. His 3,100 yards and 16 touchdowns through the air are solid, but with A.J. Brown and DeVonta Smith at wide receiver, he needs to be at 22+ touchdowns at the end of this season.
17 – Ryan Tannehill (Titans)
Tannehill's 2021 season made his outstanding 2020 look like an aberration rather than a norm. He threw for 12 fewer touchdowns (21 from 33), and defenders picked off 14 of his passes. He had to produce in the starring role after Derrick Henry went down with an injury halfway through the year. If Henry struggles to bounce back, it is hard to see Tannehill thriving in Tennessee this season.
16 – Jameis Winston (Saints)
Winston became the Saints starter in 2021 after the retirement of Drew Brees. He had an insane 2019 in Tampa Bay, where he passed for over 5,000 yards (5,109) but also led the league in interceptions (30).
He played just seven games in 2021 before an ACL/MCL injury ended his season. He has all the tools to be higher on this list. This has to be his year to put it together, or the Saints will move in another direction.
15 – Matt Ryan (Colts)
"Matty Ice" is possibly the biggest wildcard in these rankings. Ryan cannot move in the pocket, which killed the 37-year-old last season on a bad Atlanta team.
In Indianapolis, he benefits from a vastly superior offensive line, a young and hungry group of wide receivers, and the best running back in the game in Jonathan Taylor. Ryan will pass the 60,000 yards passing mark this year, which is a fantastic achievement.
The 2016 NFL MVP and 2008 Offensive Rookie of the Year will have the Colts in playoff contention in a very winnable division.
14 – Kirk Cousins (Vikings)
Kirk Cousins is another hard quarterback to place but for different reasons. He feels both undervalued and overvalued at No. 14 on this list simultaneously. Cousins doesn't have the talent to elevate a bad team, but he can do just fine with the pieces around him in Minnesota. Having Justin Jefferson and Dalvin Cook on the squad means Cousins and the Vikings will put up yards and numbers without ever feeling like a legit Super Bowl threat.
13 – Kyler Murray (Cardinals)
Kyler Murray is a hard quarterback to place on this list. He is part of an extremely RPO-heavy offense that relies on his ability to use his feet as much as his arm. The former Oklahoma Sooner was the MVP leader early in 2021 as he was destroying the league before getting injured. However, Murray is just 2-4 in each of the last two seasons over the last six games as the wear and tear of the season catches up with him. He must put an entire season together before moving into the next tier.
12 – Dak Prescott (Cowboys)
Dak has bad optics from his last game of 2021, where he completed barely 50% of his passes as the 49ers handed his Cowboys a playoff loss. Prescott, however, was largely good last season as he threw for just shy of 4,500 yards and 37 touchdowns. Injuries are a question, as is losing a big-time (albeit streaky) playmaker in Amari Cooper. Still the best quarterback in the division by some margin.
11 – Derek Carr (Raiders)
The AFC West is so good at quarterback that their fourth-ranked signal-caller is 11th on this list. However, this could be Carr's year to vault into the upper tier of quarterbacks (if he isn't there already). Adding Davante Adams as a deep threat finally gives Carr a reliable player in that role. Carr set a new career high by over 700 yards in 2021, passing for 4,804 yards. However, the lack of touchdowns (just 23 last season) has kept Carr from the top. Adams changes that this fall.
10 – Deshaun Watson (Browns)
No one really knows what Deshaun Watson will bring to the Browns in 2021. But he is a great football player who moves the needle for the Browns in a tough division at his best.
He hasn't played in over a year due to off-the-field issues and will miss the season's first six games through suspension. Watson was a three-time Pro Bowler from 2018-2020 with the Texans and now has to earn money on the $230 million over five years the Browns are throwing his way. He may not play for the entire season. The league has decided to appeal Judge Sue Robinson's recommendation of a six-game suspension. No updates have been released at this time.
9 – Justin Herbert (Chargers)
Justin Herbert joined Brady with over 5,000 yards passing in 2021 (5,041) to become the ninth player in history to cross that threshold. At 24 years old, this is an astonishing achievement, and he has years ahead of him in the pass-happy AFC West. He was named NFL Offensive Rookie of the Year at the end of the 2020 season after throwing for the most 300-yard games and touchdowns ever for a rookie.
Herbert knows how to bring the best out of a hyper-talented wide receiver group, including Mike Williams and Keenan Allen. It will only improve from here.
8 – Lamar Jackson (Ravens)
Arguably the best player in the league when everything is going right for him. He already has an NFL MVP award on his shelf from the 2019 season. Jackson pulled the Ravens to just a 7-5 record in his 12 games last season and threw for just 16 touchdowns against 13 interceptions. The 25-year-old should be back to something near his best in 2022, as injuries all over the field (especially at running back) hurt the Ravens' offensive flow last fall.
7 – Matthew Stafford (Rams)
In 2021 Matt Stafford led the Rams to the Lombardi trophy in his first year in LA. He passed for just under 4.900 yards and a career-high 41 touchdowns to 17 interceptions. The interception number is a little worrying – it was his most wince 2013 – but the players around him are ridiculous. Of course, Stafford will again be helped by having Cooper Kupp, a player so good that he is impossible to cover even when the entire planet knows he is getting the ball.
6 – Russell Wilson (Broncos)
Russell Wilson will be looking for the same change of scenery bounce that Matt Stafford saw last season. Wilson has one of the best deep balls in the league and now with the Broncos he has two wide receivers he will elevate to Pro Bowl level. Jerry Jeudy and Courtland Sutton are the exact types of receivers Wilson loves. He threw for over 3,100 yards and 25 touchdowns last season in a 'down' year. In Denver, he will be back to his 2020 form (4,200+ yards and 40 TDs).
5 – Aaron Rodgers (Packers)
Aaron Rodgers threw for 37 TDs to just 4 INTs last season. He was named NFL MVP for the second consecutive season and the fourth time in his career. Even so, there was a drop-off from 2020 where he threw for 48 scores. It would be higher, but losing his favorite target cannot be overstated. He and Davante Adams hooked up for 68 TDs since Adams was drafted. However, it might not be all doom and gloom as the Packers are 7-0 without Adams in the lineup over the last three seasons.
4 – Joe Burrow (Bengals)
Burrow had no business taking the Bengals to the Super Bowl, given his offensive line didn't seem interested in blocking in 2021. The former number one overall pick is blessed with arguably the best pair of pass catchers in the NFL in Tee Higgins and the incredible Ja'Marr Chase. Burrow oozes cool, and his calm presence makes an already outstanding Bengals team even more dangerous. He was named AP Comeback Player of the Year at the end of the 2021 season.
3 – Tom Brady (Bucs)
The continued success of Tom Brady is defying all logic over performance dropping off as players age. Brady was named Second-Team All-Pro at the end of the 2021 season. He passed for 5,316 yards last year to become only the second player (Drew Brees five times) to pass for over 5,000 yards in a season more than once. His brief retirement fooled just about nobody, and he threw for 43 touchdowns in 2021 at the insane age of 44.
2 – Josh Allen (Bills)
Josh Allen has been on a tear the past two seasons. In 2020 and 2021, he has thrown for 73 touchdowns and just 25 interceptions. He is also a monster around the goal line and has at least six rushing touchdowns in his four years in the league. The Bills will look for more of the same from the 2020 Second-Team All-Pro this season.
1 – Patrick Mahomes (Chiefs)
Patrick Mahomes had a down year in 2021. That down year saw Mahomes pass for just a 66.3% completion rate, just 37 touchdowns, and just 4,839 yards. They also just won the AFC West, just put up a 12-5 record, and just made it to the AFC Championship game. Mahomes is so good that a 'down year' would be a career year for and quarterback outside the Top 10. The 2018 NFL MVP will again be the best in the league this fall.
Show Your Support
Support the Strike 7 Sports platform's growth by heading to Fanatics.com and buying officially licensed gear from the National Football League. Each purchase made through the text link below goes into the funding of the Strike 7 Sports brand. To proceed, click the link below and enjoy shopping at Fanatics.