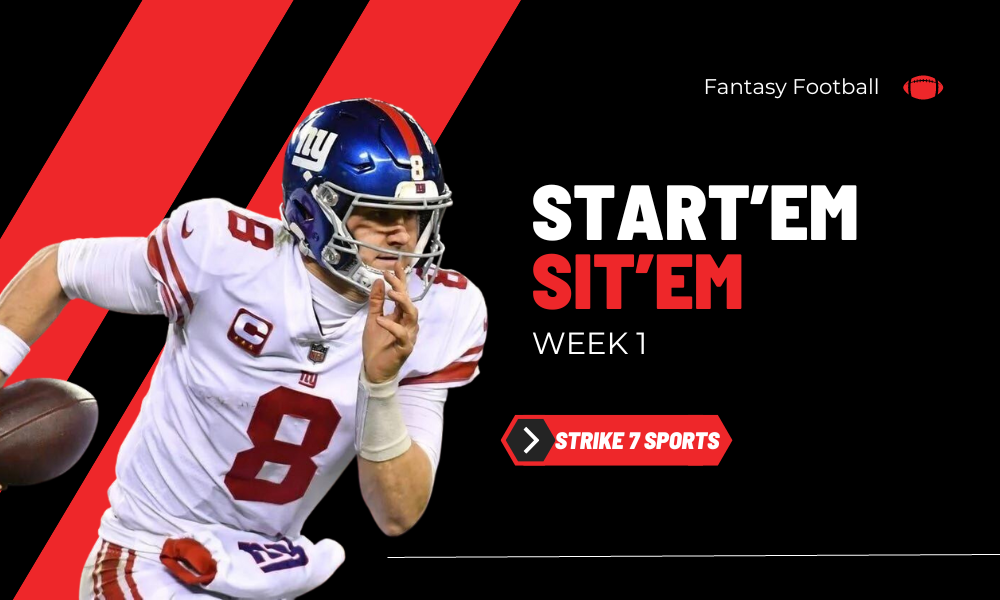 The 2023 NFL season has arrived, and with it comes the excitement of a new year filled with gridiron battles, touchdowns, and triumphs. For fantasy football enthusiasts, this marks the beginning of a journey where strategy, foresight, and keen decision-making ultimately determine their success. As we kick off the season, we're thrilled to introduce the first of many fantasy-related stories to give you the concrete advice you need to dominate your league. Today, we delve into the intricate world of quarterbacks in our inaugural Start 'em/Sit 'em story for 2023. This article adopts an analytical approach to help you make the right choices for your fantasy lineup in Week 1. So, without further ado, let's dive into the quarterback position and unlock the insights that will guide your decisions to victory.
Start'em
Tua Tagovailoa
Under the guidance of new head coach Mike McDaniel, Dolphins quarterback Tua Tagovailoa took his game to new heights. In 2022, he led all quarterbacks in passer rating (105.5), yards per attempt (8.9), and touchdown percentage (6.3%). Heading into his second year in McDaniel's offense, the former first-round pick is expected to step into a higher realm of productivity as signal caller. For Week 1, Tagovailoa will be squaring off in a potentially high-scoring affair against Justin Herbert and the Los Angeles Chargers. If you are a Tagovailoa owner, do not hesitate to star t him in Week 1. The Dolphins QB has many options in the passing game, such as Tyreek Hill and Jaylen Waddle, to make things happen against the Chargers this Sunday.
Derek Carr
Derek Carr enters the 2023 season with a fresh start after signing with the New Orleans Saints in March. This move places him in an environment loaded with offensive firepower, including Chris Olave, Michael Thomas, Rashid Shaheed, Alvin Kamara, and Juwan Johnson. Week 1 offers a promising matchup for Carr fantasy owners, which could yield substantial returns when the Saints clash with the Tennessee Titans. In 2022, Tennesse's pass defense struggled, ranking among the league's worst units, allowing a staggering 671 total passing yards on average. The Titans were tied with formidable teams like the Steelers, Buccaneers, and Cardinals, conceding just one more touchdown pass than the Super Bowl Champion Chiefs (33). Given this advantageous matchup, Derek Carr is an enticing option to consider starting in Week 1.
Sam Howell
Sam Howell, the former North Carolina Tar Heel, has earned the trust and confidence of the Washington Commanders, who are counting on him to guide them back to the postseason for the first time since 2020. It's a show of faith that fantasy owners should also consider reciprocating, at least for Week 1. In this opening matchup, the Commanders face the Arizona Cardinals, a team expected to have one of the league's weakest defenses in 2022. This could be the perfect opportunity to cash in big this week if you are a Sam Howell owner.
Geno Smith
Fantasy owners eagerly anticipate Geno Smith's continued career resurgence in the 2023 season. The seasoned quarterback is coming off a remarkable year in which he notched career-high statistics, amassing 4,282 passing yards, throwing 30 touchdowns, and limiting interceptions to a mere 12. As the new season kicks off, Smith's path begins against the Los Angeles Rams, a team with a revamped defense, particularly in the secondary, featuring a roster of fresh faces. This matchup offers a promising start for Smith, and fantasy owners should be poised to benefit from his potential in the opening week.
Sit'em
Aaron Rodgers
Despite coming off one of his most non-productive seasons in recent memory, Aaron Rodgers is far from a player on the verge of decline. The NFL veteran is now in new territory, having been traded to the New York Jets. As a former league MVP, Rodgers is poised to lead an offense brimming with talent at multiple positions, making him a coveted quarterback option for the upcoming fantasy season. However, it might be wise for owners to exercise caution regarding the opener on Monday night and consider leaving the former Packer QB on the bench. In this initial matchup, Rodgers will be facing a Buffalo Bills defense that showcased its prowess by allowing the seventh-fewest points per game to quarterbacks in 2022. Given the challenging opposition, tempering expectations for Rodgers in Week 1 is prudent.
Daniel Jones
Fantasy owners have taken note of Giants QB Daniel Jones' unique ability to impact games as a dual-threat signal-caller, and his potential as a runner is undoubtedly intriguing. However, as the Giants gear up to face their NFC East rivals, the Dallas Cowboys, it would be prudent for fantasy owners to consider keeping Jones on the sideline for this matchup. Last season, the Dallas defense demonstrated their prowess against opposing quarterbacks in 2022, allowing the fifth-fewest fantasy points per game to QBs. Given this challenging matchup, exercising caution with Daniel Jones in Week 1 might be wise.
Kenny Picket
Steelers' second-year QB Kenny Pickett has indeed turned heads with his impressive preseason performance, completing 13 of 15 passes for 199 yards, two touchdowns, and a perfect 158.3 passer rating. He's the player that fantasy owners should monitor closely as the season unfolds. However, owners should keep Pickett on the bench for Sunday's matchup against the formidable San Francisco 49ers. The Steelers face off against the NFL's best defense over the past two seasons, a unit that allowed the sixth-fewest fantasy points per game to opposing signal-callers. Given this challenging start, it's prudent to wait for a more favorable matchup before considering Kenny Pickett in your lineup.
Jimmy Garoppolo
Jimmy Garoppolo, much like Aaron Rodgers, is set to embark on a new chapter in his football career this season, now donning the colors of the Las Vegas Raiders. From a fantasy perspective, he's a valuable talent that savvy owners may want to stash on their roster or snatch up from the waiver wire when the opportunity arises. Garoppolo inherits a Raiders team with offensive firepower, making him a viable fantasy quarterback option in the right circumstances. However, exercising caution and resisting the temptation to start him in Week 1 is essential, especially against the Denver Broncos.
Last season, the Broncos boasted the league's top-ranked pass defense, featuring perhaps the most formidable secondary, led by stars like Justin Simmons and Patrick Surtain. Simmons, who tied for the NFL lead with six interceptions despite missing five games, showcased his ability to disrupt opposing offenses with forced fumbles and recoveries. Given this formidable opposition, looking for alternative options in Week 1 is wise.
Show Your Support
Support the Strike 7 Sports platform's growth by heading to Fanatics.com and buying officially licensed gear from the National Football League. Each purchase made through the text link below goes into the funding of the Strike 7 Sports brand. To proceed, click the link below and enjoy shopping at Fanatics.