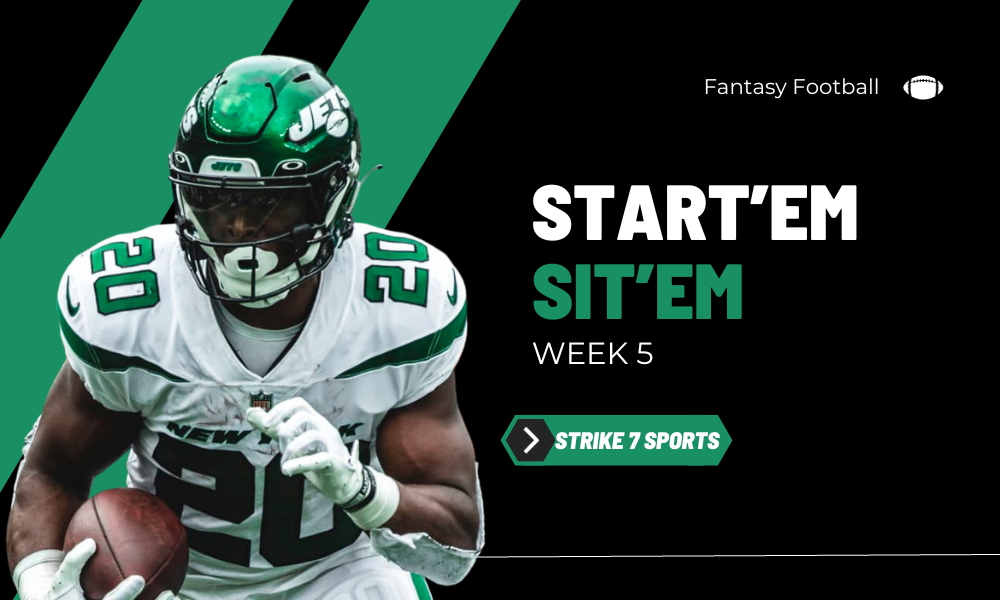 This week, we're shifting our focus to the heart of the offense, the running backs, in the latest edition of Strike 7 Sports' Start 'em/Sit 'em post. As we dive into Week 5 of the NFL season, we'll unravel the strategic choices that can make or break your fantasy matchups. From standout performers to potential disappointments, we've got the inside scoop on the running back landscape you won't want to miss. So, without further ado, let's break down the critical decisions to help you navigate this week's fantasy football gridiron.
Derrick Henry – Start 'em
Derrick Henry is back in beast mode after posting his first 100-yard rushing performance last week against the Cincinnati Bengals, amassing an impressive 122 yards on 22 carries. He's making waves on the field and delivering for fantasy managers with 26 fantasy points.
This Sunday, the stars are aligning for Henry as the Titans prepare to take on one of the league's weakest run defenses, the Indianapolis Colts. The Colts' rush defense currently allows a generous 126.8 yards per game. If there ever was a prime opportunity for Henry to continue his ground dominance, it's now. Lock him into your starting lineup confidently and watch him bulldoze through the Colts' defense in Week 5.
Brian Robinson – Start'em
When the Washington Commanders take on the Chicago Bears in the kickoff of Week 5 on Thursday Night Football, Brian Robinson is a running back you'll want in your lineup. The reasons for this decision are crystal clear.
The Chicago Bears have been charitable to opposing running backs through the season's first four games. They've surrendered the 11th-most rushing yards to running backs, opening up opportunities for ground-based success. But that's not all. The Bears have also been incredibly generous in the passing game, allowing the most receiving yards to running backs in the league.
This matchup is a golden opportunity for Brian Robinson, the former Alabama tailback, to shine as a rusher and pass-catcher. With the potential for a significant workload and favorable matchups, starting Robinson in Week 5 is not just a smart move; it's a no-brainer.
De'Von Achane – Start'em
Rookie sensation De'Von Achane has taken the fantasy world by storm with his spectacular performances. Following a jaw-dropping 200-yard outing in Week 3 against the Broncos, he continued his impressive run by amassing 120 total yards, two touchdowns, and a whopping 27 fantasy points.
This week, the Miami Dolphins return home to face the New York Giants, and after witnessing the Giants' Monday Night Football struggles, starting Achane should be a no-brainer. The Giants' defense showed vulnerabilities, and Miami's dynamic tailback is poised to exploit them. His electric playmaking abilities make him a must-start in Week 5. Don't hesitate to plug him into your lineup and watch Achane work his magic against the Giants.
Alvin Kamara – Start'em
After serving a three-game suspension, Saints' All-Pro running back Alvin Kamara made a triumphant return in Week 4. Although his 13 receptions for 33 yards set an unusual record for a low reception tally, Kamara's versatility shone through. He amassed a total of 84 yards, including 33 receiving and 51 rushing, culminating in an impressive 21.4 fantasy points for the day.
In Week 5, Kamara faces the formidable New England Patriots defense, known for presenting a tough challenge to running backs. However, Kamara's unique value as a dual-threat-back sets him apart. His ability to impact both the ground and passing game makes him a must-consider start option for fantasy owners.
With Kamara back in action and poised to make waves against the Patriots, starting him is a decision that could pay off handsomely in Week 5.
Miles Sanders – Sit'em
The 2023 season has been challenging for newly acquired Panthers running back Miles Sanders. Over the first four games, Sanders has struggled, accumulating just 158 rushing yards and one touchdown. His efforts have been further hampered by a nagging groin injury, which has opened the door for his teammate Chuba Hubbard to claim a share of the carries.
As we look ahead to Week 5, the Panthers are slated to face the Detroit Lions, and this is where caution comes into play. The Lions' defensive unit has been surprisingly stingy against running backs, allowing the second-fewest rushing yards in the league and a paltry 2.9 yards per carry.
Given Sanders' recent struggles, his injury, and the daunting matchup against the Lions' formidable run defense, it's common sense to consider other options for your fantasy lineup this week. The circumstances suggest that starting someone else is a prudent choice.
Rhamondre Stevenson – Sit'em
After a promising 1,000-yard campaign in the previous season, Patriots running back Rhamondre Stevenson has faced a bumpy road to start the 2023 season. He's yet to eclipse 60 rushing yards in a game and has delivered fewer than eight fantasy points in his last two outings.
In Week 5, exercising caution and keeping Stevenson on the bench might be wise. The New England Patriots are set to square off against the New Orleans Saints, and the matchup doesn't favor the running back. The Saints' defense has been stout, allowing the eighth-fewest rushing yards to running backs, and, perhaps more impressively, has not yielded a rushing touchdown this season.
Najee Harris – Sit'em
Despite a promising performance last week, where Steelers running back Najee Harris rushed for 71 yards on 14 carries against the Houston Texans, the fantasy returns were somewhat underwhelming, totaling just 11.3 fantasy points. However, what adds a layer of intrigue to this situation is the consistent outperformance of his teammate, Jaylen Warren, who narrowly edged out Harris with 11.5 fantasy points in Week 4.
Looking ahead to Sunday's matchup against the longtime rival Baltimore Ravens, consider leaving Najee Harris on the bench. The Ravens boast one of the league's stoutest run defenses, allowing only 92.5 rushing yards per game. As the seventh-best team in defending the run, they pose a formidable challenge for any running back.
Given the potential challenges of the Ravens' defense and the competition within the Steelers' backfield, it's a good idea to explore other options for your fantasy lineup in Week 5.
Given Stevenson's recent struggles and the daunting challenge presented by the Saints' run defense, it's best to explore other options for your fantasy lineup this Sunday.
Dameon Pierce – Sit'em
Texans running back Dameon Pierce has been making strides with his recent performances, highlighted by his best fantasy outing of the season. He rushed for a solid 81 yards on 24 carries, consistently delivering at least 11.8 fantasy points over the past two games.
However, it's time to exercise caution as we approach Week 5 and a matchup against the Atlanta Falcons. The Falcons' defense has been nothing short of formidable, ranking second in the league for allowing the fewest fantasy points to running backs. Moreover, they haven't allowed a single rushing touchdown through the season's first four games.
While Dameon Pierce has shown promise, the odds appear stacked against him in this matchup. The Falcons' stout defense suggests that starting him might not be the wisest decision for your fantasy lineup in Week 5.
With that, we wrap up the Week 5 Start 'em/Sit 'em article, providing insights on the running backs that could make or break your fantasy matchups this week. Good luck with your lineup decisions, and stay tuned for more fantasy football analysis in the coming weeks!
Show Your Support
Support the Strike 7 Sports platform's growth by heading to Fanatics.com and buying officially licensed gear from the National Football League. Each purchase made through the text link below goes into the funding of the Strike 7 Sports brand. To proceed, click the link below and enjoy shopping at Fanatics.