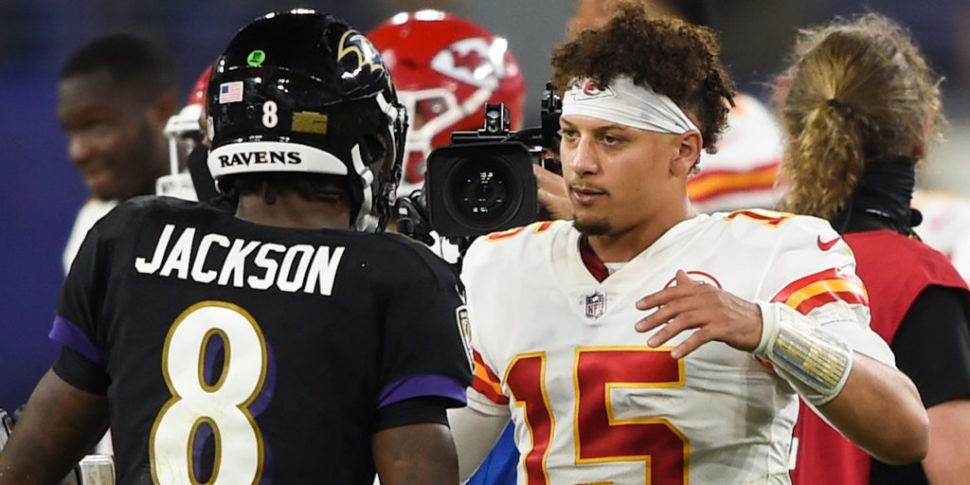 The NFL is at a historical point, and the new era of NFL quarterbacks is beginning. Two of the most talented quarterbacks, Tom Brady and Ben Roethlisberger, have already announced their retirement. New and young guys will most likely fill up their places. We can also observe the skill set changing towards new and fast-paced offenses. All of the new quarterbacks are more elusive than the previous generation.
Patrick Mahomes, Deshaun Watson, Josh Allen, Lamar Jackson, Dak Prescott, and Kyler Murray can throw the ball and scramble quickly on designed plays. Even the most pro-style quarterbacks like Joe Burrow and Justin Herbert are much quicker than their previous generation counterparts. Almost all the elite quarterbacks in the last generation, such as Peyton Manning, Eli Manning, Philip Rivers, Tom Brady, Ben Roethlisberger, were not quicker.
If we look at some of the talents in recently drafted quarterbacks, we will find plenty of notable names. Some of them are already named among one of the best quarterbacks. Lamar Jackson and Patrick Mahomes have already been voted as the league's MVP in 2019 and 2018, respectively. In today's review, we will list the top 10 quarterbacks under the age of 30 who still have a lot of good football coming in their way.
1.Patrick Mahomes – Kansas City Chiefs. Age: 26
The Kansas City Chiefs drafted Patrick Mahomes in 2017 as 10th overall, and in his rookie year, he backed up Alex Smith and became a regular in 2018 and had a historic season. In 2018 Mahomes threw for 5097 yards and 50 touchdowns. His rating was 113.8 in the regular season, and he was named league MVP. In 2019 Mahomes and the Chiefs won the Super Bowl and was voted Super Bowl MVP. Apart from throwing the ball at any distance with accuracy, he can scramble and run as well. Mahomes' quick decision-making makes him even better at all of his qualities. Mahomes is a true franchise quarterback, and we cannot imagine the Chiefs without him.
2. Deshaun Watson – Houston Texans. Age: 26
Deshaun Watson was also drafted in 2017. He was the next quarterback taken after Patrick Mahomes. Watson started six games in his rookie year, winning 3 of those games. In 2018 after becoming the starter, Watson took the Texans to the playoffs with an 11-5 record.
He threw for 4,165 yards with 26 touchdowns and ran for another 551 yards and five rushing touchdowns. In 2019 Watson once again played brilliantly and once took the Texans to the playoffs. Texans won the wild card game but lost to the Chiefs in the divisional playoffs, where the Texans blew off 28 points lead. 2020 was the best season of Watson's career.
He threw for career-high and league-leading 4,823 yards at an average of 8.9 yards and threw for 33 touchdowns against just seven interceptions. Deshaun Watson is an outstanding dual-threat quarterback. His first preference is throwing the ball, but he can move quickly in pressure. Even without much support and virtually no running game, Watson took his team to the playoffs with fantastic performances. He has been selected to the Pro-Bowl 3 times. Watson is the kind of player who can fit into any team, and the whole franchise can be built around him.
3. Josh Allen – Buffalo Bills. Age: 25
Josh Allen is the prime example if you want to look at a person who has a no-nonsense, hardworking, and always believe-in-yourself attitude. Allen has a great combination of talent, strength, and elusiveness. He can extend plays with both his arm and legs. Allen's rookie season wasn't impressive, and he only threw for 2,074 yards. He threw for ten touchdowns and 12 interceptions, but many analysts noted his rushing ability. Allen rushed for 631 yards in his rookie season and scored eight touchdowns on the ground. In 2019 Allen took his team to the playoffs.
His stats improved slightly in 2019, but the most significant turnaround came in 2020 when Allen threw for 4,544 yards and 37 touchdowns. He also ran for eight touchdowns and gained 421 yards on the ground. Because of Allen's performance and good defense, the Bills went to post the season record of 13-3. In 2021 Allen threw for 4,407 yards, 36 touchdowns, and rushed for career-high 763 yards.
4. Lamar Jackson – Baltimore Ravens. Age: 25
Heisman Trophy winner Lamar Jackson was selected as the 32nd overall pick in the 2018 NFL draft by the Baltimore Ravens. Jackson's performance has been nothing short of exceptional. After starting seven games in his rookie year (winning 6 of those), Jackson was named the starter and went on to win NFL MVP in 2019. In his MVP performance, Jackson led the league with 36 touchdowns against six interceptions and in rushing yards per carrying. Jackson rushed for 1,206 yards on 176 carries, which are NFL records for quarterbacks.
Jackson is a very accurate passer and rarely misses a throw. His other skillsets include extending plays, evading sacks, rushing, and throwing the ball down the field. Many analysts call Jackson the best running quarterback in the league. With Jackson as their starting quarterback, the Ravens have been one of the most dominant rushing offenses in the NFL.
5. Joe Burrow – Cincinnati Bengals. Age: 25
Joe Burrow was selected as number one overall in the 2020 NFL draft, and after having a somewhat good rookie year, Burrow broke out in 2021 and broke many franchise records. Burrow initially struggled to get the ball out quickly in his rookie season, resulting in many sacks and fumbles. However, he overcame this and promptly got rid of the ball. In the 2020 season, in 10 starts, Burrow threw for 2,688 yards and 13 touchdowns against five interceptions. Due to an injury, Burrow's season came to an end.
In the 2021 campaign, Burrow threw for 4,611 yards and 34 touchdowns. Burrow carried this performance into the Super Bowl and took his team to the Super Bowl-winning every playoff game as an underdog. Burrow has been a stellar performer in his college years, winning a Heisman and every known award a quarterback could win, and it's good to see that the Bengals have finally found someone they can build their franchise around.
6. Dak Prescott – Dallas Cowboys. Age 28
The Dallas Cowboys have been very fortunate to find a good quarterback in every generation, and in fact, every new generation quarterback outperformed the former counterpart. From Roger Staubach to Troy Aikman to Tony Romo to now Rayne Dakota Prescott, aka Dak Prescott. Prescott was selected in the fourth round of the 2016 NFL draft. Initially, Prescott was thought to be a project signal caller that could be special in the future. However, that quickly changed when the starter Tony Romo went down with a back injury and was out for half the season.
Prescott was given the starting role, and in his rookie year, he posted the record-breaking number. He threw for 3,667 yards and 23 touchdowns against four interceptions. His rating in 2016 was 104.9, and Prescott won the NFL Rookie of the Year award. Prescott broke many franchise records. In the following years, Prescott kept on playing amazing football. Prescott has a great combination of strength, size, and athleticism.
He can throw the football in a pocket, in pressure with accuracy, and he can throw on the run as well. Prescott is committed to the Cowboys till 2026, so we will continue to see Prescott play good football in a very weak NFC East division.
7. Justin Herbert – Los Angeles Chargers. Age: 23
Justin Herbert has only played two seasons so far; however, it looks like he has years of experience from his performances. He has already won the NFL Offensive Rookie of the Year award and has many NFL records in his name. He was drafted as number 6 overall in the 2020 draft; Herbert threw for 4,336 yards and 31 touchdowns in his rookie season. He also rushed for another five touchdowns. His overall 36 touchdown and 31 passing touchdowns are both NFL records by a rookie.
Herbert further perfected his game by throwing for 5,014 yards and 38 touchdowns in the 2021 season. Herbert has a pro-style quarterback skill with a quick release. We have seen similar quarterbacks in previous generations in Peyton Manning, Brady, and Philip Rivers. Herbert is only 23 years old, and if the Chargers can get their defense side in order, the Chargers will become a dominant force with Herbert leading the charge.
8. Kyler Murray – Arizona Cardinals. Age: 24
Kyler Murray was drafted in the 2019 NFL Draft as the 1st overall pick. He is also a Heisman Trophy winner and had a great college career in Oklahoma. Murray was an immediate starter and played and started in all 16 games in his rookie season. He threw for 3,722 yards and 20 touchdowns and ran for 544 yards and four TD scores on the ground. In 2020 Murray threw for career-high 3,971 yards and 26 touchdowns and ran for 819 yards and 11 touchdowns.
Murray is often considered one of the best running quarterbacks in the NFL. He is a very good short, medium, and deep passes. Murray, of course, can run well, which helps him in an offense with a weak offensive line. The dual-threat QB led the Cardinals in the playoffs in the 2021 season with an 11-6; however, the Cardinals lost in the wildcard round.
9. Baker Mayfield – Cleveland Browns. Age: 26
Despite posting decent numbers, Baker Mayfield seems to be struggling at times. Mayfield is also a former Heisman winner and was selected as number 1 overall in the 2018 NFL draft. The best thing about Mayfield is that he is always learning, and he is only 26 years old, so there is still lots of football left for him to play. He is also the most stable quarterback the Browns have had in recent years, and at times, Mayfield shows some great promise, but at the same time, he made some poor choices as well. Mayfield is a traditional pro-style quarterback who feels comfortable staying in the pocket and making throws.
He can throw the ball at any distance accurately, but as long as the pocket remains intact. In 2018, Mayfield threw for 3,725 yards and 27 touchdowns in his rookie year. In 2020 Mayfield posted the best stats rating of his career with a 95.9 rating. He led the Browns to an 11-5 record, and the Browns reached the playoffs for the first time since 2002. Mayfield is indeed very talented, and he can still overcome some of his mistakes and become the head of the franchise.
10. Mac Jones – New England Patriots. Age: 23
In less than a year since being drafted, Mac Jones already made a name for himself. Jones was drafted as 15th overall in the 2021 NFL draft, and he is by far the best quarterback taken in the entire 2021 draft class; he fits the Patriots and Bill Belichick's scheme perfectly. Being an Alabama alum, Jones is also used to playing with a coach who has a strong demeanor making him a perfect replacement for Brady.
Jones led the Patriots to the playoffs with a 10-7 record in his rookie season. Jones threw for 3,801 yards and 22 touchdowns with 13 interceptions. Jones's skills include very accurate short and medium passes. Jones is with the Patriots for the next three years under a rookie contract, and he has already shown what he can do so that we can see a new era beginning under an old coach and a dynamic new quarterback.
Show Your Support
Support the Strike 7 Sports platform's growth by heading to Fanatics.com and purchasing officially licensed gear from the National Football League. Each purchase made through the text link below goes into the funding of the Strike 7 Sports brand. To proceed, click on the link below and enjoy shopping over at Fanatics.