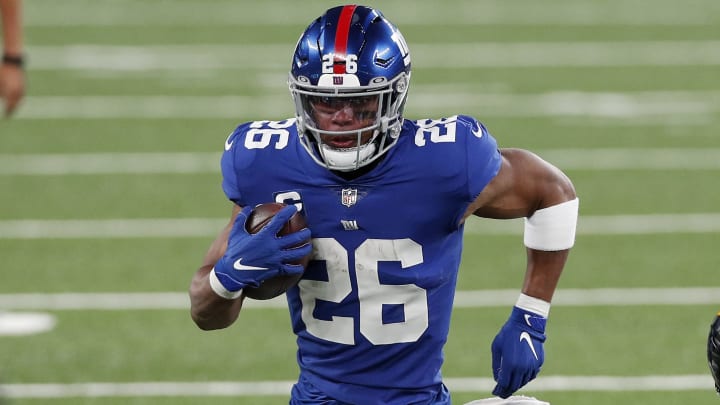 The running back has always been considered a unique position in any team. A good running back can become a workhorse to carry his whole team and serve other areas of need. We have researched the league's top 10 running backs for the 2021 NFL season. The list has been compiled using the rusher's previous season, the player's team strength of schedule, and the general conditions of the team.
1. Derrick Henry (Tennessee Titans)
2020 Stats (16 Games)
378 Carries, 2,027 Yards, TDs 17, 5.4 YPC, 19 Rec, 114 Rec Yards 114, 0 Rec TDs.
Henry's potentially explosive season was already on people's minds even before the start of the 2020 regular season. Not only Henry performed exceptionally well, but he outperformed himself in comparison to his previous season. He rushed for a total of 2,027 yards and scored 17 touchdowns. Henry has a rare combination of height, speed, and weight making him unstoppable.
The reason Henry is at the top of our list is that he is a workhorse. Ryan Tannehill fitted so well in the Titans because Henry was carrying most of the work, keeping pressure off Tannehill. Henry seems to be utterly unstoppable for the last two seasons, and we hope that he will continue to be explosive and unstoppable.
2. Nick Chubb (Cleveland Browns)
2020 Stats (12 Games).
190 Carries, 1067 Yards, TD 12s, 5.6 YPC, 16 Rec, 150 Rec Yards, 0 Rec TDs.
Same as Henry, Nick Chubb is emerging as a serious running back for primary duty. His 5.6 yards per carry proves that he is a fantastic talent. He has been a workhorse for the Browns for the past three years and remained consistent despite everything else in the Browns organization. Last year the Browns reached the playoffs after 16 years frustration.
The best thing about Chubb is that he has consistency and reliability. The Browns was able to get the playoffs because of Chubb's red zone consistency. We are predicting Chubb to be in the same league as Derrick Henry taking his team to another playoff run.
3. Alvin Kamara (New Orleans Saints)
2020 Stats: (15 Games)
187 Carries, 932 Yards, TD 16s, 5.0 YPC, 83 Rec, 756 Rec Yards, 5 Rec TDs.
Alvin Kamara is one of the best dual-threat running back in the NFL. He proved it with Drew Brees, then Teddy Bridgewater, and Jameis Winston & Taysom Hill. There is no denying that Kamara has been nothing but an explosive force for the past three years. Kamara rushed for 16 touchdowns last year, catching five touchdowns through the air, making him one of the most consistent running backs in the league in recent years.
His performance at the 2020 Christmas day game, where he scored six touchdowns, will remain in the people's memory for years to come. The Saints will be without Brees this year which means most probably Winston will take charge.
This may be slightly different from what Kamara has been used to because Winston likes to throw the deep balls. Still, with Sean Peyton's offensive playbook and recent change of Saint's approach towards the game, Kamara will remain elusive, quick, and explosive.
4. Dalvin Cook (Minnesota Vikings)
2020 Stats (14 Games)
312 Carries, 1557 Yards, TDs 16, 5.0 YPC, 44 Rec, 361 Rec Yards, 1 Rec TDs.
Cook had his best year in 2020 when he rushed for 1,557 yards scoring 16 touchdowns. In addition to his remarkable performance on the ground, he caught 44 passes for 361 yards and one touchdown. Delvin Cook can rush with elusive speed and can easily catch the ball thrown at him. In terms of his role with the Vikings, he should continue to see increased participation in games. He has already proven that he is an elite running back, and we expect him to be at his best this upcoming season.
5. Aaron Jones (Green Bay Packers)
2020 Stats (14 Games)
201 Carries, 1104 Yards, 9 TDs, 5.5 YPC, 47 Rec, 355 Rec Yards, 2 Rec TDs.
Aaron Jones was at his best form in the 2020 NFL season. Jones did everything correctly, whatever he was asked to do, getting in complete sync with the whole Packers' team, who all played amazingly well. Jones fits Green Bay's scheme very well, and he keeps pressure off of Aaron Rodgers. Now that he has signed a new contract deal worth $48 million and with Rodgers coming back with the team, the Packers will repeat what they did last year in regards to the rushing attack.
6. Saquon Barkley (New York Giants)
2020 Stats (2 Games)
19 Carries, 34 Yards, 0 TDs, 1.8 YPC, 6 Rec, 60 Rec Yards, 0 Rec TDs.
Saquon Barkley has an highly disappointing season. The former first-rounder out of Penn State went down with a torn ACL in the second week and was placed on IR in the same week. Even in those 1.5 games, he averaged about 1.8 yards per carrying.
We had included Barkley on our list because we believe he will repeat his 2018 performance when he rushed for over 1,300 yards and received over 700 yards taking his all-purpose yards to around 2000. This is also the year when
He needs to play for his future. One of the best qualities of Barkley is his ability to find holes in the defense line and making them pay for it. 2021 will be the fourth year of Barkley's career. Although the Giants have already picked up the fifth-year option in his contract, that's only an extra one year. We should expect him to have best season of his career.
7. Christian McCaffery (Carolina Panthers)
2020 Stats (3 Games)
59 Carries, 225 Yards, 5 TDs, 3.8 YPC, 17 Rec, 149 Rec Yards, 1 Rec TDs.
In 2020 McCaffery spent most of his time with leg and shoulder injuries. It was a massive disappointment for the fans who wanted him to repeat his 2019 performance. McCaffery played in just three games last year and scored a total of 6 touchdowns. Along with Kamara, McCaffrey has proven to be the most versatile quarterback in recent years.
Considering his performance, McCaffery's strength of schedule is slightly more brutal, and he will play lots of teams with formidable defenses; still, he is expected to perform well in Matt Rhule's system. The Panthers were 5-11 last season, and McCaffery's presence was felt deeply. In 2021 should he remain healthy, McCaffery will remain a considerable strong dual-threat running back.
8. Jonathan Taylor (Indianapolis Colts)
2020 Stats (15 Games)
232 Carries, 1169 Yards, 11 TDs, 5.0 YPC, 36 Rec, 299 Rec Yards, 1 Rec TDs.
Jonathan Taylor played last season as an elite RB would. No one could've predicted that Taylor will become an ace RB within a span of one season. He rushed for a total of 1169 yards and caught 299 yards through the air. It's like Taylor picked up at the Colts, where he left off at Wisconsin.
He performed so well because of Philip Rivers, who is very good at running the option play. Barring any setbacks, we may see a top 5 overall performance from Jonathan Taylor. Draft him at number with your eyes closed. He is worth the recognition of being ranked as a top ten running back on our list.
9. Josh Jacobs (Las Vegas Raiders)
2020 Stats (15 Games)
273 Carries, 1065 Yards, 12 TDs, 5.0 YPC, 33 Rec, 238 Rec Yards, 0 Rec TDs.
Josh Jacobs has been able to fit well at Las Vegas Raiders. Jon Gruden's offense suited his skillset as a running back. The Raiders were 8-8 in the 2020 season, but they lost some close games. There is some immense pressure on the Raiders to perform better this season, so it is expected from the whole team to play well. Jacobs will play an important role on how far Las Vegas will go in regards to playoff aspirations.
10. Ezekiel Elliott (Dallas Cowboys)
2020 Stats (15 Games)
244 Carries, 979 Yards, 6 TDs, 4.0 YPC, 52 Rec, 338 Rec Yards, 2 Rec TDs.
2020 turned out to be the worst year of Ezekiel Elliot's career. Elliot's performance seems strongly tied with the season-ending injury of the Cowboys' quarterback Dak Prescott and other factors within the Cowboys' organization. However, right after Prescott went down with an injury, Elliot's overall performance took a nosedive. Now that Prescott has returned, and with that, we hope that Elliot's performance will also be back.
The best thing about Elliot is his speed and reliability. He can be put into any running or option scheme, and he performs equally better at every position. With the help of Prescott and the Cowboys' secondary, Elliot can help Dallas propel to the level where they were initially named America's team.
Photo of Saquon Barkley, courtesy of Getty Images.
Support the Strike 7 Sports platform's growth by heading over to Fanatics.com and purchasing officially licensed gear from the National Football League. Each purchase made through the text link below goes into the funding of the Strike 7 Sports brand. To proceed, click on the link below and enjoy shopping over at Fanatics.