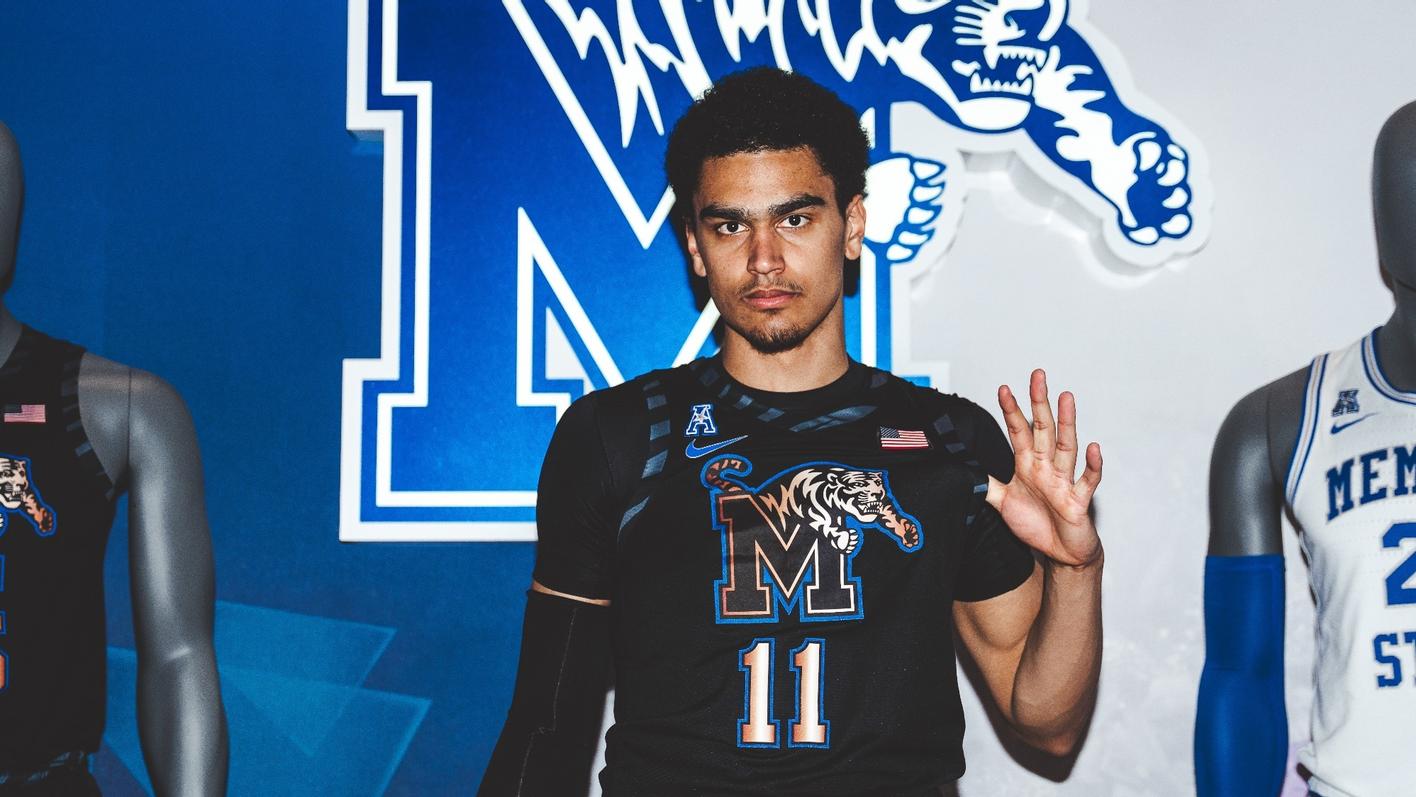 Along with Caleb Mills, Nick Jourdain was among the first wave of players that committed to joining Memphis once the first iteration of the transfer portal opened up on April 15. The Clifton, New Jersey native had garnered a reputation for his exceptional rim-protecting skills and versatility on the court. The journey to Memphis was not a straightforward one for Jourdain, but the impact he brings to the Tigers' roster this season is undeniable. 
Originating from Temple, Jourdain had proven himself as a dominant force in the paint during his time with the Owls, offering the squad significant playing time, with 5.8 points and 4.3 rebounds over that span. His shot-blocking prowess and ability to crash the boards made him a valuable asset to any team. During the 2021-2022 season, Jourdain ranked fourth in the AAC by averaging 2.4 offensive rebounds per game. He also scored in doubles figures seven times during the 2021-2022 campaign. In last season's matchup against the Tigers, Jourdain posted a season-high 16 points and ten rebounds. However, it was his desire to play for a program with a strong commitment to winning and a chance to compete for a national championship that ultimately led him to Memphis.
"First off, I trust coach (Hardaway)," said Jourdain. "I've played against him. I see how free, how confident they play. I see how much they trust each other. I saw how coach put together high-character guys and how they mesh together. I see his vision and how he wants to do that again."
"And, then, obviously, what he's done with previous forwards. Versatile guys like DeAndre (Williams) and (Precious) Achiuwa. I think I fit that realm of versatility, athleticism, being cerebral, and having good vision on the court. I think I fit that mold."
The Tigers' rebounding struggles were evident in the previous season, and Jourdain's rim-protecting skills addressed this deficiency directly. His presence in the paint instantly gave Memphis an intimidating defensive presence, discouraging opponents from attacking the basket with reckless abandon. Jourdain's shot-blocking ability forced opposing teams to adjust their strategies, as they had to be more calculated in their approach when facing the Tigers. 
One of the most significant parallels between Jourdain and Elijah McCadden lies in their versatility. McCadden, an indispensable asset to the Tigers in the past season, showcased his ability to adapt to various roles on the court seamlessly. Jourdain possesses a similar skill set, making him a player that Coach Hardaway can rely on in multiple situations. 
On any given day, Jourdain can step up to provide crucial scoring, particularly in the paint, exploiting mismatches with his height and agility. His offensive repertoire extends beyond just scoring, as he is an adept passer, finding open teammates when drawing attention from defenders. In the next game, he can switch gears and become a lockdown defender, stifling the opponent's top scorers and shutting down passing lanes. 
The acquisition of Jourdain undoubtedly enhanced the Tigers' roster. His ability to play both as a defensive anchor and a scoring threat makes him a valuable asset in various game scenarios. Memphis can deploy him strategically, adapting to their opponents and adjusting their game plan accordingly. 
In the unfortunate situation where DeAndre Williams is denied eligibility to return for another season by the NCAA, Jourdain could fill the four spot seamlessly. His experience playing in the paint and guarding bigger opponents gives him an advantage in this position. His presence would alleviate the absence of Williams and ensure the Tigers maintain their competitive edge in the new landscape of the AAC. 
As the new season unfolds, Memphis Basketball fans eagerly anticipate witnessing Nick Jourdain's impact on the court. With his exceptional rim-protecting skills, defensive prowess, and offensive versatility, he brings an entirely new dimension to the team's gameplay. Coach Hardaway's decision to bring Jourdain into the fold may prove to be a game-changer for the Tigers, elevating their performance to new heights and establishing them as legitimate contenders in the college basketball scene. 
In conclusion, the addition of Nick Jourdain to the Memphis Basketball roster brings immense promise. His transfer from Temple to Memphis was fueled by the desire to compete at the highest level and contend for a national championship. With his rim-protecting skills addressing the rebounding concerns, and his versatile playing style reminiscent of Elijah McCadden, Jourdain proves to be an invaluable asset to the Tigers.
Whether as a scoring threat or a lockdown defender, he fills multiple roles for Memphis, and in the event of DeAndre Williams' absence, he could confidently start at the power forward position. The upcoming season is set to be an exciting one for Memphis Basketball, thanks to the dynamic and game-changing presence of Nick Jourdain.
Show Your Support
Support the great work of the Strike 7 Sports Memphis Tigers Section by purchasing licensed NCAA fan gear from Amazon. Items ranged from Memphis hats, jerseys, t-shirts, socks, and so much more. We would greatly appreciate it if you would purchase these items from the text link listed below. The revenue generated from today's offer goes into the funding of the Strike 7 Sports platform. Click on the link below if you are interested.