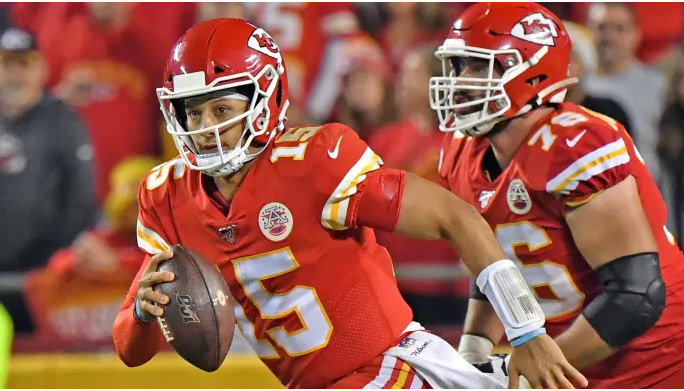 During the postseason, the Kansas City Chiefs have come from behind to win both of their football games. They have erased a combined total of 31 point deficits in both matchups. The team can score quickly whenever the opportunity presents itself. We saw those traits first hand in both the AFC divisional and championship game.
They have speedy receivers at each turn, which could present matchup problems for the 49ers defense in Super Bowl LIV. The driving factor in the Chief's quick-strike capability is their opportunistic defense that can make big plays against opposing offenses. This Sunday against the 49ers, they will be tasked with trying to disrupt San Francisco's vaunted rushing attack. Stopping the run will be Kansas City's primary objective on defense.
What the Chiefs cannot afford to have is quarterback Patrick Mahomes standing on the sideline watching the action as it takes fold. If the 49ers ground game takes off in this matchup, it will limit the number of opportunities that Mahomes and the Chiefs have to score points. But even if the Chiefs have limited opportunities to produce on offense, they may be able to go toe-to-toe with the 49ers in Super Bowl LIV.
If the Chiefs are down by a large margin against San Francisco, but rally to win, it will be a historic accomplishment for a football team that's only getting started in regards to playing in the big game. The wide receiver trio of Tyreek Hill, Sammy Watkins, and Mecole Hardman will present challenges for a 49ers secondary that has shown that it can be vulnerable in certain situations this season.
No matter what the deficit is, no lead is safe when facing the Kansas City Chiefs. They have already demonstrated that they can slow down an elite tailback such as Derrick Henry in this season's AFC Championship Game. Henry only rushed for 69 yards and carried the ball only 19 times against the Chiefs defense. After the game, he credited the Chiefs for having a solid game plan to stop him.
"They just had a great game plan, man," Henry said after the loss. "They were coming off the ball, those guys were being physical. They played a great game today on defense and you know their offense, we know the type of offense that is: explosive, can score at any moment. Like I said, we just came up short. All the credit to them and good luck to them."
But if that's the case, you can expect head coach Kyle Shanahan to make proper adjustments throughout this football game. Will the Chiefs have a chance to win this Super Bowl if they have limited opportunities on offense? No doubt, they will up for the task, but San Francisco poses a far greater threat than both the Houston Texans and the Tennessee Titans. The next post in Sports Talk 365's coverage of Super Bowl LIV will be the preview and prediction of Sunday's big game.
Photo Courtesy of Fan Duel.