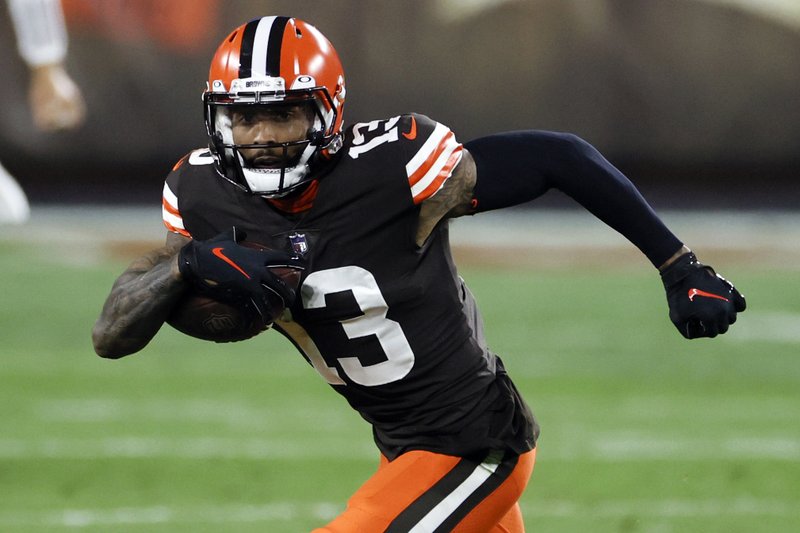 The NFL 2020 season is over. The league was able to play all 259 regular-season games despite the coronavirus pandemic coinciding. Now that the season is over, it's that time of the year where speculation of possible player movement has begun. Every day there has been a discussion among league insiders, analysts, and radio show host on a player moving to another team.
The latest has been Browns star wide receiver Odell Beckham Jr. Before the season started, there were conversations about OBJ possibly join Tom Brady down in Tampa Bay. Rumors would eventually go away as the new season kicked off. But now, the talk of Beckham being on the move again has resurfaced. On Thursday, ESPN NFL Analyst Jeff Darlington explains what can occur with the former LSU Tiger.
"I'm going to say it, but there is a caveat that comes with it — I'm going to say, Odell Beckham Jr.," ESPN reporter Jeff Darlington said on "Get Up!"

"I'm going to say that because of the relationship between Tom Brady and Odell. Fully understanding that this would take a lot to actually make this happen. Keep in mind that Tom Brady did not, before the start of this season, pitch [general manager] Jason Licht on the idea of Odell coming down to [Tampa], despite the fact that those guys would like to play together at some point."
If you recall from the last offseason, Darlington was one of the first insiders to state that Tom Brady would not be returning to the New England Patriots. Not saying that anything will happen; Darlington has a valid point about Beckham's close relationship with Brady. All it takes is for Brady to pitch the idea to General Manager Jason Licht, and if it sounds like a solid plan, then the transaction will occur.
So let's say that the Buccaneers traded for Odell Beckham Jr. As good as it sounds on paper, there are some pros and cons of having a player such as OBJ on the Tampa Bay's roster. Today, we shall examine both sides of a potential Odell Beckham Jr. trade to the Tampa Bay Buccaneers.
Pros
Tampa Bay's front office has been on record stating that they would like to keep all of their unrestricted free agents. On the football's offensive side, their key free agents are Chris Godwin, Rob Gronkowski, and Antonio Brown. The unrestricted free agents have said that they would prefer to remain in Tampa Bay as well. While saying things in pure emotion may sound great, putting into action those words are entirely different. The first offer that may come from another team could change those aspirations of staying in Tampa immediately, especially for free agents such as Chris Godwin.
 Based on his production, the standout wide receiver is going to command a huge payday. Depending on the potential new deal that Godwin may sign, Antonio Brown may become the odd man out in Tampa Bay. Brown finished the season with over 400 receiving yards after joining the Buccaneers midway through the season.
Based on those numbers by themselves, AB may demand a new deal that would pay him more than the initial contract. If the Bucs decide to allow AB to walk, this is where trading for Beckham could come into place. Unlike AB, Beckham would have an entire offseason to get acclimated with working with Tom Brady. Brady would have his best surrounding talent at the wide receiver position with an already solid offensive line.
OBJ would present another challenge for defensive coordinators to account for when it comes to matchups. He can hurt an opposing defense in many ways, such as curl routes, dig, slant, fade, etc. Also, his catch radius is on another level. Observing how Godwin and Brown will respond to Tampa's offers may determine if there will be any traction for the Cleveland Browns wideout. 
Cons
You have heard it before, "there are not enough footballs to go around." The Bucs made it work last season, but when you add OBJ talent to an already talented roster, it could present challenges as the team defends their Super Bowl title. Here are a few questions to ponder. Would OBJ's off the field relationship with Tom Brady extend to the football field? Especially when emotion and criticism are coming from Brady?
Would Mike Evans and Chris Godwin be okay with not having a big game while Beckham is taking a bulks load of targets compared from one game to the next? The enormous egos in football have bought into the idea of winning as long as Tom Brady is at the forefront.
Beckham has been viewed as the number one wide receiver with his previous and current team. With Tampa Bay, that will not be the case. Will OBJ buy into the system and play to win a championship? It is a question that will get answered one way or another if the talented wideout is traded to Tampa Bay. 
Photo courtesy of The Associated Press.