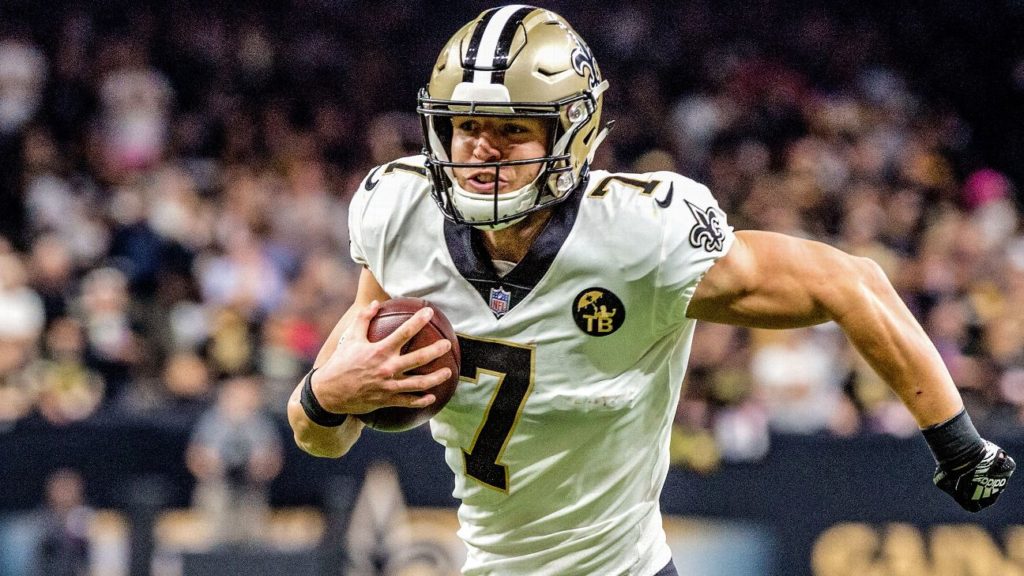 A new era of New Orleans Saints football is on the horizon. Drew Brees is no longer under center as the starting QB for New Orleans. Quarterbacks Taysom Hill and Jameis Winston will participate in an intense competition during training camp for the opportunity to become the heir apparent to Brees.
Regardless of what has been posted on social media regarding Winston becoming a guaranteed lock to be the organization's opening day starter, nothing is for sure at the moment.
According to reporters deeply connected to the Saints, the team fully intends to have an open competition for the starting quarterback position. Let's look at the projected stat total for Hill if Sean Payton names him the opening day starter for the 2021 season.
Passing Yards: 3,736 Yards
Passing TDs: 26 Passing TDs
QBR: 87.2
INTs: 9
Rushing: 1,085
Rushing TDs: 12
Comp PCT: 68.32
Is Taysom Hill's Playing Style Sustainable for an Entire 17-Game Season?
Figuring out if Hill's style of play can be sustainable for an entire 17-game season for New Orleans will be the question that Saints fans will be dying to know. Coach Payton's ability to show that he is willing to tailor his playbook according to the skillsets of his quarterbacks under center.
We saw how the Saints flourished when Teddy Bridgewater stepped in for Brees after he suffered a thumb injury against the Rams in 2019.
The following season, Brees went down again with a rib injury that kept him out for approximately four games. Hill stepped in for Brees and allowed the Saints to remain competitive during his absence. With Hill under center, New Orleans had a 3-1 record and maintained control of the NFC South division.
Overall, Coach Payton has a record total of 8-1 when Brees is not in the starting lineup since 2019. Payton's versatility is what has allowed the Saints to remain a dominant team with or without the future Hall of Famer Brees under center. 2021 will be no different.
However, there will be challenges beyond addressing who will be the team's starting QB in 2021. Keep in mind that Hill had an elite defense to compliment the things he could do as a quarterback.
In 2021, that may not be the case due to the defense not being at the level it once was during the previous season. Situations like this are where Payton has shown that he is head and shoulders above the rest regarding elite head coaches. Hill's style of play is sustainable for a 17-game season.  Outside factors such as how the defense performs could impact the effectiveness of Hill as the starting quarterback.
Photo courtesy of ESPN 960.
Support the great work of the Strike 7 Sports Saints Discussions Section by purchasing licensed NFL fan gear. Items ranged from Saints hats, jerseys, t-shirts, socks, and so much more. We would greatly appreciate it if you would purchase these items from the text link listed below. The revenue generated from today's offer goes into the funding of the Strike 7 Sports platform. Click on the link below if you are interested.
New Orleans Saints Fan Gear Offers at Fanatics.com