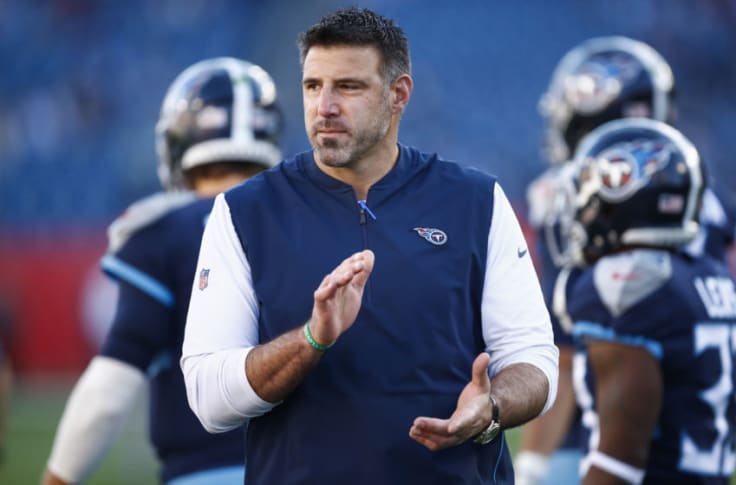 The National Football League's Coach of the Year Award is usually a tight race, and there is not a clear-cut winner at this point in the season, but this year is different. 
Given the circumstances, Mike Vrabel's job with the Tennessee Titans is incredible. Many people thought they would have a tough time making the playoffs after losing Derrick Henry, a legitimate MVP candidate. Before his injury, he was on pace to win his third rushing title in three consecutive seasons. 
The Titans could have folded and just said; we have no chance without their star running back. 
Instead, they found a way to beat the Rams and the Saints. They did suffer an unexpected loss to the Houston Texans and a tough loss to one of the best teams in the NFL in the New England Patriots. The Titans got their much-needed bye week after the Patriots game. They shut out the putrid Jacksonville Jaguars at home 20-0. Going 3-2 without one of their best players is pretty solid. 
However, that is not the most impressive thing they have done. The Tennessee Titans have had to use an NFL record of players this season. Tennessee has used 86 players this season. This is incredible because they have a winning record using that many players. After all, most teams have had losing records in similar circumstances. 
They have the most manageable remaining schedule in the NFL, and if they win out and the Patriots lose once, they will get the number one seed and a first-round bye. New England owns the tiebreaker with Tennessee as it stands right now due to the 36-13 victory in Week 12. The Titans' remaining four games are against the Steelers, 49ers, Dolphins, and Texans. Matchups against playoff contenders Miami and San Francisco are at home. 
There is a chance they could get Henry back for the playoffs. Tennessee could make a deep run once the postseason starts if that happens. 
In the end, there is usually a debate about who should win the coach of the year. Many coaches have good years, but only one coach has had a great year. This year Mike Vrabel is the coach of the year, and it is not even close. Vrabel's ability to guide his team without their best player shows what elite coaching is all about at the professional level.

Show Your Support
Support the Strike 7 Sports platform's growth by heading over to Fanatics.com and purchasing officially licensed gear from the National Football League. Each purchase made through the text link below goes into the funding of the Strike 7 Sports brand. To proceed, click on the link below and enjoy shopping over at Fanatics.