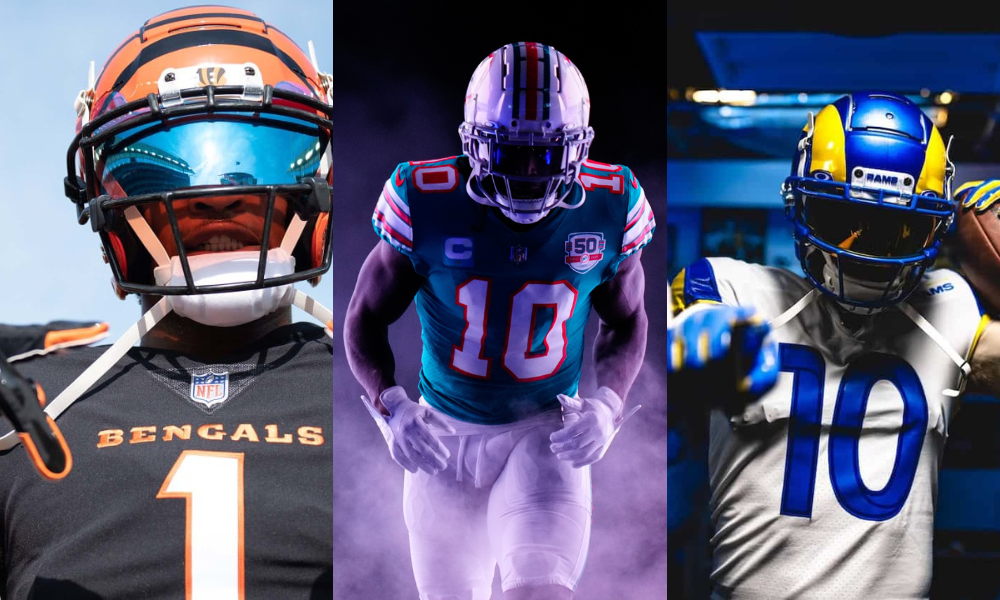 2023 WR Power Rankings: The Top 32 Wide Receivers in Football
The NFL has enjoyed a talent boom in recent years. From budding franchise quarterbacks to defensive standouts to running backs with elite skill sets, there are All-Pro-level players everywhere you look.
This is the case for up-and-down rosters heading into the 2023 season. There is no position at which the spike in talent is more apparent, though, than at wide receiver. The majority of teams have bonafide stars at the position, and some contenders are two or three spots deep with them. With this in mind, here's a look at the 32 best wide receivers in the league on the cusp of the 2023 season.
1. Justin Jefferson – Minnesota Vikings
2022 Stats: 128 receptions; 1,809 receiving yards; 8 touchdowns
Justin Jefferson led all wide receivers in both receptions and receiving yards in 2022. His 613 yards after the catch also ranked first at his position (though Travis Kelce outstripped him slightly among all pass catchers), as did his 28 plays of 20-plus yards. In short, Jefferson established himself as the league's preeminent long-distant threat and proved one of the toughest receivers to take down.
The 2022 season was a remarkable one. Yet there is no real reason to doubt that Jefferson can repeat it in 2023 because his situation should be similar. Number-two receiver Adam Thielen has left Minnesota, but the Vikings will replace him with Jordan Addison, a highly touted first-round pick out of USC. Running back Dalvin Cook is also gone, but Alexander Mattison is more than ready to step in. In short, the Vikings' attack should look similar.
Bottom line: Jefferson has the same quarterback and the same coach and will continue to be the focal point in an offense much like the one he thrived in last year. He's in for another tremendous season.
2. Tyreek Hill – Miami Dolphins
2022 Stats: 119 receptions; 1,710 receiving yards; 7 touchdowns
Tyreek Hill finished second to Justin Jefferson among all receivers in receptions and yards, as well as in 20-plus-yard plays. He did all of this with 14 fewer targets on the season and a notably uncertain quarterback situation. Due to Tua Tagovailoa's worrisome concussion issues, both Teddy Bridgewater and Skylar Thompson saw meaningful time at QB for the 2022 Dolphins. This inconsistency hardly seemed to bother Hill, who was productive with each of the team's quarterbacks.
There aren't many reasons to doubt Hill himself in 2023. He had some nagging injuries last season and he's 29 years old now, but the talent hasn't gone anywhere, and he may well still be the fastest player in the NFL. He'll also be playing for a team that really hasn't changed much in the offseason. All of this points to Hill's ability to duplicate or possibly even improve upon his 2022 campaign. The only potential issue is the quarterback position. One hard hit to Tagovailoa could change the outlook for Hill's season.
3. Davante Adams – Las Vegas Raiders
2022 Stats: 100 receptions; 1,516 receiving yards; 14 touchdowns
Davante Adams had a monster season in 2022, ranking 7th among wide receivers in receptions, 3rd in yards, and 1st in touchdowns. His 180 targets were second only to Justin Jefferson's 184, and his 24 breakout plays of 20-plus yards tied CeeDee Lamb for third-most in the league. For Adams to compile these numbers and rankings in his first year after moving on from Green Bay and Aaron Rodgers confirmed that he's about as big a weapon as there is at the wide receiver position today.
Even so, 2023 production is a little trickier to project for Adams than for some other top receivers. This is because the Raiders have made a significant change at quarterback, letting go of Derek Carr and signing Jimmy Garoppolo as a probable starter. Garoppolo's only two full seasons as a starter helped tight end Greg Kittle to 85 receptions and 1,053 yards (in 2019) and Deebo Samuel to 77 catches for 1,405 yards (in 2021). He's perhaps a better-passing quarterback than he gets credit for, but he's not accustomed to the kind of volume passing attack Carr is comfortable with. This could indicate slight regression for Adams by no fault of his own.
4. Stefon Diggs – Buffalo Bills
2022 Stats: 108 receptions; 1,429 receiving yards; 11 touchdowns
There weren't many more consistent threats than Stefon Diggs at the wide receiver position in 2022. His 1,429 receiving yards were good for fifth-best in the NFL, and his 108 receptions and 89.3 yards per game both outranked Davante Adams by slim margins. It was also a particularly encouraging season for Diggs, given that he had regressed slightly in 2021. 2022 marked a return to form, and the Vikings star should be able to keep it up in 2023.
The Bills have made many roster changes over the offseason, but none should affect the Josh Allen-Stefon Diggs tandem very much. As such, the only reason for concern is the slight regression Allen has shown statistically over the last two seasons. Granted, Allen set a ludicrously high bar in 2020. But his productivity has dipped slightly since, and if that trend continues, the numbers could decline marginally for Diggs, though it's fair to expect another massive year from the Bills' top receiver.
5. Ja'Marr Chase – Cincinnati Bengals
2022 Stats: 87 receptions; 1,046 receiving yards; 9 touchdowns
While Ja'Marr Chase's 2022 stats are excellent, they aren't quite as eye-catching as those of the very most productive receivers. It's important to remember, however, that Chase amassed these numbers over the course of just 12 games. He missed four games in the middle of the season due to a hip injury, which by all accounts, has cleared up completely.
If Chase had played in those four games and reached his 7.25 receptions per game, he'd have had 116 on the season –– within 3 of Tyreek Hill. Given that simple calculation and the fact that the Bengals' offense looks largely unchanged, it may be fair to expect an even better 2023 season from Chase. He'll need good health, but the bottom line is that he's far and away the most talented target in a high-powered offense led by one of the best passing quarterbacks in the NFL in Joe Burrow.
6. A.J. Brown – Philadelphia Eagles
2022 Stats: 88 receptions; 1,496 receiving yards; 11 touchdowns
A.J. Brown has been among the NFL's elite receivers for several years now. His 2022 season, however, is somewhat difficult to assess. Playing in all 17 games for Philadelphia, Brown ranked a surprisingly low 13th in the NFL in receptions with 88. At the same time, his 1,496 yards were fourth-best in the league. This speaks to the kind of separation Brown can get once he hauls in a pass. Indeed, he finished 2nd to Justin Jefferson among wide receivers for yards after the catch, with 548 on the season.
It's a little more difficult for a receiver to sustain yardage and touchdown production relying on yards after the catch than on pure targets and receptions. Brown, however, may be in a position to do just that. He's only 26 years old and will enter the preseason fully healthy. His burst should be every bit as formidable, and he'll remain the top pass-catching option in a dynamic offense.
7. Deebo Samuel – San Francisco 49ers
2022 Stats: 56 receptions; 632 receiving yards; 2 touchdowns
It's hard to know what to make of Deebo Samuel's 2022 season. It began on a sour note as the dynamic receiver briefly flirted with a holdout in the preseason. Samuel then missed games, first with a hamstring issue and then with an ankle sprain. Meanwhile, the quarterback position was a mess between injuries and an on-and-off passing of the torch from Jimmy Garoppolo to one of Trey Lance or Brock Purdy.
Those issues amounted to an underwhelming statistical season for Samuel. When he was on, however, he still demonstrated the ability to match the best receivers in the game; he had six catches for 115 yards against the Rams and another 6 for 133 against Seattle. That's the kind of production fans will hope to see more regularly in 2023. Though with Brandon Aiyuk, George Kittle, and Christian McCaffrey also needing targets and the QB situation still somewhat uncertain, massive projections for Samuel shouldn't be set in stone.
8. CeeDee Lamb – Dallas Cowboys
2022 Stats: 107 receptions; 1,359 receiving yards; 9 touchdowns
After a bit of a slow start in the first half of 2022, CeeDee Lamb found his game and became one of the NFL's most dominant offensive threats. He topped 100 receiving yards in five of the final nine games of the regular season and averaged just over seven receptions in the same span. For the season, he wound up 4th among wide receivers in receptions and 6th in yards despite the slow start.
Lamb could be sharing targets a little bit more in 2023, given the Cowboys' offseason acquisition of Brandin Cooks via trade. This is typically a two-way street for an elite WR-1, however. While Cooks will demand his share of targets, he'll also make it more difficult for defenses to focus too heavily on Lamb. Ultimately the offense may just be a little more balanced. If he starts the season the way he finished it last year, Lamb could be in for a breakout.
9. Cooper Kupp – Los Angeles Rams
2022 Stats: 75 receptions; 812 receiving yards; 6 touchdowns
Cooper Kupp had a down statistical season in 2022 simply because he missed the team's last eight games with an ankle sprain and subsequent surgery. Had he played in those final eight games and reached his season averages for receptions and receiving yards, however, he would have ended the season with 135 receptions and 1,462 yards (as well as 11 touchdowns). Kupp would have led the league in receptions and been fifth in receiving yards.
Every indication is that Kupp has recovered well from ankle surgery. And if he's fully healthy, he's probably in for a huge statistical season. That said, there are some concerns. The first is that Matthew Stafford has shown his age in recent seasons and isn't a surefire top-tier QB. The second is that the Rams are undergoing a change at offensive coordinator, with Mike LaFleur in his first season with the team. Kupp should be the constant, though.
10. Mike Williams – Los Angeles Chargers
2022 Stats: 63 receptions; 895 receiving yards; 4 touchdowns
The 2022 season for Mike Williams was a little bit like it was for Cooper Kupp to a lesser extreme. His cumulative stats for the season slid slightly from the 2021 numbers but would have been impressive had he played in more than 13 of the Chargers' 17 regular season games. Projecting averages across all 17 games, Williams ought to have finished with 82 receptions and 1,170 yards. These are the numbers that speak to his true potential.
Williams will have a good shot at reaching that potential in 2023. The Chargers' offense remains largely unchanged but for two factors. The first is that young star quarterback Justin Herbert should still be improving. The second is that Williams should finally eclipse Keenan Allen as the team's leading receiver. In 2020 Allen averaged 4.8 more targets per game than Williams; in both 2021 and 2022, the advantage was down to 1.7. At 28 years old and having narrowed this gap, Williams should overtake the 31-year-old Allen and become an even bigger part of the LA offense.
11. Amon-Ra St. Brown – Detroit Lions
2022 Stats: 106 receptions; 1,161 receiving yards; 6 touchdowns
Amon-Ra St. Brown was one of the breakout stars of the 2022 season. He bettered his already-impressive rookie totals from 2021 by 16 catches and more than 200 additional yards, and there's no reason to think he's done rising. He's rapidly becoming one of the toughest covers in the league. And as fantasy sites will tell you, he's playing for a Lions team with one of the most favorable schedules in the league for wide receivers.
Detroit's offense will change in 2023. The running game has been shaken up with the departure of D'Andre Swift, the signing of David Montgomery, and the drafting of projected starter Jahmyr Gibbs out of Alabama. Additionally, number-2 wide receiver Jameson Williams is suspended. But with Jared Goff still throwing passes and Marvin Jones being brought in to balance the passing attack, St. Brown should get all the opportunity he needs and then some.
12. Christian Kirk – Jacksonville Jaguars
2022 Stats: 84 receptions; 1,108 receiving yards; 8 touchdowns
Christian Kirk was among the pleasant surprises of the 2022 season. Among all wide receivers, he finished the season 15th in targets, 14th in receptions, and 13th in receiving yards. Throw in the fact that he's only 26 years old and playing with a young quarterback in Trevor Lawrence, who improved dramatically in 2022, and it's clear why there's some optimism about the upcoming season. If Lawrence continues progressing toward his superstar potential and Kirk is his primary target, the sky's the limit on the receiver's production.
The real question is whether Kirk will be the primary target. The Jaguars are deep with pass catchers, and Calvin Ridley's return to football from a year-long suspension makes Kirk hard to project. Provided good health, Kirk will certainly produce a strong season. There's at least a chance, however, that Ridley will cut into Kirk's target share and become Jacksonville's top receiver.
13. Devonta Smith – Philadelphia Eagles
2022 Stats: 95 receptions; 1,196 receiving yards; 7 touchdowns
With A.J. Brown as a teammate, Devonta Smith can be overlooked. Brown is bigger, more naturally gifted, and better suited to the prototypical WR1 role. The truth of the matter, however, is that Smith can be just about as effective. In 2022 Smith ranked 9th in the NFL in receptions and 8th in receiving yards but only 13th in targets. To put this in perspective, Smith averaged about 0.7 receptions per target; A.J. Brown averaged closer to 0.6.
This does not suggest that Smith is as effective as Brown. Brown will almost certainly get more targets and can sometimes do more with the ball once he catches it. Smith is closer than it sometimes seems, however, and he's arguably as good of a second wide receiver as there is in the NFL. Playing that role in a well-oiled machine of an offense should lead to a very strong 2023 campaign.
14. DeAndre Hopkins – Free Agent
2022 Stats: 64 receptions; 717 receiving yards; 3 touchdowns
Playing for the Cardinals in 2022, DeAndre Hopkins was another elite wide receiver whose season was cut short. He missed six games while suspended for violating the league's PED policy and another two with an injury. Had he been active the whole season, however, his per-game averages suggest he would have wound up with about 121 receptions and 1,354 yards on the season. Those marks would have placed him 2nd and 8th in the NFL in the respective categories.
In other words, DeAndre Hopkins can still get the job done. While there have been some discipline issues and minor injuries, Hopkins has shown no signs of slowing down as a player heading into his age-31 season. The only question is where he's going to play. As of this writing, Hopkins is still a free agent after his Cardinals release. We don't know what kind of offense he'll be stepping into.
Update: On Sunday, July 16, Hopkins signed with the Tennessee Titans. 
15. DJ Moore – Chicago Bears
2022 Stats: 63 receptions; 888 receiving yards; 7 touchdowns
DJ Moore's ranks in key passing stats won't exactly wow anybody. His 63 receptions placed 37th among wide receivers (and 46th among all pass catchers), and his 888 receiving yards placed 26th among wide receivers. These marks could be perceived as somewhat underwhelming for a supposed WR1 who played in 17 games in 2022. In this case, however, it is only fair to acknowledge that Moore's quarterback play in Carolina was, to put it kindly, suspect.
Having been traded to Chicago for the #1 pick in the NFL Draft, Moore should enjoy a smoother, more dynamic offense. Young Bears quarterback Justin Fields may be more of a dual threat than a passing maestro at this stage, but the Bears have weapons, and second-year offensive coordinator Luke Getsy –– who spent several years coaching up a vaunted Green Bay passing attack –– will be looking to use them. If Fields and Moore can establish some chemistry, Moore should emerge as the top target in an improved passing game.
16. Tee Higgins – Cincinnati Bengals
2022 Stats: 74 receptions; 1,029 receiving yards; 7 touchdowns
Tee Higgins has been a model of consistency through his first three NFL seasons. He caught 67 passes in year one and 74 in years two and three; he received between 108 and 110 targets in each of the three seasons; he's always finished between 908 and 1,091 yards; and he scored six touchdowns in each of his first two seasons and 7 in 2022.
On many teams, the 24-year-old Higgins would likely be seen as an emerging top option at wide receiver. That's not the case in Cincinnati simply because Higgins happens to be teammates with Ja'Marr Chase. Nevertheless, Higgins isn't to be underestimated. He can pretty much be penciled in for about 16 games played, 70-75 receptions on 110-ish targets, 1,000 to 1,100 yards, and 6-7 touchdowns. And some slight improvement on these numbers, as the high-powered Cincinnati offense gets even more comfortable, wouldn't be surprising.
17. Jaylen Waddle – Miami Dolphins
2022 Stats: 75 receptions; 1,346 receiving yards; 8 touchdowns
In Jaylen Waddle, we have another number-two wide receiver who is good enough to be the top pass catcher on many teams. Waddle's 75 receptions in 2022 may not have distinguished him in the upper tier of pass catchers, but his 1,346 receiving yards ranked 7th in the entire league –– just three behind CeeDee Lamb. This is due to Waddle's penchant for breaking big plays. He had the 6th-most receptions of 20-plus yards in 2022 and gained the 10th-most yards after the catch.
Like his teammate Tyreek Hill, Waddle will be somewhat at the mercy of the Miami quarterback situation in 2023. Another injury to Tua Tagovailoa could well disrupt this offense at some point. On the other hand, Waddle may be a player uniquely suited to putting up numbers despite an up-and-down QB situation. Even if the Dolphins have trouble at quarterback, there's a sense Waddle will find his big plays.
18. Terry McLaurin – Washington Commanders
2022 Stats: 77 receptions; 1,191 receiving yards; 5 touchdowns
Terry McLaurin has had a similar career to DJ Moore. Both have high-end wide-receiver talent, and both have served as WR1s. However, Both have had to endure inconsistent quarterback play and as a result, they've put up weaker numbers than some expected. Like Moore, however, McLaurin has also put up good enough numbers to suggest he's a breakout candidate in a better offense.
It's hard to tell if that offense is coming in 2023. The good news for McLaurin is that Washington brought in former Chiefs Offensive Coordinator Eric Bieniemy. He's as good a candidate as any to supercharge an offense. The bad news is that it may take time, given the quarterback situation. The Commanders seem prepared to start Sam Howell, a rookie from UNC Carolina whom they drafted in the 5th round. If Howell gets up to speed quickly, McLaurin could thrive in a Bieniemy offense. But that's a pretty big "if."
19. Garrett Wilson – New York Jets
2022 Stats: 83 receptions; 1,103 receiving yards; 4 touchdowns
If there's a single wide receiver in the NFL best positioned to benefit from offseason upgrades, it might be Garrett Wilson. Drafted in the 1st round in 2022 to step in as the Jets' number-1 wide receiver, Wilson looked the part and produced admirably. Even so, there was a sense that the New York offense simply wasn't equipped to unlock his full potential. So, enter Nathaniel Hackett and Aaron Rodgers.
Hackett will serve as New York's offensive coordinator, having done the same job successfully in Green Bay from 2019 through 2021. More important, however, is that he'll be working with his QB, with Aaron Rodgers set to suit up for the Jets in his first season outside of Green Bay. Rodgers will undoubtedly get more out of the young receiver than Zach Wilson could. Ultimately the number to pay attention to might be 10.1. That's how much better Rodgers's completion percentage was in 2022 than Zach Wilson's. It's a significant gap; if it holds up in New York, Garrett Wilson will greatly benefit.
20. Amari Cooper – Cleveland Browns
2022 Stats: 78 receptions; 1,160 receiving yards; 9 touchdowns
Now 29 years old and entering his 9th season in the NFL, Amari Cooper comes across as a known commodity. He's a high-end second wide receiver or low-end first wide receiver who will top 1,000 yards and find the end zone plenty if given the opportunity. As much as it feels like we've all learned what to expect from Cooper, it is worth noting that his first season in Cleveland, in 2022, was among his best.
Cooper's 78 receptions were his 4th-most in his career. His 132 targets matched a career-high from all the way back in 2016, and his 1,160-yard effort was second only to his 2019 season in Dallas. All of this indicates that he might still have some of his best seasons ahead of him, which may be all the more likely with Deshaun Watson slated for his first full year as the Browns' quarterback.
21. Mike Evans – Tampa Bay Buccaneers
2022 Stats: 77 receptions; 1,124 receiving yards; 6 touchdowns
Mike Evans has been extremely consistent throughout his career and was machine-like during Tom Brady's three seasons as Tampa Bay's quarterback. In each of those seasons from 2020 through 2022, Evans finished with between 70 and 77 targets, 109 and 127 targets, and 1,006 and 1,124 yards (though his touchdowns did fall off notably in 2022). Overall, in 9 of his seasons in the NFL, Evans has been a lock for 65-plus receptions and 1,000-plus yards.
This consistency generally makes Evans a good bet for good-to-great production. However, there is a massive wrinkle in 2023 in the transition from Brady to Baker Mayfield. Mayfield has been a poor quarterback for several years now. He may benefit from incoming Offensive Coordinator Dave Canales, who has primarily worked as a quarterbacks coach. But he's unlikely to be as good as a declining Tom Brady. If Mayfield struggles, Evans could have a difficult season.
22. Brandon Aiyuk – San Francisco 49ers
2022 Stats: 78 receptions; 1,015 receiving yards; 8 touchdowns
Brandon Aiyuk had an outstanding season in 2022, posting career highs in targets, receptions, receiving yards, and touchdowns. He was by any reasonable measure the 49ers' best receiver in 2022 –– even if teammate Deebo Samuel's dual-threat nature as a part-time running back tends to make him the more highly-rated player. The question now is whether Aiyuk can continue to improve moving forward.
That question could be answered any which way. There's a version of the upcoming 49ers season in which Brock Purdy solidifies his hold on the starting QB position, Samuel and Christian McCaffrey open up the offense, and Aiyuk thrives with more opportunity than he's seen before. There's another version in which Purdy, Sam Darnold, and Trey Lance take turns in an unstable QB role, Samuel struggles with his health, and the offense becomes haphazard. Aiyuk is good enough to eclipse his 2022 numbers, but he'll become something closer to the first version to do so.
23. DK Metcalf – Seattle Seahawks
2022 Stats: 90 receptions; 1,048 receiving yards; 6 touchdowns
It feels like there's a monster DK Metcalf season coming soon. He's simply too big and talented not to break out in a bigger way than he has just yet. His 2022 campaign was strong; he racked up 141 targets and was often a primary red-zone option for Geno Smith in his first year as Seattle's starting QB. There's still a sense that Metcalf could produce something closer to top-tier production with a little more consistency around him.
Some of that consistency may come in 2023. A surprise in 2022, Geno Smith is now locked into the QB1 role in Seattle. Tyler Lockett balances out the receiving game, and pro-ready first-round pick Jaxon Smith-Njigba out of Ohio State will give defenses one more threat to worry about. Head Coach Pete Carroll and Offensive Coordinator Shane Waldron have much to work with. They will likely create a stronger offense than Seattle showed in 2022, and Metcalf will benefit.
24. Tyler Lockett – Seattle Seahawks
2022 Stats: 84 receptions; 1,033 receiving yards; 9 touchdowns
Tyler Lockett has been extraordinarily consistent for Seattle throughout his career, particularly for the last four seasons. He's topped 100 yards and 1,000 yards receiving each season. In 2022, his production closely mirrored that of Seahawks WR1 DK Metcalf, and Lockett found the end zone more often. In short, he was an invaluable weapon for quarterback Geno Smith and looks likely to remain among the league's best WR2 options into his age-31 season in 2023.
One potential hurdle for Lockett's production is rookie Jaxon Smith-Njigba. Most early accounts suggest that Smith-Njigba is the real deal and will earn some usage. That could simply serve to open up Seattle's offense to the benefit of all involved. However, if Smith-Njigba begins to cut into an established receiver's targets, it will likely be Lockett's rather than Metcalf's. Nevertheless, Lockett looks well-positioned for another strong season.
25. Chris Olave- New Orleans Saints
2022 Stats: 72 receptions; 1,042 receiving yards; 4 touchdowns
Chris Olave was the Saints' 1st-round draft selection in 2022. He was brought in to establish himself as the team's new go-to WR1 and did just that, amassing 72 receptions on 119 targets for just over 1,000 yards as a rookie. Even more impressive was that he did this primarily with a middling quarterback in Andy Dalton and within an offense that lacked significant threats outside of himself and running back Alvin Kamara (who himself had a down year). Simply put, Olave starred as a rookie.
He's also poised for an even more productive second season –– perhaps by a significant margin. This is primarily because the Saints made a change at quarterback by bringing Derek Carr over from Vegas. Carr may not be everyone's idea of an all-world quarterback, but he can launch the ball downfield and has helped talented receivers to excellent seasons. Olave should thrive with his new pass thrower; he could be in line for huge numbers.
26. Diontae Johnson – Pittsburgh Steelers
2022 Stats: 86 receptions; 882 receiving yards; 0 touchdowns
Diontae Johnson had one of the most baffling seasons among offensive players in 2022 (particularly to those who play fantasy football). He attracted a massive 147 targets, which tied him for 6th most among wide receivers. His 86 receptions were also more than respectable, ranking 14th at the position. Despite this volume of activity, however, Johnson's yardage was underwhelming, and his 0-touchdown total was a little short of confounding. In fact, it helped him set a record for the most receptions in a season without a score.
27. Calvin Ridley – Jacksonville Jaguars
2022 Stats: N/A
Calvin Ridley is among the more intriguing wide receivers to watch in 2023. As many will remember, Ridley has missed most of the last two seasons. He stepped away to address his mental health after just five games in 2021 and was later suspended for the entirety of the 2022 season for gambling. In 2020 though, Ridley was among the best receivers in the league, totaling 90 receptions on 143 targets for 1,374 yards and nine touchdowns.
The question now is whether the 2020 version of Calvin Ridley will return. He appears to be healthy and is still only 28 years old. Furthermore, a rapidly improving Trevor Lawrence in Jacksonville may be a better passer than the aging Matt Ryan Ridley most recently partnered with. Time will tell if Ridley and Lawrence develop chemistry. The upside is enormous if they do, and Ridley gets enough of the target share alongside Christian Kirk.
28. Brandin Cooks – Dallas Cowboys
2022 Stats: 57 receptions; 699 receiving yards; 3 touchdowns
2022 marked the worst season for Brandin Cooks since his final run with the Rams back in 2019. His 57 receptions, 93 targets, 599 receiving yards, and three touchdowns were all low points since that 2019 season. Nevertheless, it is important to remember two things when assessing Cooks. The first is that before 2019 he hadn't suffered production that low since his rookie season. The second is that the 2022 numbers were produced within a lowly Texans offense that failed to maximize (or capitalize on) Cooks' talent.
In 2023 Cooks will suit up for the Cowboys for the first time in what should be a vastly improved situation. He'll have a stable quarterback in Dak Prescott, a bonafide WR1 drawing opponents' toughest coverage in CeeDee Lamb, and a strong runner to balance out the attack in Tony Pollard. Cooks is also still only 29 years old. Given these factors, it's fair to expect a bounce back toward the 80-plus reception, 1,000-plus yards kind of season Cooks is accustomed to.
29. Michael Thomas – New Orleans Saints
2022 Stats: 16 receptions; 171 receiving yards; 3 touchdowns
Michael Thomas didn't put up noteworthy numbers in 2022. They look strong, though, when one remembers that he played in only three games before being shut down with a foot injury. In theory, he might have been on his way toward a solid comeback season after missing the entirety of 2021. The question is whether he can maintain his health and progress toward a more complete comeback in 2023.
It wasn't that long ago that Thomas was considered to be possibly the NFL's top wide receiver. In 2019 he raked in 149 receptions for 1,725 yards. That version of Thomas probably isn't taking the field again. But it's easy enough to believe there's still a productive player within him if he can stay on the field. Thomas will also be in a favorable situation. Carr will offer the most stable quarterback play since Drew Brees retired, and Chris Olave will occupy defensive coverage.
30. Chris Godwin – Tampa Bay Buccaneers
2022 Stats: 104 receptions; 1,023 receiving yards; 3 touchdowns
Everything about Chris Godwin's recent seasons suggests he should be excellent in 2023. He's exceeded 85 catches and 1,000 receiving yards in 3 of the last four seasons; in 2020, the one season in which he missed these marks, he played only 12 games. In 2022 Godwin's 104 receptions ranked 7th among wide receivers, and his 1,023 receiving yards ranked 20th. And that was his comeback season after a torn ACL! Now fully healthy and still just 27, he ought to have some significant production ahead of him.
As is the case with Mike Evans, though, the concern is the QB transition from Tom Brady to Baker Mayfield. Mayfield has played for three teams in 2 seasons, completing just 454 total passes in that span and throwing only six more touchdowns than interceptions. Godwin can make anyone look good, but his usual production will be hard to come by unless Mayfield has a major turnaround.
31. Juju Smith-Schuster – New England Patriots
2022 Stats: 78 receptions; 933 receiving yards; 3 touchdowns
Juju Smith-Schuster is coming off a solid season –– and Super Bowl –– with Kansas City. With respect to personal production, though, it's fair to wonder if the ultra-balanced Chiefs attack didn't suit him. Smith-Schuster didn't approach the 128 targets he saw during his last full season in Pittsburgh in 2020 (not to mention the 166 he'd seen in his last full season before that in 2018). He has been more dominant as a clear offensive focal point in the past. But will he be that again in New England?
That's anybody's guess because this will be a new-look Patriots offense. Bill O'Brien is replacing the Matt Patricia/Joe Judge duo to run the offense. Mac Jones is still something of an unknown commodity at quarterback, and the offense is as heavy on tight ends as receivers. Smith-Schuster is the most talented pass catcher on the roster, but it remains to be seen how he'll be used or if he can still produce as more of a clear-cut WR1.
32. Keenan Allen – Los Angeles Chargers
2022 Stats: 66 receptions; 752 receiving yards; 4 touchdowns
Keenan Allen put up more modest stats than usual in 2022 due to the fact that he missed a significant portion of the season with hamstring issues. Taking his averages over the ten games he played and stretching them over a full 17-game slate, though, Allen ought to have finished 2022 with something like 112 receptions, 1,278 receiving yards, and seven touchdowns. Maintaining health is part of being productive, but this illustrates that a fully healthy Allen is still capable of high-level WR1 numbers.
It is also worth noting that Allen has slowly given ground to Mike Williams over the course of several seasons. Williams may be the team's primary target in 2023. Even so, a Justin Herbert-led offense firing on all cylinders will have plenty of passes to go around. If Allen can keep himself on the field, he should flirt with 100-plus catches and over 1,000 yards.
Show Your Support
Support the Strike 7 Sports platform's growth by heading to Fanatics.com and buying officially licensed gear from the National Football League. Each purchase made through the text link below goes into the funding of the Strike 7 Sports brand. To proceed, click the link below and enjoy shopping at Fanatics.