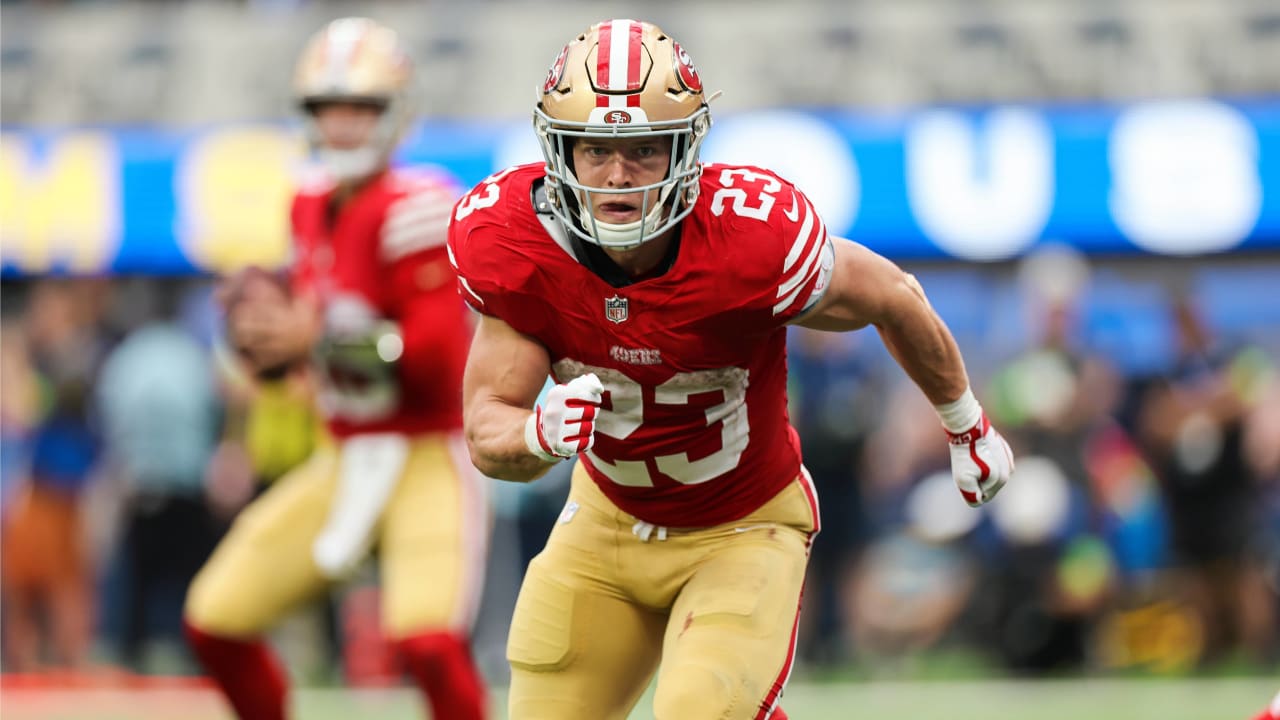 Since entering the league in the 2017 draft, it's been clear that Christian McCaffrey is a special player. As a running back with substantial ability in both the rushing and passing game, McCaffrey spent most of his time in Carolina as the main focal point in a flagging offense,
This was best exemplified in 2019, where he became only the third player in league history to have 1,000 rushing and receiving yards in a season, leading to him being named first-team All-Pro. The following years, however, were marred by injuries, and while he was still excellent when healthy, he was still stuck on a mediocre Panthers side this time last year.
Now, however, he makes up part of one of the NFL's best offensive units – the San Francisco 49ers – and he looks like one of the very best players in the league just now, regardless of position. Last Sunday's victims were the Arizona Cardinals, who watched on as McCaffrey racked up 177 total yards and four touchdowns, taking him 600 scrimmage yards on the season, comfortably the most in the NFL.
McCaffrey is not the only star on this 49ers offense, of course. Brock Purdy has a whole buffet of options when he lines up under center, from perennial Pro Bowl Tight End George Kittle to receiving threats like Brandon Aiyuk and Deebo Samuel – himself a threat in the air and ground.
But so far, he is the leading man in Kyle Shanahan's scheme. There's a reason why the 49ers decided to trade away four draft picks for their potential final piece of the puzzle, as they chase the franchise's 6th Super Bowl ring and a first since 1995.
If McCaffrey continues to play like he has in these first four weeks, we might have to start talking about him as a genuine MVP contender. Running backs winning the MVP award was a common occurrence throughout most of history. Still, as the league has increasingly transitioned towards the passing game, it became increasingly rare.
Adrian Peterson's 2,000-yard plus season in 2012 is the sole non-QB win of the award in the last sixteen years, highlighting the level that needs to be hit by a running back to take home the trophy.
Even then, Peterson only won 61% of the vote, with Peyton Manning's first season in Denver running him relatively close in the voting that year. For reference, Derrick Henry's 2,000-yard season in 2020 didn't earn him a single vote, as the award went comfortably to Aaron Rodgers and his 48-touchdown season.
So, can McCaffrey win the MVP award as a running back in 2023? If he's even close to keeping up this form for the next thirteen games, it's a real possibility. While his performance this Sunday (albeit against the Cardinals) was superb, it wasn't much of an outlier in his season.
McCaffrey has had at least 100 scrimmage yards and a TD in all four games this year. No player in the 78-year history of the 49ers organization has achieved this to start a season, and no player in the NFL has done it for almost a decade, the last being DeMarco Murray in 2014.
And if we go back to the second half of last season, it's clear that McCaffrey's performances this September are just a continuation of what he was putting up last winter. Sunday marked his 13th consecutive NFL game with a touchdown as he chases LaDainian Tomlinson's 2004-05 record of eighteen, stretching over two seasons. In one of these games against the Rams last year, he even threw for a touchdown, showing he's a man who really can do it all.
It would be hard to bet against McCaffrey achieving precisely that as the 49ers look to continue their march back to the NFC Championship game in January after a string of injuries at the quarterback position derailed last year's. That messy loss in Philadelphia remains the team's only loss since October 23rd last year, as they've rattled off 14 consecutive victories in the regular season.
This week will be an intriguing test as they welcome the Dallas Cowboys to Levi's Stadium for Sunday Night Football. Dallas has looked impressive in three of the four games (with a bizarre loss to Arizona the only aberration so far), although they haven't faced a team like San Francisco yet. According to Vegas, it's a blockbuster clash of two of the NFC's premier outfits, and the 49ers go in as 3.5-point favorites.
If McCaffrey is to be a real contender for MVP this year, he probably needs a statement game or two in front of a national audience. Watching this offense try and work their way through Micah Parsons and co. is likely the season's clash so far, and if he can get another 100 yards and another touchdown against one of the league's elite units, the MVP debate becomes much more accurate.
Of course, the nature of award voting is that only so much is in McCaffrey's hands.
If Patrick Mahomes, Josh Allen, or whoever else at quarterback goes on to have a phenomenal year, then McCaffrey's task of winning the award goes from complicated to nigh-on impossible. If someone has a 5,000-yard, 45-touchdown season, then there's not a running back on planet Earth likely to compete in the eyes of voters.
The 49ers are real contenders to win it all this season, which you'd imagine will help McCaffrey's case. The previously mentioned 1,000-yard rushing and receiving yard season in 2019 came on a Carolina side that went 5-11, meaning that this phenomenal achievement went unrewarded, as he was beaten to the Offensive Player of the Year Award by Michael Thomas. That doesn't look like an issue this time around.
In conclusion, while the MVP award is always an outside shot for any non-quarterback, this could be one of those rare years someone pulls it off. If McCaffrey can stay healthy and continue to be the all-dominating force he's been since landing in San Francisco, he has to be considered a real candidate for the award.
He needs one or two strong statement games against the top teams in the conference. In addition to this Sunday's clash with Dallas, the 49ers face off against Philadelphia and Baltimore this season, two more sides amongst the favorites for this February's Lombardi Trophy. But McCaffrey seems up to this task, and fans across the league will be watching to see how many total touchdowns he'll end up with this year.
MVP? We'll have to wait and see.
Show Your Support
Support the Strike 7 Sports platform's growth by heading to Fanatics.com and purchasing officially licensed gear from the National Football League. Each purchase made through the text link below goes into the funding of the Strike 7 Sports brand. To proceed, click the link below and enjoy shopping at Fanatics.