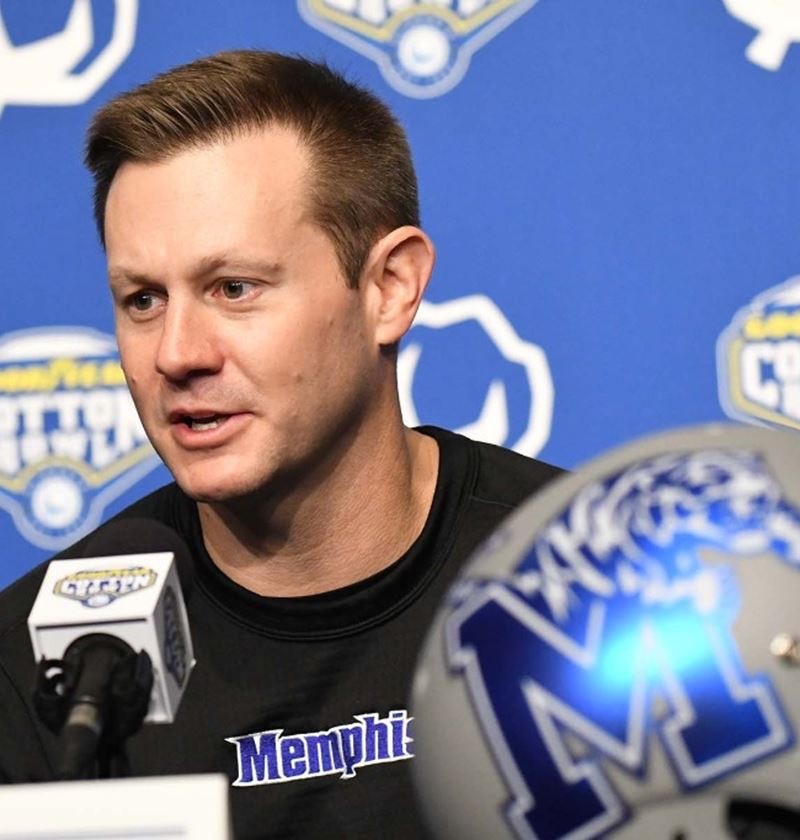 In a recent poll published by CBS Sports college football writer David Cobb, Memphis head coach Ryan Silverfield came in at no.7. Here is why Silverfield was listed at no.7 among all head coaches ranked in the AAC.
"After debuting at No. 11 in his first season as coach in 2020 and sliding up two spots to No. 9 last year, Silverfield again rises two spots this year. Despite his upward trajectory in the rankings, Year 3 marks a critical juncture for Silverfield, who is following two stalwarts of the Memphis football resurgence in Justin Fuente and Mike Norvell. Silverfield is 14-10 (8-8 AAC) and coming off a 6-6 season. He's kept the train on the tracks, but it's unclear if the locomotive has the necessary chops to make the Tigers the class of a new-look AAC in the future. 2021 AAC ranking: 9 (+2)"
According to Cobb, CBS Sports utilized head-coaching history, recent on-field results, future potential, and intangibles to develop the current ranking. Silverfield being ranked at seven is fair. He has not lived up to the standards established by prior head coaches Justin Fuente and Mike Norvell. After leading the program to eight wins in his first season taking over for Norvell, the Tigers regressed to a 6-6 record.
Memphis qualified for a bowl berth in 2021, but the game was never played due to their opponent having a covid-19 outbreak. Memphis opens up the 2022 season against the Mississippi State Bulldogs. The game is a rematch from last year's 31-29 victory over the Bulldogs. The contest will be played in Starksville, Mississippi. This season, the Tigers do not face conference heavyweight the Cincinnati Bearcats, but they take on a few familiar opponents that they shouldn't have lost to in 2021.
They can improve on their six victories from the prior year, but it will depend on the changes made during the offseason. 2022 will also be the final year that perennial contenders Houston, UCF, and Cincinnati will be a part of the American. All three programs will be joining the Big 12 Conference once the season is over.
Show Your Support
Support the great work of the Strike 7 Sports Memphis Tigers Section by purchasing licensed NCAA fan gear. Items ranged from Memphis hats, jerseys, t-shirts, socks, etc. We would greatly appreciate it if you would buy these items from the text link listed below. The revenue generated from today's offer goes into the funding of the Strike 7 Sports platform. Click on the link below if you are interested.