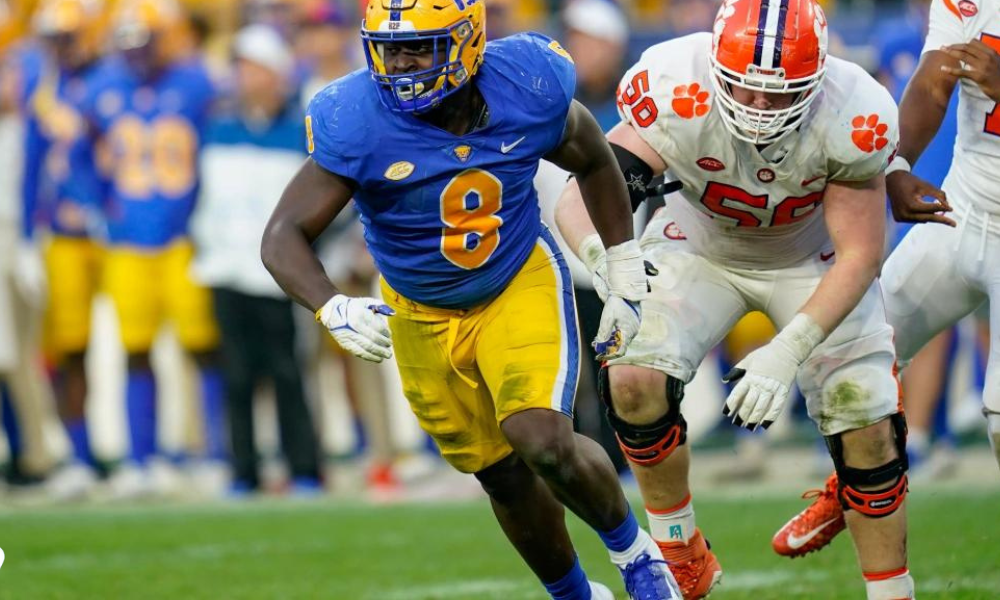 As the draft approaches, the Saints prepare to add new talent to their roster. Saints Discussions focuses on upgrading the trenches with the team's first and second-round picks in this latest seven-round mock draft. Additionally, we've identified a dynamic playmaker at the running back position who we believe is currently flying under the radar. With the draft just a week away, let's closely examine the Saints' potential picks.
Calijah Kancey: 1st RD, PITT (DT)
Calijah Kancey's productivity and ability to generate pressure from the interior defensive line would be a valuable addition to the Saints' defense. Despite his slightly undersized frame, his knack for getting to the quarterback would boost the team's pass rush. His ability to disrupt plays in the backfield also adds value to his overall game. The Saints are known for their aggressive defensive scheme, and Kancey's skill set would be a great fit in that system. With a strong motor and high football IQ, he has the potential to develop into a dominant force on the defensive line.
Felix Anudike-Uzomah: 2ND, K-STATE (EDGE)
Anudike-Uzomah's impressive performance at K-State, including his six-sack game, speaks to his potential as a dominant edge rusher. His size and athleticism are well-suited for the NFL game, and his ability to generate pressure on opposing quarterbacks will be a valuable asset for the Saints' defense. With Cameron Jordan getting older and the team needing to address their pass rush, Anudike-Uzomah is a logical choice for the Saints to address their defensive needs in the second round. By selecting Anudike-Uzomah, the Saints add depth to their defensive line and potentially secure their long-term future at the defensive end position.
Zach Evans: 3rd RD, OLE MISS (RB) 
The selection of Zach Evans in the third round is a great value pick for the Saints. Evans's unique combination of size, speed, and elusiveness makes him a dangerous threat in the open field. While he didn't have many opportunities to showcase his receiving skills at Ole Miss, the fact that he has already shown some ability in that area is a positive sign for the Saints, who value versatility in their running backs. With Alvin Kamara already established as the lead back, Evans could come in as a change of pace and provide a spark to the offense. If he continues to develop and improve upon his already impressive skillset, Evans could become a valuable asset to the Saints for years.
Will Mallory: 4TH RD, MIAMI, FL (TE)
Adding Will Mallory to the Saints' roster is a smart move. With the ability to create mismatches on the field, the four-year tight end out of Miami is a weapon that can add depth to New Orleans' tight end position. Mallory's size and athleticism make him a valuable target for quarterbacks, and he can create problems for opposing defenses in the passing game. With the potential to become a reliable downfield threat, Mallory has the opportunity to help the Saints' offense take the next step in the upcoming season. His presence on the field alongside Juwan Johnson can create a formidable two-tight end set that can keep defenses guessing.
Dorian Thompson-Robinson: 5TH RD, UCLA (QB)
While there is not an urgent need for the Saints to select a quarterback, they should consider adding a prospect that can be developed at the next level. Although he may not be the most polished passer, Dorian Thompson-Robinson possesses the natural talent to become an NFL quarterback. His arm talent and mobility are two traits that make him a worthwhile prospect for the Saints to develop. He can extend plays and create something out of nothing, which has become increasingly valuable in today's NFL. Thompson-Robinson is also a capable runner, rushing for ten touchdowns during college. Thompson-Robinson could become a valuable asset for the Saints with the right coaching and development. While he may not be ready to start immediately, he has the tools to become a starting quarterback down the line potentially.
Rashad Torrence II: 5TH RD, FLORIDA (SAFETY)
The Saints' selection of Rashad Torrence in the fifth round adds another talented defensive back to their already formidable roster. With the ability to play multiple positions on defense, Torrence brings versatility and flexibility. His skills as a sure tackler and impressive coverage instincts make him an asset in the run-and-pass game. While he may not possess the same level of dynamic playmaking as some of his peers, such as the Honey Badger, Torrence has the potential to develop into a solid contributor to the Saints' defense and special teams units. Adding Torrence to a deep safety group further highlights the Saints' commitment to building a versatile and dominant defense.
Seventh Round: WR/Jackson State & Earl Bostick, OT/Kansas
The Saints' seventh-round picks may not garner as much attention as the higher-round selections, but they are still valuable acquisitions that can contribute to the team's depth. With wide receiver Dallas Daniels, the Saints add a player with good size and speed who can develop into a reliable target. Although he may need to refine his route-running and catch consistency, Daniels has shown flashes of potential during his time at Jackson State. Additionally, the Saints' coaching staff has a track record of developing late-round receiver prospects into contributors, such as Marques Colston and Lance Moore.
On the offensive line, the Saints select Earl Bostick, a versatile tackle with experience on both the left and right sides. While he may not possess the prototypical size and strength of a starting tackle, Bostick has shown good athleticism and technique. He may need to add some bulk to hold up against NFL edge rushers, but his versatility could make him a valuable swing tackle and depth piece for the Saints. The team has a history of developing late-round offensive linemen, such as Terron Armstead and Zach Strief, so that Bostick could be in good hands with the Saints' coaching staff.
The Saints' seventh-round picks may not be flashy, but they address positions of need and add depth to the roster. With solid coaching and development, these players could develop into contributors and help the Saints compete in the years to come.
Show Your Support
As always, we appreciate our readers' support and hope you enjoyed our Saints 7-Rd Mock Draft 2.0! Show your love for the Saints by purchasing the New Orleans Saints New Era 2023 NFL Draft 9FIFTY Snapback Adjustable Hat from Fanatics. As an affiliate partner of Fanatics, we earn a commission on any purchases made through our links. Not only will you be showing off your team spirit, but you'll also be supporting us in continuing to bring you great content. Thank you for your support!