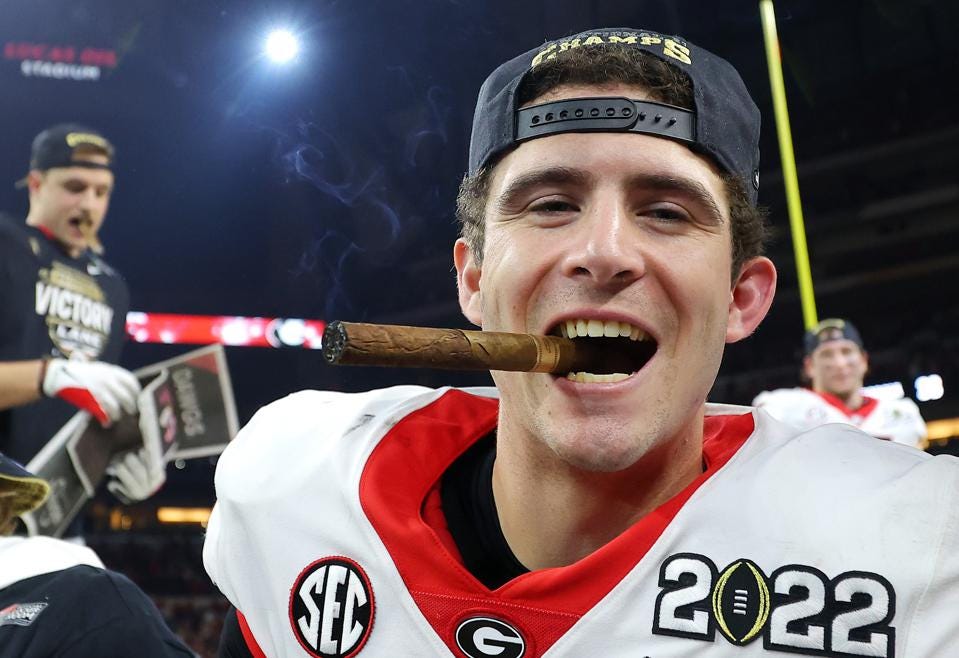 In a recent mock draft article by CBS Sports NFL writer Ryan Wilson, the New Orleans Saints are predicted to select University of Georgia quarterback Stetson Bennett in the seventh round with the 257th overall pick. This pick may surprise some, as Bennett is not typically seen as a high-profile quarterback prospect.
However, the Saints are likely looking for a player who can provide depth and competition at the quarterback position. Bennett's experience as a two-time national champion signal-caller could make him an intriguing option. In this analytical format, we'll examine the potential implications of the Saints' decision to draft Bennett and how he could fit into the team's plans for the future.
Despite his size and arm strength concerns, Stetson Bennett has demonstrated the intangibles necessary to be an effective signal-caller on the field. He has shown high accuracy and decision-making ability, which are vital traits that the Saints coaching staff values in their quarterbacks. In their offense, accuracy, and timing are prioritized over raw arm strength, and Bennett's ability to hit his targets with precision could make him a good fit for the Saints' system.
However, there are still questions about whether he can handle the speed and complexity of the NFL game. While Stetson Bennett's success at the college level is impressive, there are legitimate concerns about how he will transition to the NFL game. During his time at Georgia, Bennett played with a roster loaded with NFL-caliber talent, which undoubtedly contributed to his success and helped him win two national titles.
However, in the NFL, the level of competition is much higher, and the talent pool is much deeper. It remains to be seen how Bennett will fare when he is not surrounded by elite-level talent at every position and whether he can command a pro-style offense effectively. As the Saints evaluate Bennett in training camp and preseason, they will need to determine whether his strengths outweigh his weaknesses and if he has the potential to develop into a productive NFL quarterback.
With the uncertainty surrounding the Saints' backup quarterback situation beyond the 2023 season, it makes sense for the team to be proactive in their approach to quarterback development. Jameis Winston will become an unrestricted free agent again, so it's better to address the situation aggressively. By drafting Stetson Bennett in the seventh round, the Saints have added a potential developmental prospect to their quarterback room who can learn from veterans like Derek Carr and Jameis Winston.
Bennett will have the opportunity to soak up knowledge from experienced NFL quarterbacks while acclimating to the Saints' offensive scheme. If he can continue to develop his skills and make strides in his game, Bennett could become a valuable asset for the Saints in the coming years, whether as a backup, trade piece or potentially as a starter down the line. Here's how the rest of Wilson's seven-round mock draft for New Orleans pained out.
RD1: Bryan Breese, DT: Clemson
RD2: Jahmyr Gibbs, RB: Alabama
RD3: Marvin Mims, WR: Oklahoma
RD4: Karl Brooks, EDGE: Bowling Green
RD5: Riley Moss, CB: Iowa
RD5: Shaka Heyward, LB Duke
RD7: Dee Winters, LB TCU
Show Your Support
Support the great work of the Strike 7 Sports Saints Discussions Section by buying licensed NFL fan gear. Items ranged from Saints hats, jerseys, t-shirts, socks, etc. We would greatly appreciate it if you would buy these items from the text link listed below. The revenue generated from today's offer goes into the funding of the Strike 7 Sports platform. Click on the link below if you are interested.