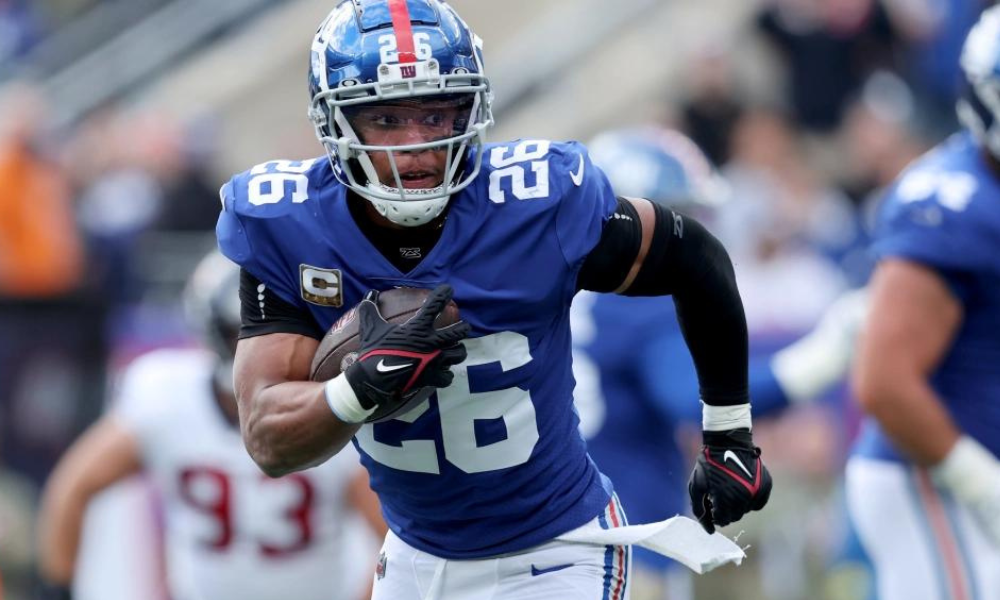 Strike 7 Sports chimes in on the recent story surrounding running back Saquon Barkley and the remarks that was made during a football camp that took place on Sunday in New Jersey. The former Penn State standout did not sound enthusiastic on chances of securing a new deal with his current organization.
Video Transcript
In recent news concerning the New York Giants, their franchise running back, Saquon Barkley, has made headlines due to his contract situation. Barkley has not yet signed his franchise tender, and there are concerns about his availability for the team's mini-camp. This article will delve into Barkley's stance, the Giants' approach, and the importance of securing their star running back.
The Contract Standoff: Adam Schefter reported that Saquon Barkley will not attend the team's mini-camp as he has not signed his franchise tender. Barkley's desire is to be compensated fairly, based on his contributions both on and off the field. He clarified that he does not aim to become the highest-paid player in his position but seeks respectful compensation for his performance.
Running Back Contracts and Team Dynamics: The running back position has become increasingly complex when it comes to contract negotiations. Teams often take their time and carefully consider their options. Saquon Barkley's importance to the Giants cannot be overstated; he is their primary weapon and was instrumental in their success last season. While the Giants have other offensive weapons, Barkley's contributions make him a vital component of their game plan.
Barkley's Performance and Deserving Compensation: Saquon Barkley's statistics from last season are impressive, with over 1,300 rushing yards, numerous touchdowns, and a significant workload. Despite not leading the league in rushing, his production and impact on the team cannot be overlooked. At 26 years old, Barkley still has many prime years ahead of him, and the Giants should recognize his value.
The Need for a New Deal: It is crucial for the Giants to come up with a fair deal that satisfies both Barkley and the team. While the running back himself has stated that he is open to negotiations and not rushing the process, the July 17th deadline looms. If the two sides fail to find common ground, Barkley may consider sitting out the entire season, as Le'Veon Bell did in the past. The Giants should consider Barkley's importance to their offense and strive to reach a mutually beneficial agreement.
Conclusion: The New York Giants face an important decision regarding their star running back, Saquon Barkley. While Barkley emphasizes that he does not seek to become the highest-paid running back, he does expect fair compensation for his contributions. The Giants must recognize the value Barkley brings to the team and work towards securing a new deal that respects his worth. With the July 17th deadline approaching, time is of the essence, and a resolution is necessary for both parties involved. Ultimately, the Giants' success and their quarterback, Daniel Jones, could greatly benefit from having Barkley back in the fold.
Subscribe on YouTube
Stay informed and never miss a beat in the world of the National Football League! Subscribe to our YouTube channel for more engaging and insightful content, including in-depth analysis, interviews, and game previews. Don't miss out on the latest updates and expert opinions. Join our community of NFL enthusiasts by subscribing now and take your football knowledge to the next level!
Show Your Support
Support the Strike 7 Sports platform's growth by heading to Fanatics.com and buying officially licensed gear from the National Football League. Each purchase made through the text link below goes into the funding of the Strike 7 Sports brand. To proceed, click the link below and enjoy shopping at Fanatics.