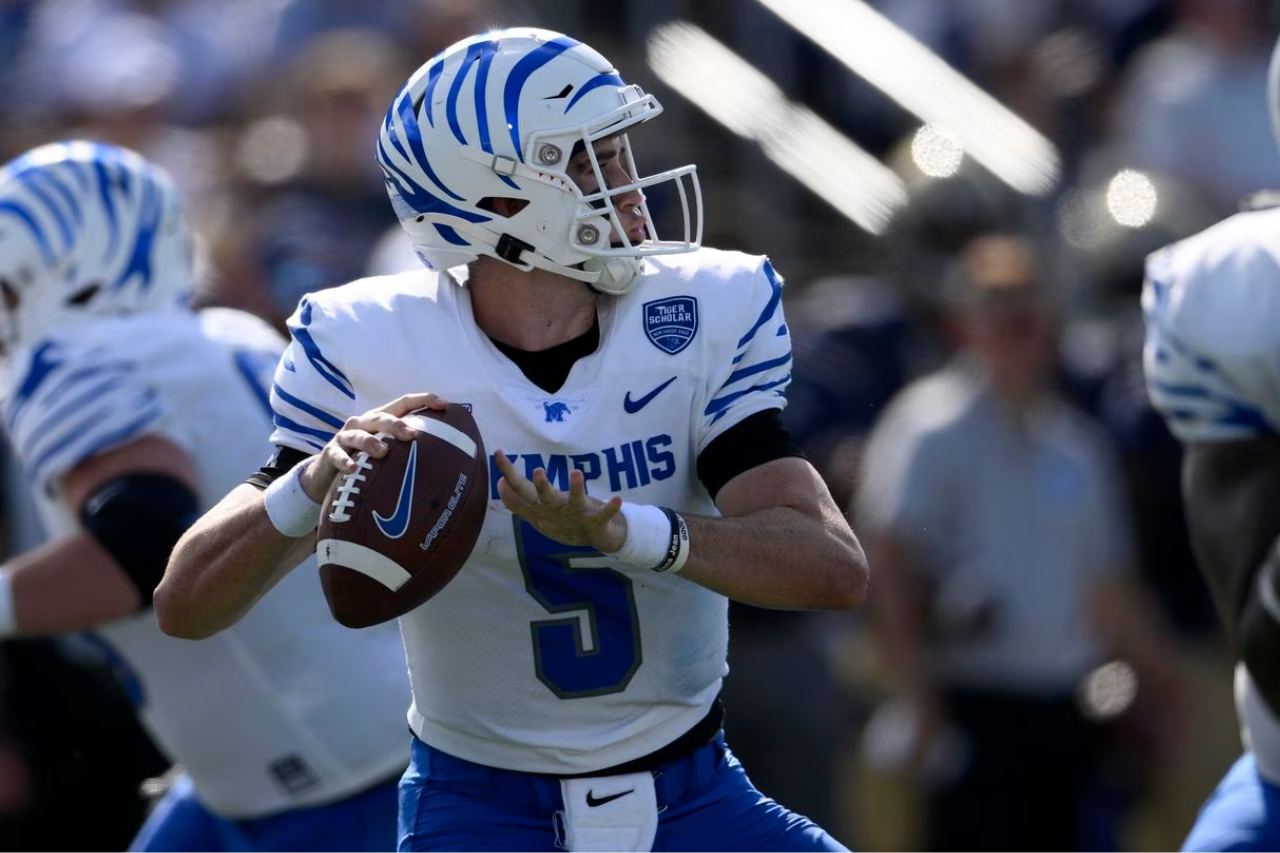 Seth Henigan is heading into the 2023 college football season having had two strong years so far as the Memphis Tigers starter. The former three-star recruit stepped into the starting role and made history as the first true freshman to ever start for the Tigers, and earned Freshman All-American recognition for the way in which he performed.
Henigan threw for 3,316 yards and 25 touchdowns in his freshman season, including two 400+ passing-yard games against Arkansas State and Tulsa.
In 2022 he improved on his passing yardage with a 3,597-yard season, this time adding 22 touchdowns but finding the endzone on his feet four times too. Henigan looked more comfortable in the off-season even if the numbers didn't improve all that much, and year three could be the year that he starts to pick up wider recognition for what's been a successful college career so far.
If he does have an exceptional year this year there's a chance the Tigers will lose him to the NFL draft, and there's a chance of that happening with so much talent on the Memphis Tigers offense this season.
The 2024 NFL draft will feature a strong quarterback class, led by Caleb Williams but also featuring Bo Nix of the Oregon Ducks, Michael Penix Jr of the Washington Huskies, and Drake Maye of the UNC Tar Heels. The talent doesn't stop there either, names like Riley Leonard, K.J. Jefferson, and Michigan's J.J. McCarthy will also be on the radar of scouts around the NFL, but Seth Henigan could truly make himself known in that mid-round quarterback talent pool if he explodes this season.
Looking at the weapons, Memphis added two transfers who will be expected to make major contributions this season. The first is DeMeer Blankumsee who joined the Tigers from Toledo, where he posted 510 yards and three touchdowns out of the slot last season.
You then have Tauskie Dove who entered the portal from Missouri, standing six-foot-two and 195 pounds and looking to make a bigger impact with a new program. He spent the last four seasons at Missouri and will bring a veteran presence to a Memphis wide receiver room that is reloading for the upcoming college season.
The two transfers will join junior Roc Taylor, who played a depth role last season with 20 catches for 225 yards and one touchdown. Joseph Scates was a threat to stretch the field at all times, catching just 19 passes but adding 412 receiving yards and four touchdowns while averaging an impressive 21.7 yards per reception.
Both young men will expect to play bigger roles in the offense this season, as well as Koby Drake looking for more reps, so there's no denying the depth of talent and diverse skill set on offer in the Tigers' wide receiver room this season.
Seth Henigan is currently one of the most under-the-radar quarterbacks in the country, along with the likes of Tulane's Michael Pratt and Washington State's Cameron Ward. Henigan and Pratt will face off this season on October 13th, and you can bet NFL scouts will be at the game to evaluate the two potential QBs.
There's a lot to love about Henigan's game. He reads the game really well and his vertical passes downfield always beautifully lead the receiver in stride. He throws a tidy ball down the sideline over the outside shoulder and hits the seam well to thread the needle between a man coverage corner and loitering high safety.
His pocket presence shines on tape, and he doesn't pull the ball down too quickly and opts to take off. He steps up well, shows patience in the pocket, and can often throw to his second or third read as he works through his progressions.
That said, when he does take off, Seth Henigan has the ability to pick up first downs sneaking through the middle or escaping to the outside. He's not the most explosive of runners, but he is dangerous enough to pick up first downs and extra yards if the space opens up.
His touch is really clean, able to drop the ball over deep-lying linebackers and underneath safeties for completions over the middle of the field. He's a fearless thrower and I think Memphis will be forgiving of a few interceptions with Henigan relentlessly pushing the football down the field throughout the season.
If Henigan can start to work his way towards 4,000+ passing yards this season and the Tigers improve on last year's 7-6 record, he will very quickly climb draft boards amongst the 2024 class of quarterbacks. He's such a smooth thrower who rolls out and fires the football downfield with a tight spiral, and undoubtedly possesses the traits an NFL team would look for, particularly in the modern-day NFL.
He's six-foot-three with a strong arm, great touch, strong pocket presence, and mobility, and that, if nurtured correctly, is the complete package. It's a crucial season for Seth Henigan, and I'm all for watching it develop.
A season like that would take Henigan from a late-round quarterback who will have to fight through rookie minicamp and the preseason just to make it onto a practice squad, to a potentially second to fourth-round quarterback who has a very genuine shot at challenging for a QB2 spot behind a veteran QB with a view to then take a shot at the starting job himself in a year or two's time.
The latter is a far more interesting scenario and one that Seth Henigan deserves, so here's to seeing him hit the heights he's capable of this season and in doing so guiding the Memphis Tigers to a 10+ win season this year.
Show Your Support
Support the great work of the Strike 7 Sports Memphis Tigers Section by purchasing licensed NCAA fan gear. Items ranged from Memphis hats, jerseys, t-shirts, socks, and so much more. We would greatly appreciate it if you would purchase these items from the text link below. The revenue generated from today's offer goes into the funding of the Strike 7 Sports platform. Click on the link below if you are interested.