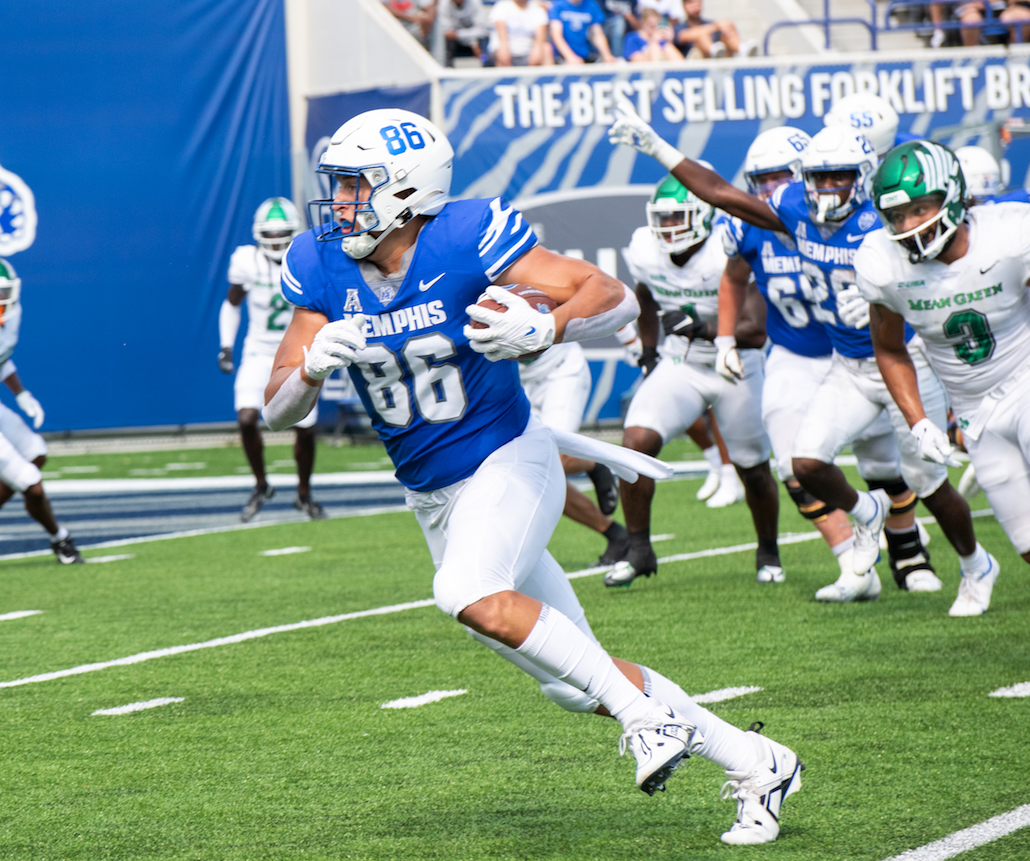 The Memphis Tigers started season three under head coach Ryan Silverfield with aspirations to reach the American Athletic Conference (AAC) championship game. After dropping two straight matchups against AAC foes, those ambitions are fading fast.
A program that once reeled off four straight wins currently stands at 4-3. A four-overtime thriller followed a late-game collapse against Houston in East Carolina; a game Memphis lost by a two-point conversion. So what grade have the Tigers earned through their first seven games? Let's look at their mid-season report card and the areas where Memphis can improve before the season's end.
1. The Offense Lacks a Go-To Guy at Receiver
After years of having electric wide receivers, this year's Memphis offense has solid, if not spectacular, wideouts leading the charge. Fifth-year senior Gabriel Rogers and junior Javon Ivory have 23 receptions this year, tying for second-best on the team. Junior Joe Scates leads the WR corps with three TDs after hauling in one against East Carolina to send the game into overtime last week. 
The last time the Tigers did not have a 1,000-yard receiver for a season was in 2015. Since then, receivers like Anthony Miller (2016-17), Damonte Coxie (2018-19), and Calvin Austin III (2020-21) have all recorded back-to-back seasons with at least 1,000 yards receiving. Unfortunately, that streak will end unless one of those receivers has monster games to finish the season.
2. The Rushing Attack Hasn't Found Its Groove
In the running-back-by-committee approach, Memphis employs, run plays have been distributed equitably to three different athletes. Senior RB Asa Martin is the most explosive, averaging 6.0 yards per carry while leading the team with 282 yards and three TDs. Sophomore Brandon Thomas is only behind QB Seth Henigan in total carries with his 61 attempts, but Thomas has scored seven rushing TDs for Memphis. Fellow second-year player Jevyon Ducker has added 243 rushing yards and two TDs.
This is another concern for the Tigers after their first half of the season. Memphis has a talented stable of running backs, but none have been dominant. In fact, no backfield player has rushed for more than 84 yards in a single game. While the Tigers are comfortable distributing the ball to multiple players, finding a singular solution would ease the pressure off Henigan and allow him more time to throw.
3. The Defense Will Bend But Not Break
The Memphis defense has witnessed little improvement from their 2021 showing through seven games. Opponents are averaging 30 points per game against the Tigers with over 300 passing yards per team, slightly worse than last year. 
Despite surrendering 26 TDs this season, Memphis' defensive strategy is to bend without breaking. That's due to the Tigers' ability to create turnovers, forcing four fumbles and intercepting nine passes. Where Memphis could use help in getting to the opposing quarterback more often. The Tigers have ten sacks and 25 QB Hurries, numbers that need to increase for Memphis to improve defensively.
4. Caden Prieskorn is a Top-Tier Tight End
The Memphis Tigers have one of the nation's best tight ends in Caden Prieskorn. The 6'5″ NFL prospect ranks 13th nationally with six touchdowns among all receivers. Among tight ends, however, Prieskorn ranks 10th nationally in receptions per game and ninth in total receptions.
Before the East Carolina contest last Saturday, Prieskorn had caught a touchdown pass in five straight games, including a pair of TD grabs against Arkansas State. The junior from Lake Orion, Michigan, leads the Tigers in receptions (27), yards (323), and TDs (6).
Overall Grade For Season: C+
Memphis had multiple opportunities to shine in non-conference action and did so for the most part. While no one can fault the Tigers for losing to Mississippi State – a team ranked No. 24 in the country this week – the first half of that season-opening game was brutal to watch. 
Although Memphis recovered nicely from a bad start, back-to-back heartbreaking losses to conference foes have the fanbase nervous Silverfield will lead the team to a second straight 6-6 mark. Winnable games against Tulsa and North Alabama would propel the Tigers to six wins, but Memphis will need to beat a team ahead of them in the standings (Tulane, UCF, SMU) to trump last season's win total.
Show Your Support
Support the great work of the Strike 7 Sports Memphis Tigers Section by purchasing licensed NCAA fan gear. Items ranged from Memphis hats, jerseys, t-shirts, socks, and so much more. We would greatly appreciate it if you would purchase these items from the text link below. The revenue generated from today's offer goes into the funding of the Strike 7 Sports platform. Click on the link below if you are interested.
Sports Betting 
Are you going to place a bet on the latest Memphis Tigers game or any sporting events happening throughout the week? If so, then you need to check out BetUs. BetUs is the ultimate destination for online betting, sports betting, live betting, racebooks, etc. If you are interested, click on the text link BetUs and you will be redirected to their website. We shall receive compensation if you decide to sign up through our affiliate link below.