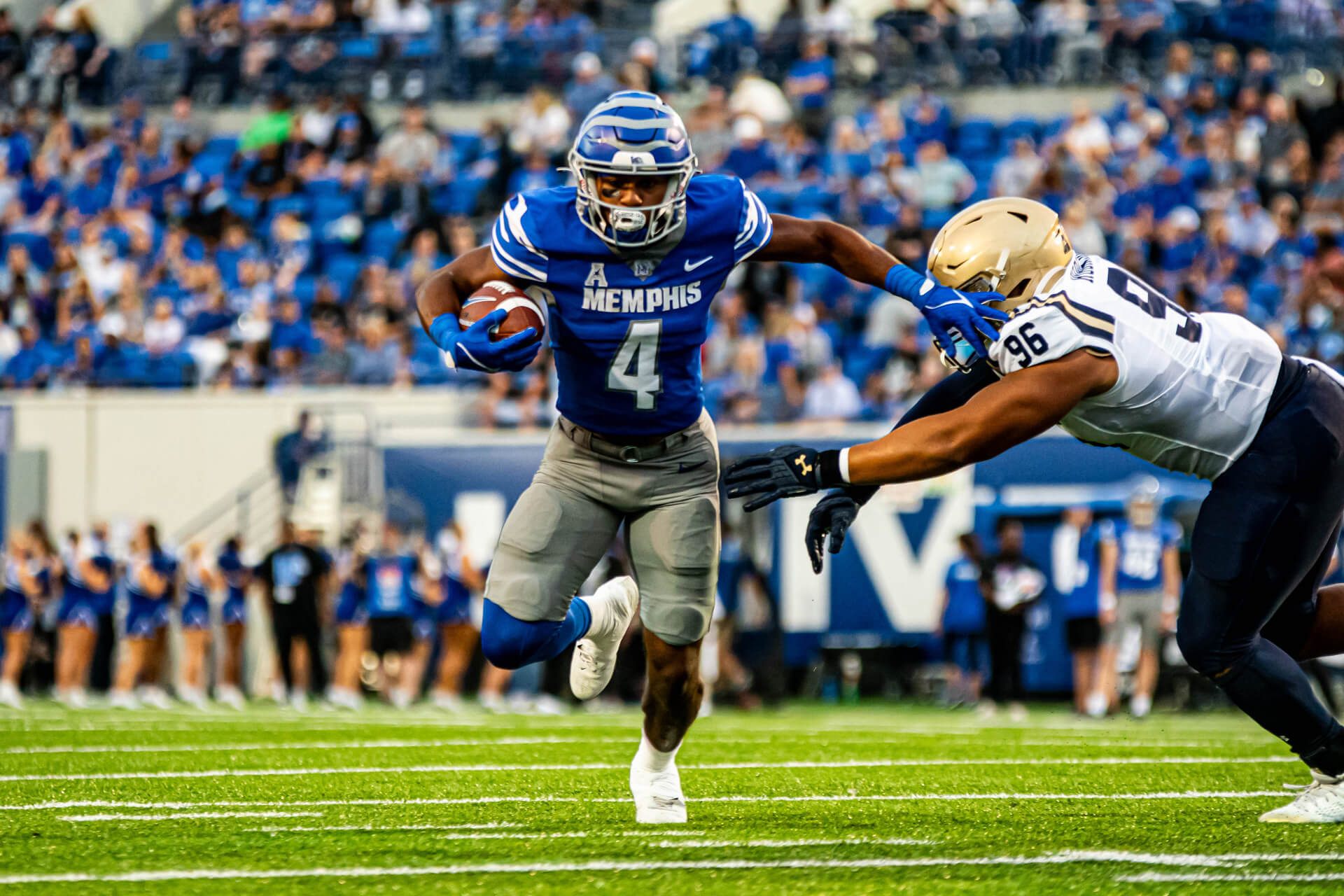 Blake Watson is evolving into a star at Memphis, and his performance has some wondering where he came from and why he wasn't picked up by a Power Five program earlier.
Going back to his high school days, Watson featured at Green Hope High School in Cary, North Carolina. His family had moved out that way when his brother had accepted a scholarship to play at Wake Forest. Blake played wide receiver primarily, and at five foot nine and 170 pounds, he was graded a two-star recruit and passed on by programs in the power five.
The result was a commitment to play at Old Dominion, where he would spend the first four seasons of his college career.
He didn't see the field as a freshman, and in his second season, he took split reps as a role player both as a pass catcher and in the run game.
Only when a new coaching staff took control of the program did they see something in Watson as a pure running back, a position he'd never considered playing permanently. He made the switch and, in his first full season in the backfield, racked up 1,117 rushing yards.
His season total made him only the second Old Dominion running back to reach the 1,000-yard rushing marker in program history. 673 of those yards came after contact, and that's hardly surprising when you watch how he runs.
Although he's considered undersized, Watson runs aggressively, often leading to him winning in one-on-one scenarios with linebackers he meets in the hole. That passion and power in his runs led to Power Five programs finally taking notice, and with his background as a pass catcher, Memphis felt like a great fit.
In recent years, the Memphis Tigers have featured several players who can play out of the backfield and as wide receivers. Tony Pollard and Antonio Gibson had similar skills, switched from wide receiver to running back, and are now both playing on Sundays.
Then there was Kenneth Gainwell, who was one of the most dangerous threats both as a runner and a pass catcher in recent years at Memphis. He's five foot nine, just like Watson, and his 2019 season with the Tigers featured 1,466 yards and 13 touchdowns on the ground and a serious contribution in the passing offense.
Gainwell picked up 51 receptions for 610 receiving yards and another three TDs that year. His skill set in both aspects of the game is what made him so appealing to the Philadelphia Eagles as a value pick in the 5th round, and he continues to contribute for Philly in 2023 as a utility option in their offense.
You can't help but draw some similarities between the two and Tony Pollard's skillset. These guys who can run the ball and offer a genuine option to the program's quarterback are extremely valuable, and the Tigers seem to have found another one with Watson being overlooked at Old Dominion.
The Memphis Tigers landed Watson when the graduate transfer announced his commitment to play for the program in December. He has since taken over as the lead back and is now one of the most dangerous playmakers on the offense, along with the likes of Roc Taylor at wide receiver.
Ryan Silverfield was very active in the transfer portal during the off-season, and one of the most highly anticipated additions was the bruising running back.
I didn't know until recently that Watson broke his collarbone in spring practice right after getting on the field with his new team. It sidelined him for a while, making what he's been doing so far this season even more impressive, considering his absence in a critical learning period early on with the Tigers program.
Tigers fans didn't have to wait long to see what he could do. Watson posted 75 yards in the season opener against Bethune Cookman, and two weeks later had his breakout game with a superb performance against Navy.
Watson's ability as a pass catcher makes him a threat on short option routes, and we saw that in the Navy game. His first contribution of the game came on a reception after sneaking through the line of scrimmage, followed by making several defenders miss as he picked up additional yardage.
That ability to make a play with the football in his hands makes him a great option for Seth Henigan, and he can bail the offense out of trouble when they need a few yards.
Watson stiff-armed an oncoming tackler in the first quarter of that game as he bounced outside and found the endzone, and that was only the beginning of a big day with 169 yards rushing and a touchdown on just 10 carries, as well as 68 yards in the passing game on six receptions.
The grad transfer is physical with his runs but also possesses a clear ability to make a man miss once he hits his stride. He has great lateral movement and makes great cuts to get skinny through gaps, and watching him clarifies why he had so many yards after contact at Old Dominion.
Memphis hasn't had a big playmaker at running back since Kenneth Gainwell in the 2019 season. Since then, no back has managed over 700 yards rushing, and Blake Watson is well on his way to surpassing that total, having already put up 458 yards and six touchdowns through the first five games.
His presence in the offense becomes increasingly important as the Tigers look to edge out in front in the race for the AAC. They have a huge game coming up against Tulane, who have a great defense, particularly against the run. If Watson can break through that front seven and make some major plays for the offense, leading to a win, the Tigers will be in the driver's seat as they head towards the AAC Championship game and a potential NY6 Bowl appearance.
Not only is Watson impacting the team on the field, but playing the role of a mentor for younger running backs in the program. Second-year talent Sutton Smith had 115 rushing yards and two touchdowns against Bethune Cookman in the season opener, and when asked about the impact of Watson's arrival, he said:
"He's my roommate, he's older, like 23, he's been in college longer," said Sutton. "He's been in college for a longer period. I'd just go in his room and ask him, 'What do you watch on film? Where's your mind at today? What are some things you look for in the run game?' He's become a good role model to me, and I'm thankful that he's my friend."
Sometimes, one player can change the future of your program, and Blake Watson feels like the kind of transfer portal gem that heavily impacts what comes next for the Memphis Tigers.
The rest of this season is crucial. Tulane is up first, but then games against UAB, South Florida, and SMU will all be critical in maintaining their position and shifting the conference's momentum back in their favor.
I can't wait to see how Blake Watson performs against a tough opponent on Friday night. Here's to hoping he only further announces himself as one of the most underrated running backs in the country.
Show Your Support
Support the great work of the Strike 7 Sports Memphis Tigers Section by purchasing licensed NCAA fan gear from Amazon. Items ranged from Memphis hats, jerseys, t-shirts, socks, and so much more. We would greatly appreciate it if you would purchase these items from the text link listed below. The revenue generated from today's offer goes into the funding of the Strike 7 Sports platform. Click on the link below if you are interested.