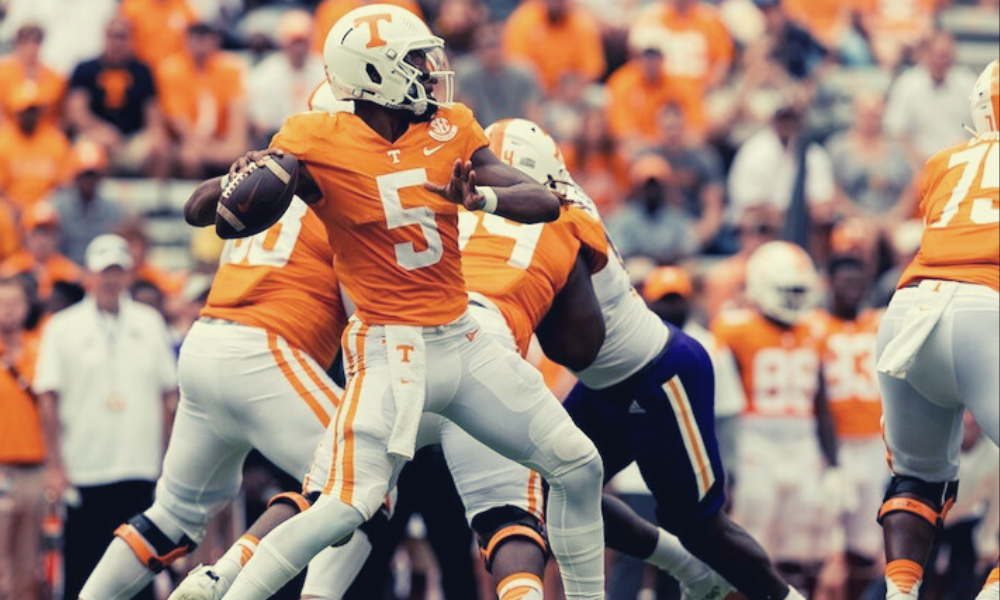 The Tennessee Volunteers are in a position that they have not been in a long time. The Vols are currently ranked no.6 in the Associated Press Top 25 Team Rankings Poll. After coming off an impressive victory over the LSU Tigers in Week 6, the Volunteers head into their biggest game of the season. They host the Alabama Crimson Tide of the SEC West. The rivalry had gone stale because Tennessee did not have a competitive team to play against Alabama. Their last victory over the Crimson Tide came in 2006; Tennessee won 16-13.
The game is always played on the third Saturday in October. For the most part, Bama has owned this series over the last two decades. The closest game was in 2015 when the Crimson Tide escaped with a 19-14 victory over the Vols. Another memorable game was in 2009 when Alabama defensive tackle Terrence Cody blocked a field goal attempt that would have allowed Tennessee to ruin the Crimson Tide's national title aspirations.
Fast forward to 2022, and the stakes are high once again. Both teams are undefeated at the moment and have CFP desires. Being highly ranked in the polls is nothing new for Alabama; they have been in this situation since 2009 when they won their first national title under Nick Saban. But for Tennessee, it's uncharted territory. They have not been in the CFP conversation since its inception in 2014-2015. Tennessee head into Saturday's matchup with a legitimate shot at defeating college football's perennial contender. It's still not known if 2021 Heisman Trophy winner Bryce Young will be able to play in Saturday's showdown in Knoxville.
Young left the game during the second quarter of the Week 5 contest against the Arkansas Razorbacks. He suffered a sprain to the AC joint in his shoulder. "Bryce is getting re-evaluated today," Saban said via 247Sports. "I don't know much; I haven't talked to the doc since he did that. Hopefully, we'll try to get him ready to play this week. But this is something that nobody can predict how quickly this will give him an opportunity to go out and do what he needs to do, and we'll see as the week progresses. But I don't have an update much more than that." It's more than likely that the Vols will be expecting Young to be ready to play in Saturday's big game. Tennessee head coach Josh Heupel recognizes what Young is capable of as a playmaker.
"Bryce has played at an elite level for a long time," Heupel said. "Arm talent. Able to be accurate with the football. Great decision-maker back there. The X-factor for him is his ability to move and extend and make plays outside of the pocket and inside of the pocket. He does a good job of finding the soft spot in the pocket. When he escapes, he's a thrower first and finds guys if you don't match them out, and you're in zone coverage. Then has the ability to tuck it and make big plays, too."
Even when Young is healthy, Alabama has not looked up to par against teams with equal talent. They struggled against a Texas Longhorns squad that lost its starting quarterback because of an injury and would have more issues with the backup that took over. They were able to defeat Texas A&M without the presence of Young, but the production on the field was similar to what we saw against Texas. The Tide was lucky that A&M could not take advantage of the presented opportunities.
Will the Vols be able to move the football similar to how the Aggies did against Bama but achieve success instead of stalled drives? It's something to ponder based on how the Crimson Tide has performed against personnel that's on equal footing. The Volunteers may or may not face a quarterback that is 100 percent on Saturday. Either way, their chances of pulling off the victory are significant.
Show Your Support
Support the Strike 7 Sports platform's growth by heading to Fanatics.com and purchasing officially licensed fan gear from the NFL, NCAA, and the NBA. Each purchase made through the text link below goes into the funding of the Strike 7 Sports brand. To proceed, click on the text link below and begin shopping.
Sports Betting
Are you going to place a bet on any sporting events happening today or throughout the week? If so, then you need to check out BetUs. BetUs is the ultimate destination for online betting, sports betting, live betting, racebooks, etc. If you are interested, click on the text link BetUs and you will be redirected to their website. We shall receive compensation if you decide to sign up through our affiliate link below.