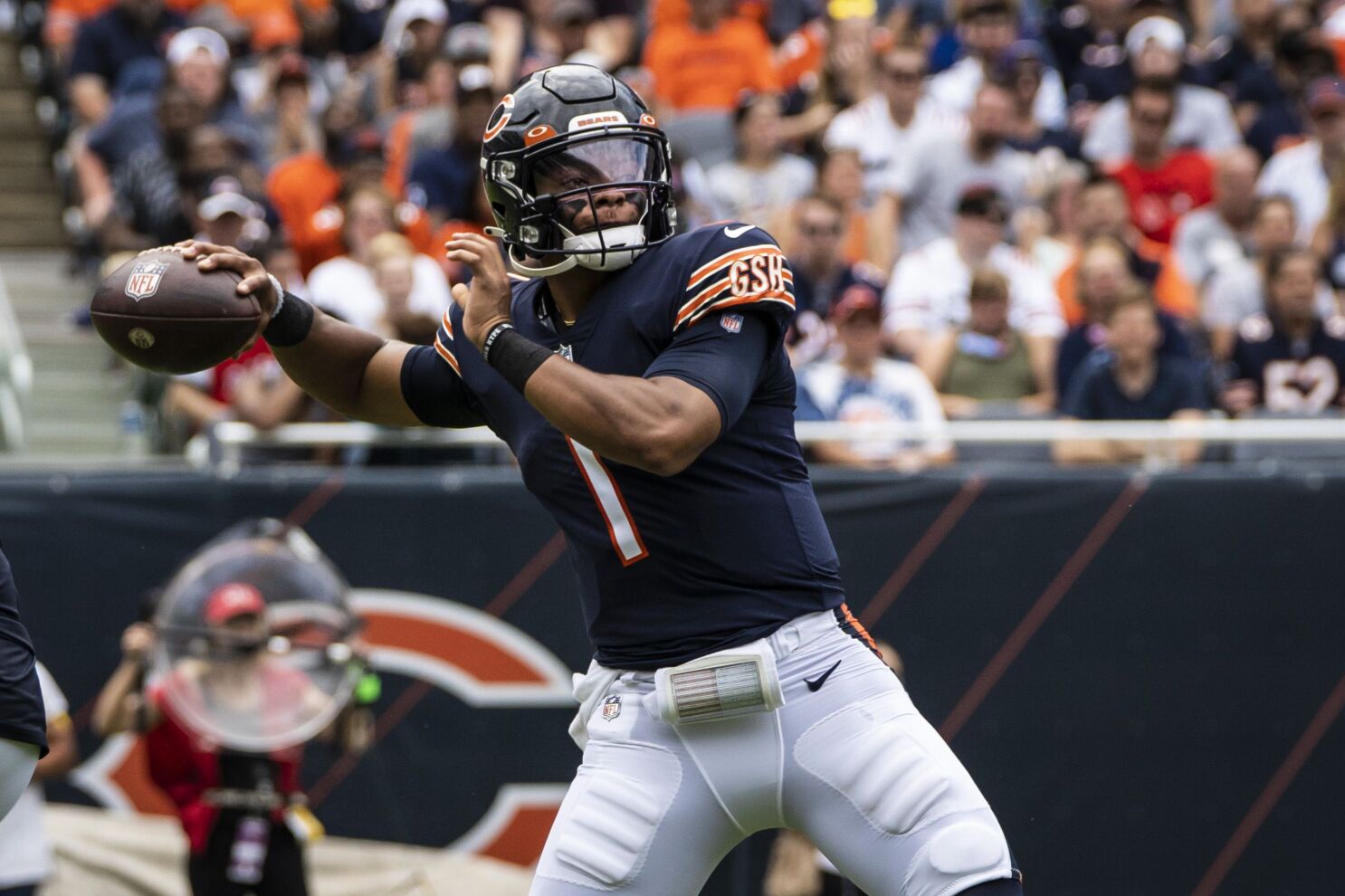 In today's NFL, with wide-open passing attacks dominating headlines, watching the Chicago Bears work their offense around QB Justin Fields' superior ground game is a nod to a bygone era of rush-first attacks.
In his first two seasons with the Bears, Fields has completed 58.9 percent of his passes for 3,359 yards with 19 TDs to 17 INTs. While those numbers pale compared to most NFL starters, Fields also moves the chains with his feet. The former Ohio State star has rushed for 1,169 yards on 176 attempts, netting 6.6 yards per rush. Fields have also scored eight TDs on the ground, including six this season.
Despite his superb statistics, the Bears are only 9-20 since the start of 2021, capturing six wins in games Fields has played during that span. With good statistics but bad results, this mixture has left a burning question for Bears fans: can Fields become Chicago's franchise QB and reverse the Bears' fortunes over the past quarter-century?
Chicago's Futility At the QB Position
Bears fans have been here before. In 2017, Chicago owned the No. 2 draft pick, using it on a North Carolina standout named Mitch Trubisky. With both Patrick Mahomes and Deshaun Watson going only a handful of choices later, Trubisky was regarded as a bust that didn't work out. Despite owning a 29-21 record as the Chicago starter, Trubisky never played an entire season and lost both playoff games he started.
Over the past 40 years, Jay Cutler is the closest Chicago came to having a franchise QB. Nearly 15 years ago, Chicago traded with the Denver Broncos for Cutler, proclaiming the former Vanderbilt star as the Bears' franchise signal caller. While Cutler played an entire season only once (2009), the veteran QB passed for more than 23,000 yards and 154 TDs from 2009 to 2016 and holds multiple Bears' records.
Injury issues and, at times, poor decisions – Cutler amassed 109 interceptions with the team – overshadowed the team's surprise run to the 2010 NFC Conference Championship game. During Cutler's eight seasons with the Bears, Chicago compiled a 51-70 mark with double-digit losses on three separate occasions.
Fields Bring Hope To Chicago
Despite the Bears' lack of recent success, Chicago is hopeful that Fields can become their franchise QB. At just 23 years old, Fields is leading the NFL's top-ranked rushing attack, averaging over 200 yards per game. His 749 rushing yards in 2022 lead the team and rank seventh in the NFL, only behind six running backs in this category.
With such dynamic play-making ability from his legs, the concern surrounding Fields is if injuries will derail his season or in the future. Serving as the team's leading rusher is a bruising proposition, witnessed by the reduced longevity of running backs in the current NFL environment.
Fields brings hope to the Bears because of his once-in-a-generation abilities at QB. Like most modern dual-threat QBs, Fields needs to transition to a passer who picks his spots to run the ball instead of a runner who also passes. Most NFL QBs complete over 60 percent of their passes thanks to shorter routes and less down-the-field throwing. How Chicago head coach Matt Eberflus chooses to deploy Fields in the future matters for his long-term development.
Building Around Fields for the Future
How the Bears build around Fields for the future is as essential. Paying attention to the salary cap and building through the draft will be important for Chicago moving forward.
The Bears' offensive line is among the team's strengths now and into the foreseeable future. Chicago used their 2021 second-round pick on OL Teven Jenkins. Combined with several linemen with more than seven years of experience each, this group of veterans and rookies should keep Fields safe for the foreseeable future.
While the running back situation is set with RB Khalil Herbert (643 yards, 4 TDs rushing), finding a good receiving corps will be important for Chicago. Bears TE Cole Kmet is an exceptional athlete and has developed chemistry with Fields. If WRs Darnell Mooney and recent addition Chase Claypool stay in Chicago, Fields will be surrounded by athletes that can ease the burden off the talented QB.
Show Your Support
Support the Strike 7 Sports platform's growth by heading to Fanatics.com and buying officially licensed gear from the National Football League. Each purchase made through the text link below goes into the funding of the Strike 7 Sports brand. To proceed, click the link below and enjoy shopping at Fanatics.