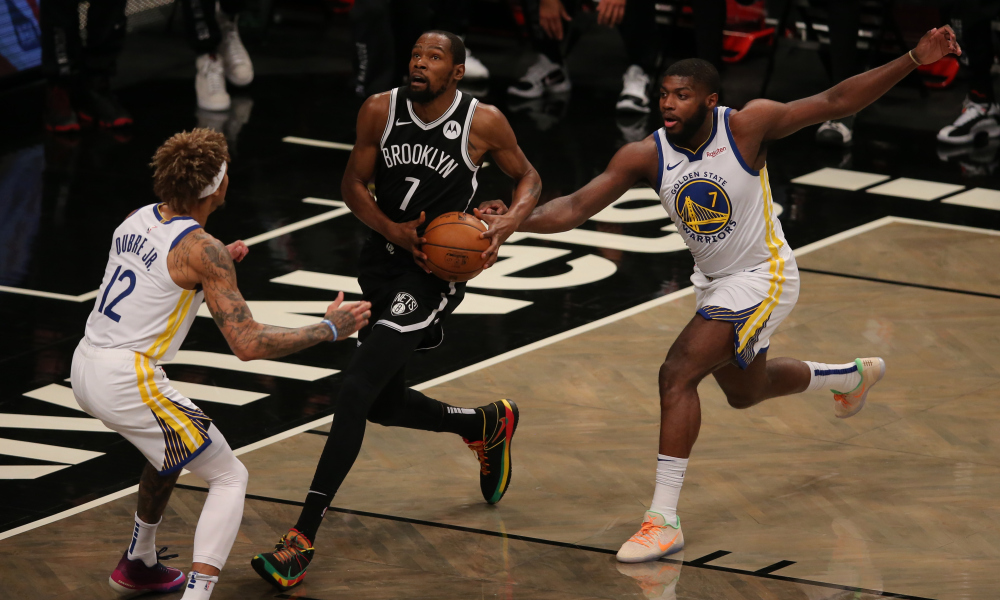 Brooklyn Nets Versus Golden State Warriors Recap
Final Score: Nets 134-Warriors 117
Location: Chase Center, San Francisco, California
In what was billed up as a reunion of former teammates such as Steph Curry and Kevin Durant, the Warriors ran out of gas. Curry and Durant were once teammates during the Warriors championship runs. Durant suffered a season-ending injury dating back to the 2019 NBA Finals. The damage would sideline him for the entire 2019-2020 season.
Durant is now back into the fold but no longer a member of the Golden State Warriors. The game started as if it would be an intense battle between the two clubs, but Brooklyn would eventually pull away. The Nets big three of Kevin Durant, Kyrie Irving, and James Harden combined for 62 points.
When these teams have a more balanced effort in the scoring department, the games are easily won. As for the Warriors, they do not have the scoring power that they once had to overcome the offensive arsenal that teams such as Brooklyn possess. Yesterday's contest is the types of games that Curry's teammate Klay Thompson would have played a huge part in.
Players such as Kelly Oubre and Andrew Wiggins do not have the ability to score on any given night as Thompson can do consistently. Despite the loss on Saturday, the Warriors remain the eighth seed in the Western Conference playoff race.
For the most part, the Warriors have exceeded everyone's expectations for the 2020-2021 season. Many analysts around the league wrote them off after Thompson suffered another torn ACL injury during a workout leading up to the season's start. Based on observation, there seem to be no hard feelings over how things ended between the Warriors and Kevin Durant.
"My time here at Golden State was so much fun," Durant said. "It was such a big learning experience, especially learning the game of basketball, a different philosophy. I'm going to take that with me for the rest of my life." During a first-quarter timeout, there was also a video tribute highlighting Durant's tenure with the Warriors. KD stated that the video tribute was cool, and he thinks about those moments in Golden State every day.
Up next for the Warriors is a Monday night matchup versus the Cleveland Cavaliers. The Nets will head to Sacramento to take on the Kings. What was interesting about last night's game is that both teams had identical records. The Warriors (14-13) are the eighth seed in the West, while the Nets (16-12) are the third seed in the East. It just goes to show you how deep one conference is compared to the other.
Photo Courtesy of Brad Penner/USA Today Sports.