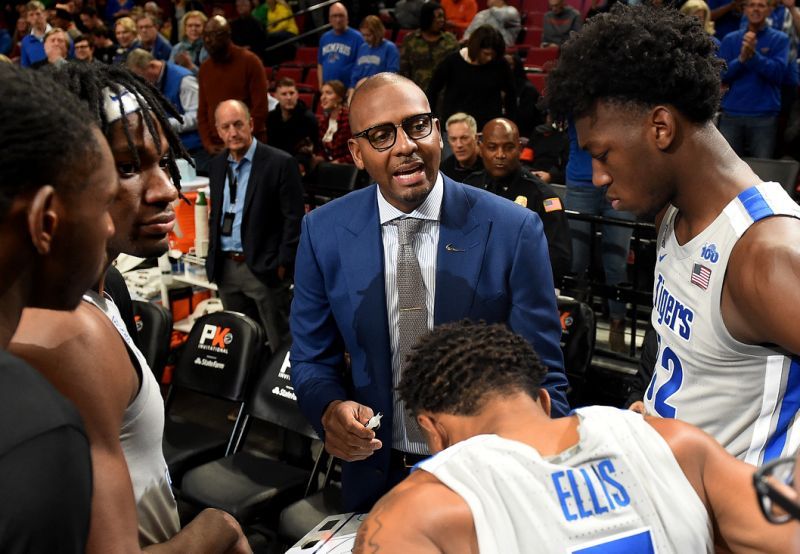 It has been two years since the University of Memphis decided to hire their hometown star in Anfernee" Penny" Hardaway to become the team's head coach. Except for not qualifying for the NCAA Tournament, Penny Hardaway has established the Memphis Tigers program as a premier destination for recruits.
So far at Memphis, Hardaway has been able to land a top recruiting class that featured the potential number one pick in the 2020 NBA Draft in James Wiseman. The list featured below is the remaining players that Head Coach Penny Hardaway was able to recruit for the University of Memphis.
Precious Achiuwa, a 6'9 forward, ranked as the No. 14 player in the country by 247 Sports.
Rejean "Boogie" Ellis, a 6'3 guard, ranked as the No. 37 player in the country by 247 Sports
DJ Jeffries, a 6'6 wing, ranked as the No. 48 player in the country by 247 Sports
Lester Quinones, a 6'5 guard, ranked as the No. 56 player in the country by 247 Sports

Malcolm Dandridge, a 6'8 center, ranked as the No. 98 player in the country by 247 Sports

Damion Baugh, a 6'4 guard, ranked as the No. 108 player in the country by 247 Sports
Except for Precious Achiuwa, who decided to declare for the 2020 NBA Draft, everyone that's on this list will be returning to the program for this upcoming season. The Tigers were highly considered a "bubble team" due to a few significant losses last season.
However, the 2019-2020 campaign was abruptly canceled due to the COVID-19 Pandemic. The coronavirus has not stifled Hardaway's ability to lure four and five-star recruits to play basketball at the University of Memphis.
According to reports, high school star Jalen Green was projected to join the Tigers basketball program this season. However, Green decided to take his talents to the NBA funded G-League. The G-League was created to facilitate a minor league structure for high school players that are not interested in playing college basketball. They have also added a lucrative salary that would convince prospects to think long and hard about joining the ranks of college basketball. Recently, Hardaway criticized the G-League for "tampering" with the current recruiting structure of college basketball.
"For me, I didn't think the G League was built—and I could be wrong—to go and recruit kids that want to go to college out of going to college," he said. "I thought they were going to be the organization that was going to be if you want to go overseas or you absolutely did not want to play college 100%, that this would be the best situation for you before you go into the NBA.
"But taking guys out of their commitments [or] they've already signed and continuing to talk to their parents; it's almost like tampering. I really don't agree with that."
Hardaway said during a video interview with the media. Even with the threat of the G-League potentially luring four and five-star recruits away from Memphis, Penny Hardaway has still been able to influence some of the country's best prospects to commit to the program. Five-star center from high school and local Memphian, Mousa Cisse has decided to become a part of the Memphis Tigers basketball program.
"Coach Penny Hardaway is a legend and can help me develop my game and take it to the next level. He has a lot of influence in the league. I've been in Memphis for a year now, and everyone is telling me to stay. With all this stuff we're facing with the Pandemic, I didn't get to go visit any other schools except Florida State. I'm getting a lot of love from the fans."
Cisse told ESPN's Jonathan Givony Listed at 6'10, was ranked as the nation's ninth-best prospect according to 247 Sports. His skillset will perfectly fit with the scheme that Coach Hardaway wants to utilize with the program. Hardaway did not stop with the commitment of Mousa Cisse.
I appreciate every college that has recruited me up until this point but here's my top 10. Let's Rock! pic.twitter.com/wcWQDnV8wR

— Mikey Williams (@619PRESIDENTIAL) July 22, 2020
Mikey Williams is the latest high school prospect to be on the radar of Penny Hardaway and the University of Memphis. Even if Williams does not join Mousa Cisse, it still shows that the Memphis Tigers basketball program is a factor when it comes to recruiting the nation's best talent in regards to high school basketball. Just about every top-notch player in high school has had Memphis listed as one of their choices when deciding to join the ranks of playing college basketball.
But you have to wonder what makes the program combined with Coach Hardaway such an attractive destination for star players coming out of high school. The most significant factor that plays such a big part in all of this is Penny Hardaway's experience as a former player and his connections with the AAU circuit. Hardaway knows what it takes to succeed at the next level beyond college basketball.
Because he was a former player that excelled at the highest level in the NBA, he can relate along with guiding those that have hopes of advancing to the ranks of playing the sport at the professional level.
Those are some attributes that coaches such as Mike Krzyzewski, Bill Self, and or even the Tigers former Head Coach John Calipari may or may not provide to a potential recruit. As long as Coach Hardaway is at the University of Memphis, the program will be a significant player in the high school basketball recruiting landscape.