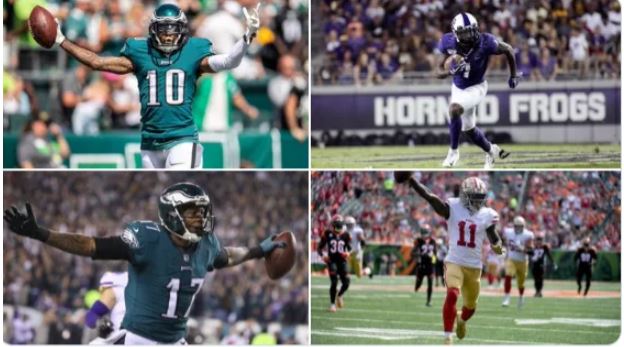 In the National Football League, it is said that an elite quarterback can rise above the deficiencies that may hinder the supporting cast that surrounds him. In most cases, that may be valid, but for Eagles quarterback Carson Wentz, he may only go far as the passing game options may allow him to flourish in 2020. Wentz carried the Eagles to the NFC East title after the team endured a mid-season slump in which they failed to become an efficient ball club on offense.
Wide receivers such as DeSean Jackson and Alshon Jeffrey battled nagging injuries for most of the 2019 season. Their fellow wideout Nelson Agholor was a non-factor in a lot of the Eagles games last season. Fast forward to the 2020 offseason, and there's a bit of shakeup regarding the Eagles receiver core. They decided to select TCU wideout Jalen Reagor in the first round of the 2020 NFL Draft.
During day two of the draft, they decided to trade for wide receiver Marquise Goodwin from the San Francisco 49ers. According to recent reports, Alshon Jeffrey and DeSean Jackson are expected to be 100 percent healthy for the Eagles 2020 campaign. Strike 7 Sports analyzes receivers' effectiveness such as Alshon Jeffrey, DeSean Jackson, Jalen Reagor, and Marquise Goodwin.
1.  Jalen Reagor: Rookie
Eagles rookie wide receiver Jalen Reagor can be utilized in a multitude of ways within the Eagles offense. Reagor is proficient in areas such as kickoff/punt return, screen passes, and slot situations. His team's scheme growth is paramount, especially when having players that cannot stay healthy such as Alshon Jeffrey and the middle of the road veteran in DeSean Jackson. But due to the current social distancing guidelines set forth by local government officials, Reagor's familiarization with the team's system could be hindered.
2. Marquise Goodwin
Marquise Goodwin was once viewed as a mainstay in the 49ers' offense after Kyle Shanahan arrived as their new head coach. But due to inconsistent performance and the growth of rookie Debo Samuel, Goodwin found himself out of the fold when it came to the 49ers wide receiver core. Can Goodwin remain consistent and become the number one option in times of need for the Eagles offense? It's a question that will be answered at some point during the Eagles season in 2020.
3. DeSean Jackson
At the age of 33, DeSean Jackson is considered an aging veteran in the NFL. However, he is still a guy that the secondary always respects. That's because of his ability to take the top off of defenses at any given moment. Jackson returned to Philadelphia after spending previous stints in Tampa Bay and Washington.
His return to Philadelphia last season was shortened due to an abdomen injury he suffered in Week 1. Certain veterans who are skill position players such as wide receiver may not be able to come back and produce at the levels they once were. If Jackson can stay on the field for at least 80 percent of the season, it will pay enormous dividends for the Eagles passing game.
4. Alshon Jeffrey
When Alshon Jeffrey is healthy, he is considered a top ten wide receiver in the league. Jeffrey has demonstrated in the past that he is a handful to deal with when it comes to opposing defenses facing him in one on one situations. However, his injury history has shortened his growth in being recognized as one of the NFL's top receivers. The Philadelphia Eagles wide receiver core is solid but not great enough to make a deep playoff run.
Carson Wentz has shown that he can carry the Eagles during tough times, but based on his plethora of injuries, will he be able to make that happen once again? The front office went out and made those moves to the receiver position for a reason. Those transactions were secured so that Carson Wentz does not put himself at risk for injury by playing over the top due to having an inferior supporting cast.
Photos courtesy of Getty Images/USA Today/Philadelphia Eagles.com.