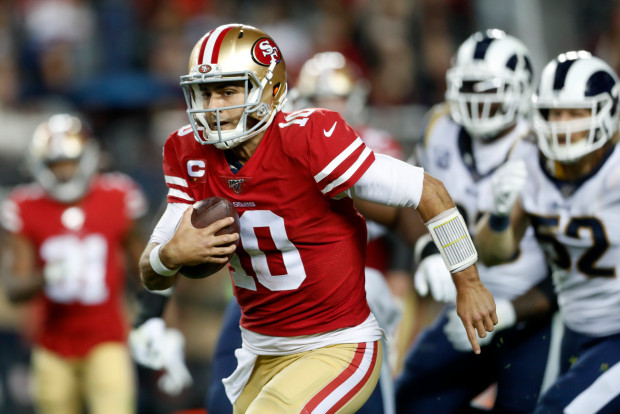 In an era where Super Bowl contenders are built to their strong points addressing one side of the football while the other hand has slight deficiencies, the San Francisco 49ers have reversed that trend. The San Francisco 49ers are a football team that can defeat their opponent in a variety of ways.
During the 2019 regular season, the 49ers won football games in styles such as low-scoring affairs, to shootouts that were taken down to the wire. That's why the Kansas City Chiefs defense may have to pick their poison when facing the San Francisco 49ers in Super Bowl LIV. Any weaknesses that head coach Kyle Shanahan may find in the Chiefs defense, he will expose in this Sunday's Super Bowl matchup.
In both playoff games with the 49ers, quarterback Jimmy Garropolo has thrown for a total of 208 yards and only one touchdown pass. Those stats can change once Super Bowl LIV kicks off this Sunday. It depends on what Kyle Shanahan believes will work against the Chiefs' defense. Lately, the Niners have been a team that can pound their opponents into submission by utilizing their vaunted rushing attack.
At any given moment, tailbacks Tevin Coleman, Matt Breida, and Raheem Mostert can have breakout games against an opponent. In the NFC Championship Game against the Packers, Mostert rushed for 220 yards and a combined total of six touchdown scores. Fellow running back Tevin Coleman was off to a hot start until he suffered a shoulder injury in the contest against the Packers. Coleman's status is questionable for Super Bowl LIV.
Either way, Chiefs defensive coordinator Steve Spagnolo will have his hands full trying to figure out how Kyle Shanahan will attack the team's defense in Sunday's big game. Due to San Francisco's stout running game, people have forgotten that the unit can be difficult to defend through the air. The decision to acquire wide receiver Emmanuel Sanders from the Denver Broncos paid enormous dividends for the 49ers' offense going forward.
Also, the team has been known for utilizing rookie wide receiver Debo Samuel with plays coming out of the backfield. At the moment, no team has figured out how to contain the standout wideout out of the University of South Carolina. If the 49ers have the Chiefs on the ropes for the majority of the football game, you can expect the jet sweep play from Debo Samuel.
If San Fransico's offense is having an off day, their defense will do more than enough to allow them to come out on top. The 49ers' defense was ranked in the top 10 in major categories such as passing yards, points allowed, and total yards. These traits are what the San Francisco 49ers a unique football team. They can lean on a plethora of ways to suppress their opponents.
They do not have to score a ton of points in football games because of not having an elite defense to complement the football team. The 49ers are what they are and it will be up to the Kansas Chiefs to play their best football game of the year to defeat them in Super Bowl LIV. Without a shadow of a doubt, if their opponents are struggling, San Fransisco will make them pick their poison in regards to how they will be defeated. Be on the lookout for more Super Bowl LIV-related content from Strike 7 Sports.
Photo courtesy of Karl Mondon/Bay Area News Group.