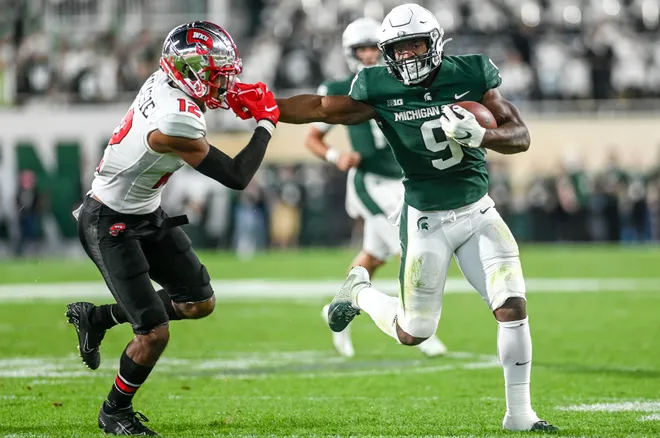 Fans demanded that the Saints become more aggressive in the offseason. The front office seemed to have taken heed of those demands because New Orleans made its most significant offseason move. The Saints now have two first-round picks in this year's NFL Draft.
According to Adam Schefter, the Saints and the Philadelphia Eagles engaged in trade talks that involved New Orleans giving up their 18, 101, 237, and 2023 first and 2024 second-round picks to Philadelphia in return for the two selections in the first round. With the extra pick in the 2022 draft, the Saints now have the resources needed to get back into the Super Bowl conversation.
They could go in many directions with the assets received from Philadelphia. One option that could be on the table is that they could address pressing issues on offense. Despite finishing the season with a 9-8 record, the Saints' offense sunk to one of its lowest points under former head coach Sean Payton. New Orleans finished the year ranked at the bottom in statistical categories such as passing, receiving yards, and first downs.
Those numbers tell how badly the Saints' offense struggled due to a lack of talent. After examining how things could turn out with teams that pick before the Saints, we forecast what New Orleans could do with selections 16 and 19. Today's New Orleans Saints four-round mock draft projects that the team will finally address those needs on offense. Areas of emphasis will be on offensive tackle, wide receiver, and running back.
1. Trevor Penning: Northern Iowa (16, 1st Round) OT
Long-time left tackle Terron Armstead departed after spending ten years with the Saints. The all-pro standout signed a five-year, $75 million contract with the Miami Dolphins. Armstead's departures leave key a hole along the Saints' offensive line. One of the ways that have been discussed is that they move Ryan Ramczyk over from right tackle to left tackle and allow James Hurst to have a more prominent role with the group. With Penning sitting there at 16, the Saints do not hesitate and select the best offensive tackle available.
2. Chris Olave: Ohio State (19, 1st Round) WR
The Saints have lacked a legitimate second option at wide receiver well before last year's issues surfaced with the position. In 2022, the void finally gets addressed as the Saints select Chris Olave out of Ohio State. Olave paired with Michael Thomas would be enough to put pressure on an opposing defense. It would also open up more opportunities for third-year wideout Marquez Callaway.
3. Kenneth Walker: Michigan State (2nd Round) RB
Before Alvin Kamara's off-the-field incident had occurred in February, the Saints needed a reliable counterpart. Unfortunately, there's a significant chance that Kamara will be suspended for at least four to six games for what occurred at the Pro Bowl. While he is out, the Saints will need to win football games.
A way to accomplish that is by having a fresher and younger player at the running back position. Michigan State's Kenneth Walker may not have Kamara's flashiness, but he's a tailback that can bring a different skill set to the offense. Remember, the goal is to win as many games as possible while Kamara is suspended.
4. Jake Ferguson: Wisconsin (3rd Round) TE
The Saints' selection of Big 10 players continues with Jake Ferguson out of Wisconsin. Last year's free-agent acquisition of tight-end Nick Vannett never materialized into anything on the field. His teammate Adam Trautman made too many critical errors as a second-year tight end. In theory, it sounds appealing to have Taysom Hill assume a tight-end role.
However, there's still no timetable on when he will return from the injury he suffered against the Atlanta Falcons in Week 18. Like the possible absence of Kamara, the Saints will need a difference-maker at tight end if Hill is not ready. Ferguson is recognized as a highly proficient blocker and could contribute to the passing game.
5. Calvin Austin lll: Memphis (4th Round) WR
Yes, I understand; the Saints already have a wide receiver built similar to this in Deonte Harty. However, it does not hurt to have another option that can put more stress on a defensive coordinator. Wide receiver is starting to become one of those positions where you can never have enough depth at.
Offensive coordinator Pete Carmichael could pull off a multitude of things with a weapon like Austin.
He's capable of becoming a dangerous player to account for in areas such as the passing game, running, and kick/punt return situations. It also does not hurt to have another player that can step in and contribute if Harty is not able to perform kick/punt return duties.
Show Your Support
Support the great work of the Strike 7 Sports Saints Discussions Section by purchasing licensed NFL fan gear. Items ranged from Saints hats, jerseys, t-shirts, socks, and so much more. We would greatly appreciate it if you would purchase these items from the text link listed below. The revenue generated from today's offer goes into the funding of the Strike 7 Sports platform. Click on the link below if you are interested.