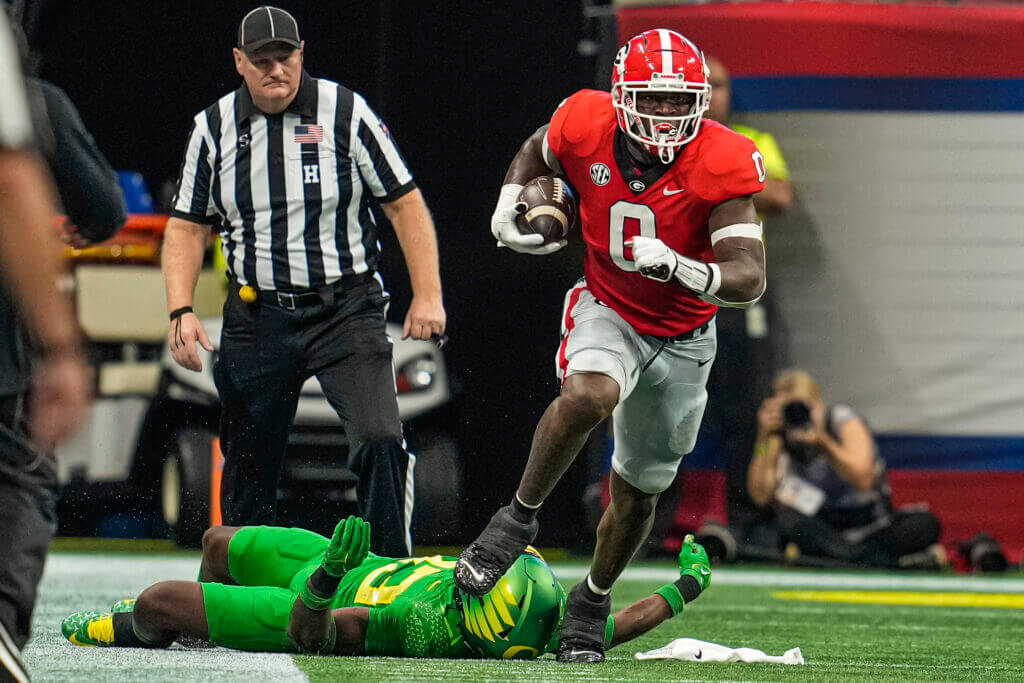 The New Orleans Saints are now turning their attention to the 2023 NFL draft after a successful free agency period in which the front office has committed to rebuilding the roster.
Quarterback Derek Carr is, of course, the highlight of the Saints' free agency, signing a four-year $150 million deal to become the new franchise quarterback in New Orleans. Carr's arrival signals the Saints' most significant commitment to a quarterback since the retirement of Drew Brees in 2021, and Saints fans are eagerly anticipating the 2023 campaign as a result.
New Orleans added two key pieces to the defensive line in former Jets defensive end Nathan Shepherd and Chiefs interior lineman Khalen Saunders, adding some much-needed support to the trenches on the defensive side. Both men signed three-year deals with the Saints and should offer much value in plugging the run and collapsing the pocket.
Jamaal Williams comes over from Detroit, leading the NFL with 17 rushing touchdowns in 2022. Williams is a productive runner between the tackles and in the red zone, and having him suit up along with Alvin Kamara suddenly gives the Saints one of the most talented running back groups in the league.
New Orleans addressed some critical needs in this year's free agency, but the Saints' 2023 draft will be pivotal in plugging the remaining gaps in the roster and allowing the franchise to compete for a playoff push. So, with eight picks in hand and the draft just around the corner, let's dive into the Saints' round mock draft 1.0.
Pick 29: Keion White – Edge Georgia Tech
 Keion White transitions to the NFL as a versatile edge who can play with his hand in the dirt outside the tackle or as a standup linebacker on the outside. He is a pro-ready football player with the physical attributes to dominate early in the NFL and athleticism that no man of his size should possess.
White is a three-down talent on the defensive side who would line up opposite Cam Jordan and contribute early and often as a rookie. He has a lot of untapped potential, and the sky's the limit regarding his upside. When you look at what Micah Parsons has been able to do with the Dallas Cowboys, Keion White is the type of prospect who can offer value on all three downs at the next level.
Pick 40: Darnell Washington – TE Georgia
 The Saints desperately need a true tight end, and Darnell Washington is the complete package. He comes into the NFL as a run-blocking tight end first, with strong hands and an imposing level of physicality to match.
Washington is a punishing blocker who will drive back defenders and is unafraid to get his hands dirty in the run game. His ability to offer so much value on running-downs will get him on the field early in the NFL and make him an asset to the Alvin Kamara/Jamaal Williams combination in the backfield.
While his blocking ability is enough to get him drafted alone, he's also a six-foot-seven pass-catching target over the middle and up the seam and can be an extreme asset for Derek Carr in the red zone.
Pick 71: Siaki Ika – DT Baylor
 Siaki Ika is a versatile defensive lineman who can play multiple angles on the interior of the Saints' defensive line. He has great tape as both a penetrating nose tackle getting in between blockers and crashing the pocket, and sealing open lanes for running backs against run-blocking offensive linemen.
Ika is a big man at six-foot-four and over 350 pounds but offers impressive athleticism for his body type. He has a lot of power in his punch and uses his hands well to defeat blockers or gain the upper hand in the run game. His pursuit of the football is evident on tape, and the only drawback to his game is his lack of length.
There's a tonne of upside to drafting Siaki Ika, especially in the third round, and he'd complement the current defensive line group well.
Pick 115: Kenny McIntosh – RB Georgia
 With the possibility of Alvin Kamara being suspended this season, drafting Kenny McIntosh here makes for his future replacement should they decide to make that move.
McIntosh's best asset as a running back is his ability as a pass catcher, which the Saints have loved and utilized with Alvin Kamara for the past several years. The fit here with the 71st pick makes for great value, with the Georgia prospect being a little raw and needing to work on his discipline as a pro running back. With the Saints, he'll have plenty of time, and there'll be no pressure for him to take a lot of reps as a rookie.
That said, with the value he offers as a dual-threat running back with a ton of speed and playmaking ability, throwing him out there to contribute on offense could be a lot of fun in New Orleans.
Pick 146: Michael Wilson – WR Stanford
 The Saints' draft needs almost certainly involve adding another wide receiver, especially considering the uncertain future of Michael Thomas.
Michael Wilson is a prototypical NFL receiver at six-foot-two and 210 pounds and passes the eye test on tape. He has many upsides and will be available later in the draft due to an injury history that sidelined him multiple times in college.
Wilson is a solid route runner who can win in one-on-one situations and provide a genuine threat after the catch. He brings an exciting combination of size and athleticism and could almost certainly offer a valuable number two option to either Chris Olave or Michael Thomas.
With a clean run of health in his first few seasons in the league, the sky's the limit for Michael Wilson, who would be off the board a lot earlier than pick 146 had he been on the field consistently at Stanford.
Pick 165: Jalen Graham – LB Purdue
 The Saints should come away from the 2023 draft with additional linebacker depth, currently looking a little thin at the position.
Jalen Graham is a downhill run-stuffing linebacker who packs a punch with his hits and has shown a distinct ability to pop the football out. He's an explosive backer who can close down ball carriers in the open field and does an excellent job of rarely being faked out with a sudden change of direction.
Pick 227: Aidan O'Connell – QB Purdue
 The Saints may want to draft a late-round quarterback with some potential to see how that young QB fares in training camp, and Aidan O'Connell is a gunslinger worth taking a look at.
While he's struggled with turnovers in college and might not have the strongest arm in the class, there are a lot of things to like about his game. He's shown a lot of toughness in college and will consistently stand in the pocket and deliver a strike under pressure.
O'Connell is a determined and hard-working quarterback who might be a valuable third-string asset if nothing else.
Pick 257: Connor Galvin – OT Baylor
 Finally, the Saints could look to add some depth to the offensive line with an experienced rookie tackle such as Connor Galvin out of Baylor.
Galvin is a six-foot-seven tackle who understands the game well and plays with a high football IQ. He has the upside to develop into a decent tackle in the pros and could rep in to support the Saints zone packages early in his career.
Show Your Support
Looking for the ultimate sports streaming experience? Look no further than ESPN+! As a proud affiliate of Strike 7 Sports, ESPN+ brings you exclusive access to top-tier sports content, including live events, original programming, and on-demand replays. And with every subscription, a portion of the proceeds goes directly to supporting the Strike 7 Sports brand.
That means by signing up for ESPN+, you're getting the best in sports entertainment and investing in the growth and success of your favorite sports brand. So why wait? Join the millions of sports fans already enjoying ESPN+ and support Strike 7 Sports at the same time. Sign up today!