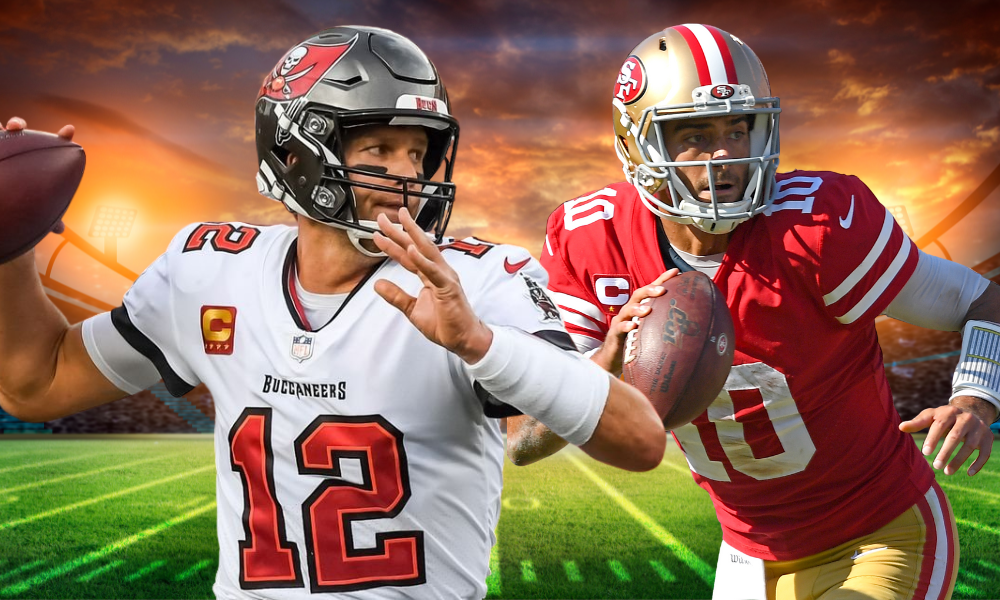 The 2022 NFL regular season is coming to an end real soon. There's only one week of football remaining until the playoffs start. But with the season ending, the talk of where free-agent QBs could end up is growing by the day. It has been that way since the end of the 2020 campaign. More and more quarterbacks are now moving on to situations they may deem to be better. There will be a few intriguing names for the 2023 free-agent QB class. In today's post, we will rank, analyze, and name potential landing spots of where the top free-agent QBs could go in 2023.
1. Tom Brady 
TB12 is our top free-agent QB for the class of 2023. It's a no-brainer selection. The future Hall of Famer is still playing at an elite level. His third season with the Tampa Bay Buccaneers has yet to be successful as the previous two. However, in many games this season, Brady has demonstrated why he is still a quarterback that opposing defenses must respect. Brady recently stated that all options are on the table regarding his future, but be prepared for the seven-time Super Bowl champion playing next season.
Potential Landing Spots: Jets, Raiders, Dolphins, 49ers
2. Lamar Jackson
Recent optics may indicate that Ravens QB Lamar Jackson's time with the organization is coming to an end. The 2019 Most Valuable Player has not seen action since he suffered a sprained PCL against the Denver Broncos. While the injury may be viewed as minor, Jackson has not returned to the field ever since the event occurred. His absence could also mean that he is trying to preserve himself from a health perspective, so that his chances of getting the money that he wants remain high.
Potential Landing Spots: Ravens, Jets, Dolphins, Falcons
3. Jimmy Garoppolo
It is almost certain that Jimmy Garoppolo will no longer be with the 49ers after this season. The veteran signal-caller has been sidelined with another injury that ended his season. However, before the injury, Garoppolo built a solid case for why he should be considered one of the league's top free-agent QBs. However, despite the injury, reports indicate that Garoppolo will still be a highly coveted quarterback once the free agency period kicks off.
Potential Landing Spots: Saints, Jets, Dolphins, Panthers, Buccaneers
4. Geno Smith
Who would have thought that Geno Smith would end up having the type of season that he had with the Seahawks in 2022? The former West Virginia star has thrown for 4,029 yards, 29 touchdown passes, and only nine interceptions. At 32, Smith is considered a bridge-level QB; however, his late-career success could still compel teams to bring him on as a viable option. Based on the current draft order, Seattle picks at no.3 and will have an additional draft pick at 19. They will be in the driver's seat to select a quarterback like CJ Stroud, Will Levis, or Anthony Richardson. The Seahawks can re-sign Smith to a new deal while the future QB develops under his guidance.
Potential Landing Spots: Seahawks, Buccaneers, Cardinals, Saints
5. Daniel Jones
Daniel Jones had to do at least two things to remain with the Giants past 2022. Those two things were to show improvement as a passer under new HC Brian Daboll or lead the team to the playoffs. Well, both requirements were met by the former 2019 sixth-overall pick. With Jones under center, the Giants have ended their six-year playoff drought. Also, he has shown significant signs of growth as a quarterback under Coach Daboll.
Jones is tied for the league's fewest interceptions with four among qualified passers (at least 14 pass attempts per team's games played) and has only lost three fumbles in 2022. He also has the league's lowest interception rate (interceptions/pass attempts) at 1.0%. While the Giants may have interest in re-signing Jones, do not expect them to break the bank to get it done. At most, the deal will most likely be for three-years with an option to get out of it after the first season.
Potential Landing Spots: Giants
Second-Tier NFL Free Agent QBs for 2023: 6-10
6. Taylor Heinke
7. Mike White
8. Andy Dalton
9. Baker Mayfield
10. Jacoby Brissett 
Show Your Support
Support the Strike 7 Sports platform's growth by heading to Fanatics.com and buying officially licensed gear from the National Football League. Each purchase made through the text link below goes into the funding of the Strike 7 Sports brand. To proceed, click the link below and enjoy shopping at Fanatics.