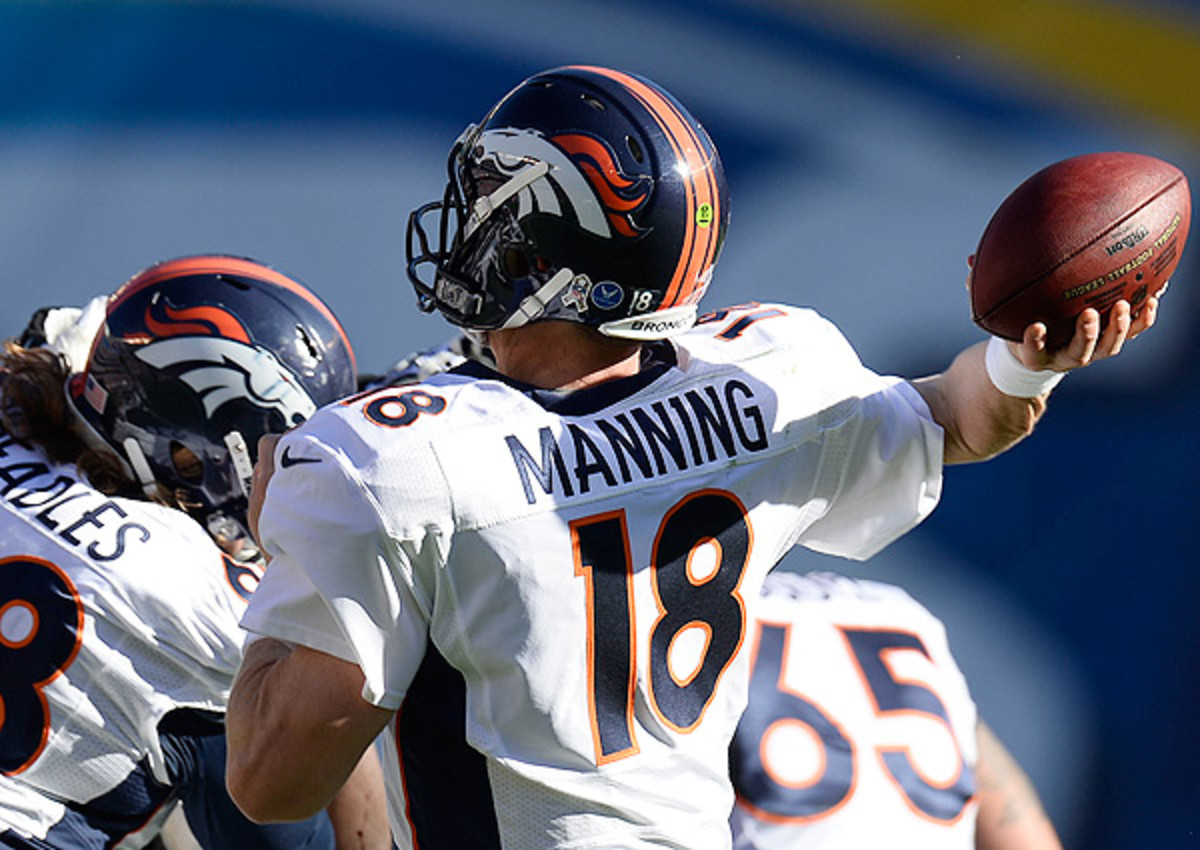 Ranking the Top 10 Passing Seasons By An NFL Quarterback
Quarterback is undoubtedly an important position in the NFL. A mediocre team with an elite QB can have an outstanding season. In this modern era, the quarterback position remains the highest paying position in the NFL. Teams are paying and trading a lot to get a good quarterback to build the team around such a QB. As a result, the role of the quarterback has changed a lot through the years.
There was a time when a kicker used to be the best position or a person who could run, kick and pass. In those times, the forward pass in football games was illegal. In 1906, Bradbury Robinson became the first man in football history to throw the first-ever legal forward pass after a rule change. After that, the position of the quarterback kept evolving better and better.
Throughout the time, football games kept evolving, and most of the rules were made intending to protect the players. The position which benefited the most from these rules was the quarterback position. It has become much easier for a quarterback to play a game in the modern Super Bowl era than five or six decades ago. This means that the quarterback has gotten much more comfortable, which has made the increase in their performance much more explosive.
However, still, we find that there are only a handful of quarterbacks who perform exceptionally well. Furthermore, only a few quarterbacks have accomplished what many believe to be the perfect season. Therefore, today's article will look at the top 10 passing seasons by an NFL quarterback.
10. Joe Montana (San Francisco 49ers): 1989
(13 games – 3,521 yards, 26 TDs, 8 INTs, 70.2 completion rate, 112.4 passer rating; 227 rushing yards, 3 TDs)
NFL MVP
Won Super Bowl XXIV
Super Bowl XXIV  MVP
Joe Montana played with the 49ers during their golden era; in fact, he might have been the one who started that period. The 1989 and 1990 seasons were the best seasons of Montana's career as he won NFL MVP in both of those seasons. Yet 1989 holds significant value as Montana led the league in completion percentage and yards per attempt average. But he also led the NFL in passer rating with 112.4, which was an NFL record at the time.
In the playoffs, Montana's performance increased further as he threw for 800 yards and 11 touchdowns and posted a rating of 146.4. In the final game, Montana concluded the 1989 season when the 49ers beat the Denver Broncos 55-10. Montana is considered one of the best quarterbacks ever to touch the football and his 89 seasons are one of the reasons for such consideration.
9. Matt Ryan (Atlanta Falcons): 2016
(16 Games – 4,944 yards, 38 TDs, 7 INTs, 69.9 completion rate, 117.1 passer rating; 117 rushing yards)
NFL MVP
Won NFC Championship
Matt Ryan has always been a prolific passer and is known for throwing many yards. He still holds several NFL records, including most regular-season wins in the first five years, most passing yards in 10, 11, 12, and 13 years in the NFL, and most consecutive games with at least 200 yards or more with 64 games. Still, Ryan led the league in 2016 with an average of 9.3 yards per attempt and a 117.1 passer rating. He won the league's MVP, AP NFL MVP, and Offensive Player of the Year. Ryan's performance improved in the playoffs with 1014 yards in 3 games, nine touchdowns, and 0 interceptions. It would've been the perfect season for Ryan had they won the Super Bowl. Still, 2016 became the best year in Matt Ryan's career.
8. Kurt Warner (St. Louis Rams) 1999
(16 games – 4,353 yards, 41 TDs, 13 INTs, 65.1 completion rate, 109.2 passer rating; 92 rushing yards, TD)
NFL MVP
Won Super Bowl XXXIV
Super Bowl XXXIV MVP
For Kurt Warner, 1999 was when he won the Super Bowl, won MVP, won Super Bowl MVP, and came to identify as an elite quarterback. For everyone else, it was a season for the St. Louis Rams (now Los Angeles Rams), which is now called "Greatest Show on Turf. "Just a year before, the Rams were considered by many to be a below-average team, and their biggest problem was their quarterback.
So, when Warner made a giant leap from arena football to NFL. The Rams' head coach Dick Vermeil made significant changes in 1999, bringing in many new players. Originally Trent Green was named starting quarterback, but after he got hurt, Warner took over and gave the best performance of his career. Warner not only broke the Rams' record but broke many NFL records as well, many of which are still records.
He was the first-ever quarterback in history to throw for 40+ touchdowns and won the Super Bowl. In addition, he threw for the most passing yards in a single postseason with 1,063 yards. His record of 414 passing yards in a Super Bowl stood for the next 17 years until Tom Brady broke it in 2016. The Rams' 1999 season is considered one of the best seasons in the history of the NFL, and Warner was a considerable part of that success. The season started with Warner backing up a starting quarterback and ended with Warner winning the Super Bowl and game MVP.
7. Steve Young (San Francisco 49ers): 1994
16 Games- 3,969 yards, 35 TDs, 10 INTs, 70.3 completion rate, 112.8 passer rating; 293 rushing yards, 7 TDs
NFL MVP
Won Super Bowl XXIX
Super Bowl XXIX MVP
Steve Young was a decorated quarterback with a decorated career. He had many great seasons with the 49ers, yet one season eclipsed the rest, and that was Young's performance in 1994. Apart from throwing for almost 4,000 yards and 35 touchdowns, Young ran for 293 yards and seven touchdowns. His 112.8 passer rating was an NFL record at the time.
The 49ers stormed to the playoffs with a 13-3 record. In the NFC championship game, Young threw two touchdowns and rushed for another one beating the Cowboys. In Super Bowl 29, Young threw six touchdown passes.
In the Super Bowl, the 49ers defeated the San Diego Chargers, and Young was awarded MVP of the game. Young's six touchdown passes are still a record to this day. Young's 1994 season was thought to be one of the best seasons by any player in any sports history. Young never won a Super Bowl after the 1994's season, which made his performance in 1994 even more memorable.
6. Lamar Jackson (Baltimore Ravens): 2019
(15 games – 3,127 yards, 36 TDs, 6 INTs, 66.1 completion rate, 113.3 passer rating; 1,206 rushing yards, 7 TDs)
NFL MVP
In 2019 Lamar Jackson showed the NFL fans what it means to be a dual-threat quarterback. He led from the front and took the Baltimore Ravens to the playoffs with a 14-2 record. Jackson threw the ball well, but his rushing numbers were better than most running backs. He led the league in rushing average with 6.9 rush per attempt. His 176 rushing attempts and 1,206 yards are a record for quarterbacks. Jackson also led the league in passing touchdowns with 36. He was awarded the league's Most Valuable Player in 2019.
5. Peyton Manning (Denver Broncos): 2013
(16 games – 5,477 yards, 55 TDs, 10 INTs, 68.3 completion rate, 115.1 passer rating; rushing TD)
NFL MVP
Won AFC Championship
Peyton Manning went on to win NFL MVP, took Denver Broncos to the Super Bowl, and was selected to his 13th Pro Bowl by the time the 2013 season was concluded. Of course, on his way, he set many new NFL records. His record of 5,477 passing yards and 55 touchdowns is still a record. He also led the league in passing attempts and completions in 2013. Manning opened a new era when he signed with the Broncos, and the 2013 season was the highlight of his entire career. It would've been a perfect and probably best season if the Denver Broncos won the Super Bowl. Those aspirations would not come until the 2015 campaign when Denver defeated the Carolina Panthers in Super Bowl
4. Dan Marino (Miami Dolphins): 1984
(16 games – 5,084 yards, 48 TDs, 17 INTs, 64.2 completion rate, 108.9 passer rating)
NFL MVP
Won AFC Championship
Dan Marino led the leagues many times in total yards and passing touchdowns, yet 1984 remains the best season of his career. Marino broke every NFL record that year while leading his team to a 14-2 record. In addition, Marino made the record for throwing the most touchdowns with 48 (which was broken 20 years later by Peyton Manning), most passing yards of 5,084 yards (surpassed by Drew Brees), and a quarterback rating of 108.9. Marino also led the league in total attempts, completions, yards per attempt, and yards per game. For his efforts, Marino was awarded NFL MVP.
3. Drew Brees (New Orleans Saints): 2011
(16 games- 5,476 yards, 46 TDs. 14 INTs, 71.2 completion rate, 110.6 passer rating)
NFL Offensive Player of the Year (2011)
Drew Brees threw consistently well, and he threw a lot. He broke many records in his career, but perhaps the most critical moment came in 2011 when Brees broke the most passing yards in a season set by Dan Marino 28 years before. Brees also threw 46 touchdowns against 14 interceptions to break this record. Brees also led the league in completion percentage. In that week (week 17 of the 2011 season), Brees set six NFL records in a single game. Unfortunately, Brees and the New Orleans Saints lost the divisional playoff game against the 49ers, which ended one of the best seasons by any NFL quarterback.
Prepare yourself for the upcoming season by buying a New Orleans Saints 2022 NFL Training Camp Official Coach Flex Hat. Item is sold exclusively over at our affiliate partners, Fanatics.
2. Patrick Maholmes (Kansas City Chiefs): 2018
(16 games – 5,097 yards, 50 TDs, 12 INTs, 66.0 completion rate, 113.8 passer rating; 272 rushing yards, 2 TDs)
NFL MVP
The 2018 season immediately put Patrick Mahomes on the elite quarterbacks' list. It was his second season since he got drafted and his first season as the Chiefs starter. Mahomes threw 50 touchdowns and made the Kansas City Chiefs an AFC West powerhouse. Mahomes was not only selected for his first-ever Pro Bowl but more importantly, he was awarded the league's most prestigious award that can be given to a player the "NFL MVP." Although the Chiefs lost the AFC championship game against the New England Patriots, Mahomes and the Chiefs came back to win the Super Bowl the following year.
1. Tom Brady: (New England Patriots): 2007
(16 games – 4,806 yards, 50 TDs, 8 INTs, 68.9 completion rate, 117.2 passer rating; 98 rushing yards, 2 TDs)
NFL MVP
Won AFC Championship
It was the first time in the history of the NFL that a quarterback threw for 50 touchdowns. It was also the first time a team had 16 wins in a regular season. Although the Patriots lost in the Super Bowl, the 16 wins were the most since the games were extended from 14 to 16. Brady also has a passer rating of 117.2, which was league high. In a poll conducted by ESPN in 2013, Brady's 2007 performance was voted the best performance in NFL history by any quarterback.
Along with breaking records Brady also won Associated Press MVP and was selected to his fourth Pro Bowl. In his leadership, the Patriots became an NFL offensive powerhouse scoring 589 points (NFL record at the time) with 75 total touchdowns. Despite playing 22 years in the NFL, 2007 remains the best season in Brady's career. These are your top 10 passing seasons by an NFL quarterback.
Show Your Support
Support the Strike 7 Sports platform's growth by heading to Fanatics.com and buying officially licensed gear from the National Football League. Each purchase made through the text link below goes into the funding of the Strike 7 Sports brand. To proceed, click on the link below and enjoy shopping over at Fanatics.