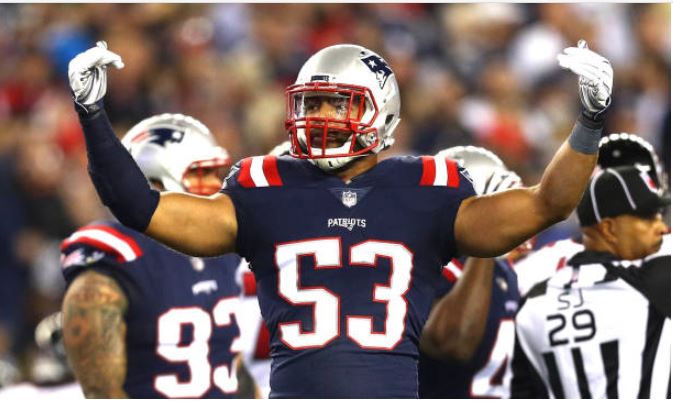 In the National Football League, there are about five to six teams that you can legitimately say can win a Super Bowl title right now. At least five of those teams have one thing in common. They all have a great defense that can dominate no matter what environment they are playing in for the time being. Today, Stike 7 Sports ranks the top five NFL defenses that can travel power rankings. We rate these five defenses by their league rankings, record, and competitive level of their opponent.
1. New England Patriots
Defensive Rankings
Total Defense: 1st
Pts: 6.9 (1st)
Yds: 223.1 (1st)
Pass Yds: 148.4 (2nd)
Rush Yds: 74.7 (2nd)
It was reported during training camp that this year's Patriots defense could be the best that Bill Belichick has ever had as a head coach of this football team. So far, they have lived up to their preseason billing. The Patriots are ranked at least one or two in each of the top defensive statistical categories in the National Football League.
Their latest performance was against the New York Jets, in which they pitched a shut out against their division rival 33-0. Jets quarterback Sam Darnold threw for only 86 yards and turned the football over on four separate occasions. Their next opponent could be their toughest season when they face the Cleveland Browns in Week 8. Notice that I said, "could be their toughest."
2. San Francisco 49ers
Defensive Rankings
Total Defense: 2nd
Pts: 10.7 (2nd)
Yds: 223.5 (2nd)
Pass Yds: 133.5 (1st)
Rush Yds: 90.0 (8th)
After accumulating talent on the football's defensive side through the draft, things are finally paying off for the San Francisco 49ers. They are one of only two teams that are currently undefeated right now. Their defense has carried them for the majority of this season so far. No matter where the venue is, the 49ers' defense can adapt and overcome the disadvantages of playing on the road. In Week 7 against Washington, the Niners overcame nasty weather conditions to defeat their opponent 9-0.
3. New Orleans Saints
Defensive Rankings
Total Defense: 6th
Pts: 21.0 (11th)
Yds: 327.9 (7th)
Pass Yds: 237.3 (14th)
Rush Yds: 90.6 (9th)
When Saints quarterback Drew Brees suffered a thumb injury against the L.A. Rams in Week 2, the defense took it upon themselves to take their game to another level. So far, they have beaten some of the league's best ball clubs, such as the Texans, Seahawks, and the Cowboys. The Saints' interesting feature is that they have not lost a game since losing their Hall of Fame quarterback to an injury in Week 2. They have also not allowed a 100-yard rusher in 33 consecutive games.
4. Buffalo Bills
Defensive Rankings
Total Defense: 3rd
Pts: 15.2 (3rd)
Yds: 292.7 (3rd)
Pass Yds: 201.3 (4th)
Rush Yds: 91.3 (10th)
So far, the Buffalo Bills are the league's surprise team of the year. They are only one game behind the New England Patriots for control of the AFC East division. Remember that they are the only team this season that has performed hard against the Patriots this season at the current moment. Every game that the Bills have won this year is because of their defense's ability to put them in situations that would lead to success.
5. Green Bay Packers
Defensive Rankings
Total Defense: 26th
Pts: 19.9 (9th)
Yds: 381.0 (26th)
Pass Yds: 252.1 (21st)
Rush Yds: 128.9 (24th)
They may not be ranked higher in the categories like the other teams listed in this post, but the Green Bay Packers defense is trending upward. Due to their outstanding production on defense, quarterback Aaron Rodgers has regained the recognition of being one of the league's best signal-callers. Regardless of where they are playing, Aaron Rodgers and the Packers pose a threat to any team with home-field advantage in the playoffs. That's because of their stable output on defense in 2019. These are your top five NFL defenses that travel power rankings.
Photo Courtesy of the Last Word on Pro Football.