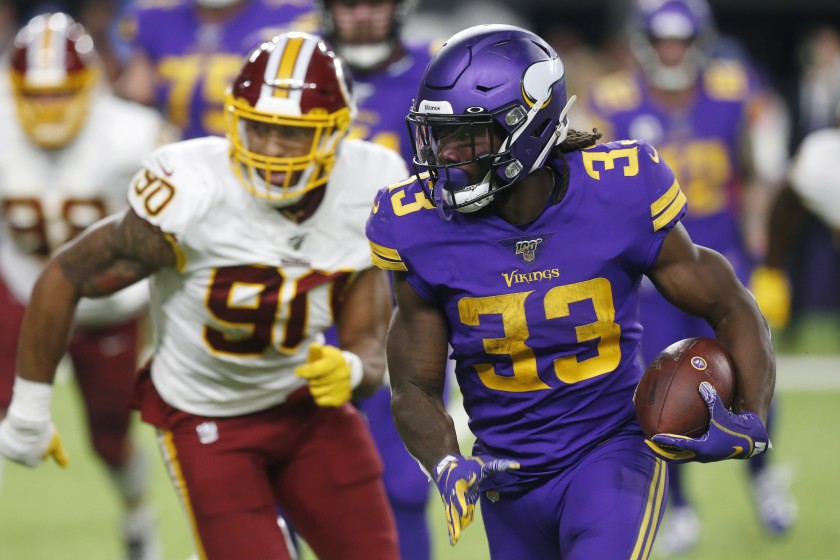 The 2020 NFL regular season is slowly upon us. As usual, the typical discussion of who will become this year's Most Valuable Player has begun. However, with the idea that players such as Patrick Mahomes and Lamar Jackson becoming the front runners to win the award, there's always a few guys that come out of nowhere and dominate.
Today, Strike 7 Sports will provide a list of who we believe will become the top four dark horse MVP candidates for 2020. All four of these players are members of potential playoff teams this season. 
Kyler Murray: Arizona Cardinals 
The Cardinals' front office acted swiftly in the offseason by giving their quarterback Kyler Murray the weapons that he needs in the passing game. Along with veteran Larry Fitzgerald, the team added Pro Bowl wide receiver, DeAndre Hopkins, to be paired up with the future Hall of Famer. Also, before the move for "Nuk" was made, the Cardinals acquired Kenyan Drake from the Miami Dolphins during the 2019 season.
With the pieces that surround Murray, he is the type of quarterback that is capable of throwing for 4,500 yards, and at least 34 touchdown passes. When a quarterback has those kinds of numbers, they usually are in the conversation of becoming the league MVP.
Dalvin Cook: Minnesota Vikings
Vikings running back Dalvin Cook accumulated for a total of 1,654 all-purpose yards from scrimmage last season. Those combined numbers allowed Cook to have his first-ever 1,000-yard rushing season as well. With the way that the Vikings utilize Cook in the passing game, he can easily surpass the previous numbers that he put up last season.
The former first-rounder out of Florida State University has not hit his ceiling with Vikings organization. The potential damage that he can do within their scheme is through the roof.  
Nick Chubb: Cleveland Browns
Last season, Nick Chubb finished second in league with 1,494 rushing yards and tied ninth with nine touchdown scores. Whenever Chubb was utilized as the primary option in the Browns offense, they seemed to be a more formidable ball club to defeat. Now that the team has a new Head Coach in Kevin Stefanski, Chubb will be featured more in a majority of the Browns games this season.
When Stefanski was in Minnesota, Dalvin Cook succeeds in a variety of ways in the Vikings offense. Not saying that Chub and Cook having similar playing styles, but you can expect the former Georgia Bulldog to be utilized in some creative situations in 2020.
Josh Allen: Buffalo Bills
Quarterback Josh Allen was able to guide the Buffalo Bills to their second playoff appearance in three seasons under Head Coach Sean McDermott. In regards to his statistics, they were average for the most part.
In 2019, Allen threw for 3,089 yards, 20 touchdown passes, and only nine interceptions. However, Allen was also difficult to defend when he was not standing in the pocket. He rushed for 510 yards and nine touchdown scores as quarterback last season.
In hopes of Allen becoming a more dangerous threat in the passing game, the front office decided to trade for Stefon Diggs of the Minnesota Vikings. With the addition of Diggs in the passing game combined with Allen's ability to be a threat with his legs, the potential of joining the MVP conversation is there. These are Strike 7 Sports top four dark NFL MVP candidates for the 2020 season. 
Photo courtesy of Jim Mone/Associated Press.