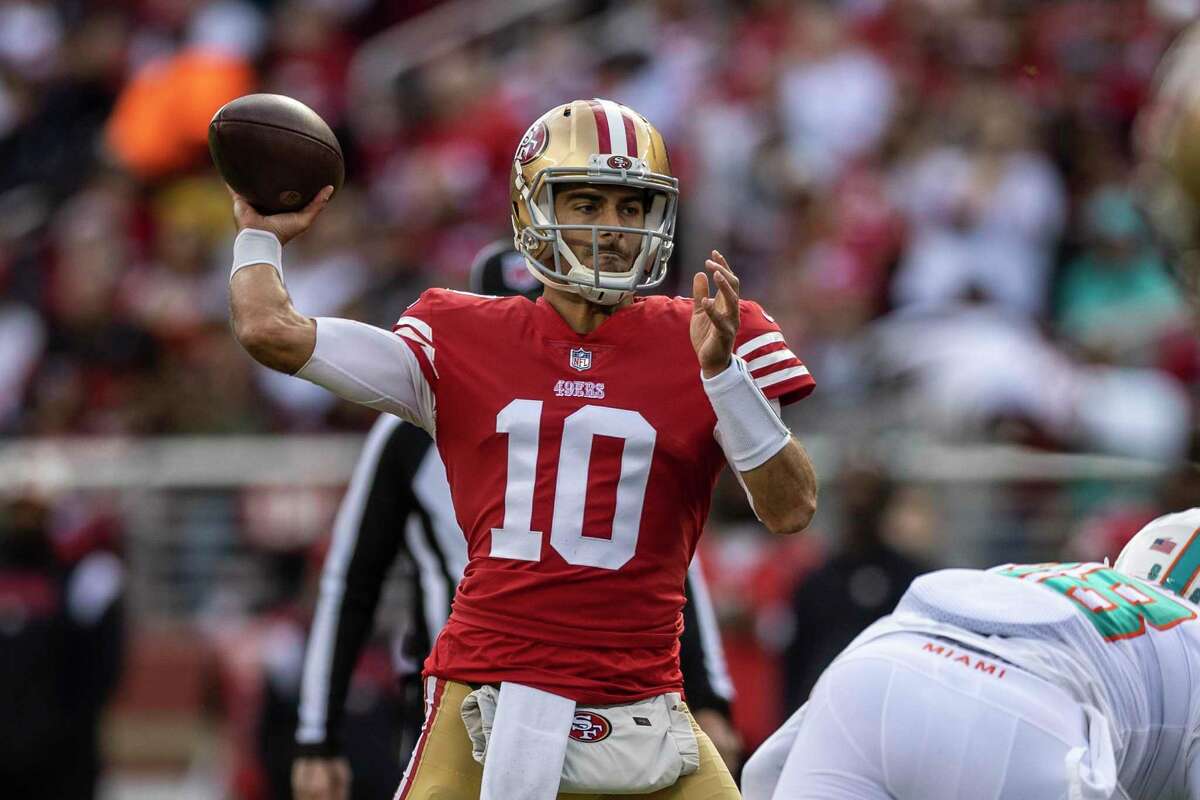 Despite the imminent need at QB, the 49ers have expressed no desire to bring back veteran starter Jimmy Garoppolo.
NFL Insider Ian Rapoport suggests that the Carolina Panthers, Houston Texans, and the Las Vegas Raiders are among the teams that are likely to pursue Garoppolo. All three teams require a starting quarterback and have high draft picks, indicating that Garoppolo could serve as a temporary solution rather than a long-term one.
It's worth noting that the Texans are now led by former 49ers defensive coordinator DeMeco Ryans, who has hired Bobby Slowik, a former 49ers assistant, as his offensive coordinator. Here's a breakdown of Jimmy G fits into the current situation of the three teams that are interested.
Panthers
The Carolina Panthers have been on a search to find their next quarterback since Cam Newton parted ways with the franchise after the 2019 season ended. Signal-callers like Teddy Bridgewater, Sam Darnold, P.J. Walker, and Baker Mayfield have seen time under center for Carolina. Each has yielded inept results. Carolina will have the ninth overall selection in this year's NFL Draft. Some insiders indicate they may move to at least the top five or the number one spot and select Anthony Richardson from the University of Florida.
With new head coach Frank Reich at the helm, Garoppolo can serve as the bridge QB while Richardson learns to concepts of running a pro-style offense. With the Panthers' roster and an efficient QB, they can compete for the NFC South title in 2023. The only team that has gotten significantly better in the division is the New Orleans Saints. On Monday, New Orleans signed free agent QB Derek Carr to a four-year $150 million contract.
Texans
A significant majority of NFL free agent signings are mainly based on familiarization with coaches, scheme, and personnel. That would be the notion for the Houston Texans. Slowik is familiar with Garoppolo during their time together with the 49ers. "We have a process we go through," Slowik said, via a team transcript. "Jimmy is obviously part of that process. He's going to be a free agent. We grind through that as a coaching staff. We grind through that in the personnel department. We have conversations. I've had conversations with [General Manager] Nick [Caserio]. He has conversations with DeMeco. Then, Nick and DeMeco put their heads together and lay out a plan of what we want to do going forward and we'll see where that takes us."
Like the Panthers, the Jimmy G could serve as the bridge quarterback while their first-round selection is developing to become their future starter at the position. However, the Texans are the least talented team among the three that are interested in his services.
Raiders
The Las Vegas Raiders is another intriguing possibility for where the former 49ers QB could land once free agency kicks off on March 15. Josh McDaniel is familiar with Garoppolo during his time as the offensive coordinator with the New England Patriots. He was expected to become Tom Brady's successor in New England, but it never happened. Garoppolo was traded to San Francisco while McDaniel remained the Patriots' offensive coordinator.
With the Raiders, Garoppolo would have many options in the passing attack that would make Las Vegas formidable in a division that includes Patrick Mahomes, Justin Herbert, and now the combination of Russell Wilson and new head coach Sean Payton. Even if Garoppolo performed at a high level with LV, they still need to consider drafting a QB at no.7. For the past three seasons, Garoppolo has shown that he cannot stay healthy.
Show Your Support
Introducing Atlas VPN, the perfect partner for Strike 7 Sports enthusiasts! With Atlas VPN, you can enjoy lightning-fast internet speeds and unrestricted access to your favorite sports content anywhere in the world. Plus, for every subscription purchased, a portion of the proceeds go directly to supporting the Strike 7 Sports brand. By subscribing to Atlas VPN, you're investing in your online security and privacy and the growth and success of your favorite sports brand. So why wait? Sign up for Atlas VPN today and support the Strike 7 Sports community while enjoying the ultimate online experience.