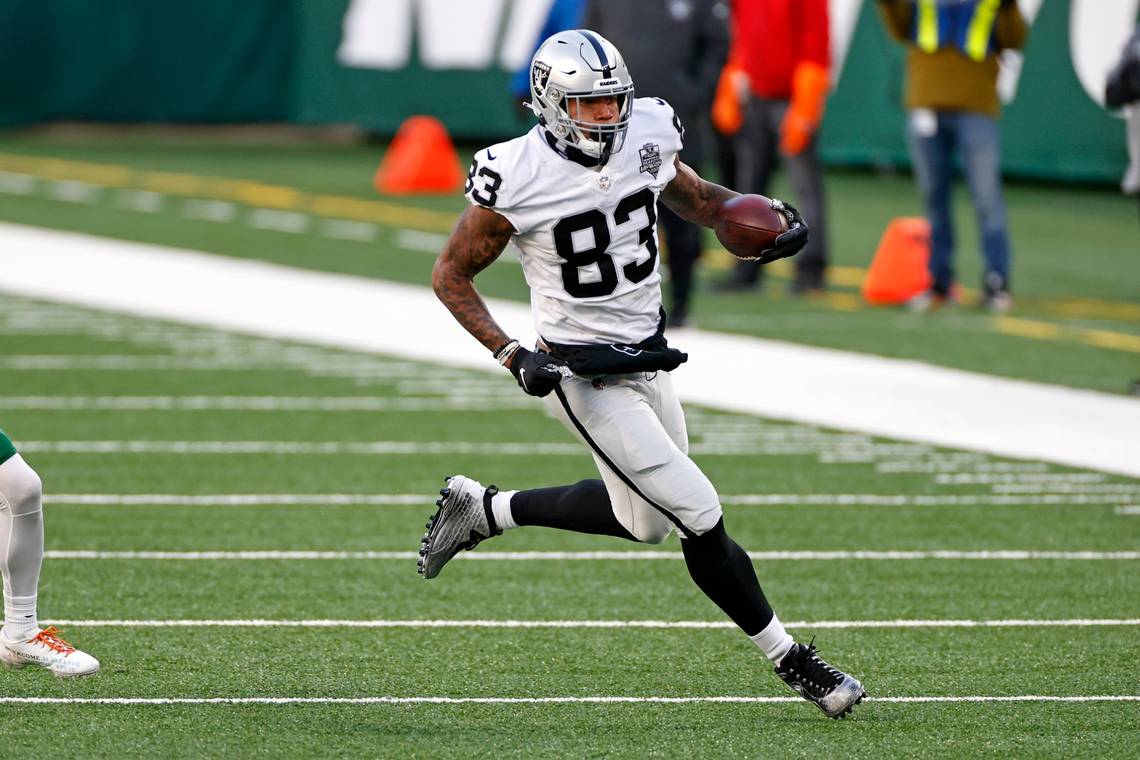 Over the years, the tight end position has evolved to become one of the most sought-after members when building a fantasy football team. Tight ends are no longer utilized as just a player to be used in blocking situations or certain passing-catching scenarios. Certain tight ends have become the focal point of some of the league's most potent offenses.
When it comes to playing fantasy football, a reliable tight end can become the difference between winning and losing your weekly matchup against your opponent. Today, we shall take a look at six must-have tight end options that you should consider when it comes to building your fantasy football team in 2021.
6. Jonnu Smith: New England Patriots
Jonnu Smith's 2020 statistics were not among the league's best tight ends, but it was enough to grab the attention of Patriots Head Coach Bill Belichick. In March, Smith signed a 4-year, $50M contract with the New England Patriots. Smith is joining a football team that has a known track record of being tight end friendly.
New England's quarterback Cam Newton plays at his absolute best when there's a viable option at the tight end position. In 2021, Smith's production will have many fantasy owners satisfied with their decision to have his presence on their roster.
5. Kyle Pitts(R): Atlanta Falcons
The Atlanta Falcons roster has a lot of pressing needs that must be addressed. But when you have an opportunity to select a generational talent like Kyle Pitts, it is hard to ignore the many possibilities of having his skillset on your team. The Falcons did just that in the 2021 NFL Draft when they selected Pitts third overall.
Despite being a rookie, we included Pitts on this listing because of the Falcons' ability to score many points in football games this upcoming year. They will have no other choice but to outscore their opponents. Pitts projected numbers alone would allow a lot of fantasy owners to win their games in 2021. He is that gifted as a tight end.
4. Mark Andrews: Baltimore Ravens
Mark Andrews's style may not be among the elite tight ends, but his importance to the Ravens passing game is paramount. Until the Ravens wide receiver the core show otherwise, Andrews is the team's primary option in the passing game. Andrews provides an extra spark for fantasy owners that may need another element to get them over the hump versus their opponents.
3. Darren Waller: Las Vegas Raiders
Historically, the Raiders have been successful at having stellar production in numerous positions. The current team has that mentality. Darren Waller's performances have been on another level over the past three seasons. If this guy is available to select in your fantasy draft, you chose him with no questions asked.
2. George Kittle: San Francisco 49ers
In 2020, George Kittle and most of the 49ers roster dealt with numerous injuries throughout the season. But do not let last season's issues discourage you from selecting Kittle. The former Iowa Hawkeye standout is a matchup nightmare for defensive coordinators. If defenses do not have the right personnel on defense, Kittle is tough to contain. Those reasons alone should make you less hesitant to select Kittle if available in your prospective fantasy draft.
1. Travis Kelce: Kansas City Chiefs
It is not even up for debate. Travis Kelce is our number one choice for must-have tight ends for the upcoming fantasy football season. Last season, Kelce ranked second in the league with 1,416 receiving yards, 105 receptions, and 11 touchdown scores.
It is sporadic for a tight end to accumulate those types of numbers in a wide receiver dominant league that we see right now. It is a no-brainer decision right here. If Kelce is available, please take him. These are your six must-have tight end options to choose from for the 2021 fantasy football campaign.
Support the Strike 7 Sports platform's growth by heading over to Fanatics.com and purchasing officially licensed gear from the National Football League. Each purchase made through the text link below goes into the funding of the Strike 7 Sports brand. To proceed, click on the link below and enjoy shopping over at Fanatics.
Photo courtesy of The Associated Press.