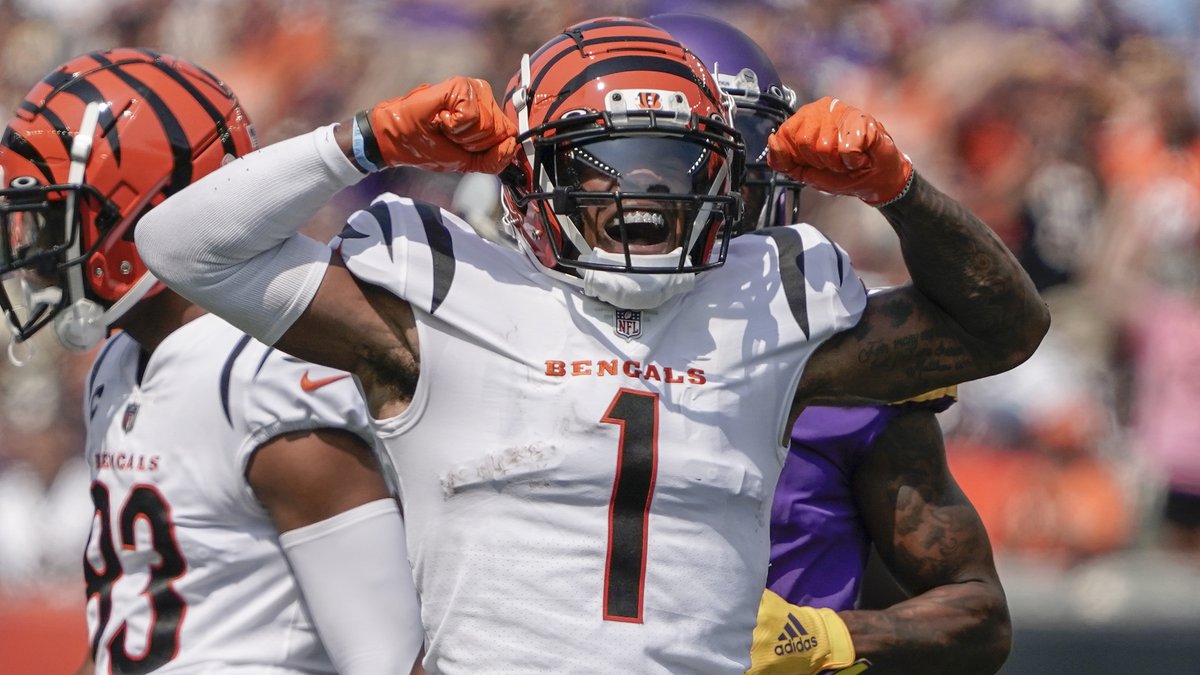 "Imma break every record they got at the Bengals. That's my goal right now. I'm telling you right now, I'm breaking every record they have. I don't know how I'm going to do it, but it's going to get done."
That was Ja'Marr Chase just minutes after being selected by Cincinnati with the fifth pick of the 2021 NFL Draft.
If you saw that live, nobody would have blamed you for drawing it up as hyperbole. Emotional speak. Maybe even blind confidence. After all, Chad Ochocinco and A.J. Green are two of the greatest receivers of the 2000s. Between them is 20,213 receiving yards as Bengals, thirteen seasons of at least 1,000 receiving yards, thirteen Pro Bowl selections, and two All-Pro seasons. All of that was done in the black and orange of Cincinnati. So, if Ja'Marr Chase really wanted to follow through with his draft night proclamation, there would be a lofty mountain to climb.
Seven weeks later, he's already left base camp and embarked for the summit.
Cincinnati's selection of the wide receiver drew controversy on draft night. Joe Burrow, their franchise quarterback and the first overall pick from just a season ago, was rehabbing from a season-ending injury he suffered during his rookie season. The injury highlighted a bigger issue in the Bengals' offense – its weaknesses on the offensive line. With Oregon tackle Penei Sewell still on the board, some thought that was the logical selection.
The front office instead went with the receiver and Burrow's former teammate at LSU, despite him opting out the 2020 season at LSU and prioritizing his NFL career. Chase's ability was undeniable. Any draft profile will tell you that. Words like  "explosive", "blistering acceleration", and "graceful" were used to describe his skill set in the weeks and months leading into draft night. But there was still that bit of uncertainty surrounding how he would bounce back from a year off, and that uncertainty was put under a microscope when he was picked over Sewell, the safe pick.
Regarding the former, Chase has had no issue at all readjusting to game speed. And regarding the latter, well – sometimes the high risk, high reward mindset pays off.
The hottest start to a career by any WR. Ever. @Real10jayy__ is special: a thread. @Bengals | #RuleTheJungle pic.twitter.com/qrcHMHn6yC

— NFL (@NFL) October 26, 2021
Chase has been historically great to start his NFL career. Through seven games, he's hauled in 754 receiving yards – the most by any rookie through their first seven games in the history of the National Football League. It's more than Justin Jefferson, who put up 1,400 yards as a rookie a season ago. It's more than Anquan Boldin, who holds the record for receptions as a rookie with 101. And it's even more than Randy Moss, who posted arguably the most impressive rookie season for a receiver of all time in 1998 with the Vikings. The court is (obviously) still out on Jefferson, but we all know how good those other two ended up being.
How is he doing it? A quick glance at his numbers would suggest he's being deployed strictly as a deep threat, and that's partly true. He leads the league in yards per reception with 21.5, and it isn't particularly close – second place is Henry Ruggs III, a deep threat in his own right, who is averaging two fewer yards. Chase also leads the league in yards per target with 14.8, putting him over a yard clear of Eagles wide receiver Quez Watkins in second. And despite averaging the third most yards per game with 107.7 (trailing only Cooper Kupp and Deebo Samuel, and ahead of receivers like Davante Adams and Tyreek Hill), he's only hauling in 5 receptions per game, which is tied for 35th.
So, yes. Statistically, it's easy to suggest Ja'Marr Chase is a deep threat. But referring to him as only a deep threat sells him short. He's far more complete than that.
Chase can run almost any route on the tree. Whether he's streaking up the seam, running a slant over the middle, or cutting to the sideline on an out route, he can do it all. Statistically, that's shown by his average depth of target – how far away from the line of scrimmage he is when the quarterback releases the ball. While Chase leads the league in yards per reception, he's only 14th in ADOT (14.9 yards).  Yes, he's still catching the ball deep in the secondary, but he also knows how to turn and run once the ball is in his hands.
I love the way Zac Taylor is using the entire route tree for @Real10jayy__ . Coming in I felt if he was used only as a deep threat it played into Marlon Humphrey's hands, but he's given him square ins, slants, come backs, hitches. It's been fun to watch 1's route precision.

— Ryan Clark (@Realrclark25) October 24, 2021
In fact, the best play of Chase's career so far depicts exactly that. On a 3rd and 2 from the 18-yard line against Baltimore in Week 7, Chase posted the the second-longest touchdown play of the season (soon to be surpassed by D.K. Metcalf's 84-yard score on Monday Night Football a day later). But it wasn't a deep ball that Chase ran fifty yards for. Instead, it was a simple slant that Chase caught five yards from the line of scrimmage. He bounced off a tackle, slipped out of another, and put a spin move on Charles Clark before running 76 yards to the house. It was a standard catch-and-run on one of the first routes you learn as a receiver in flag football, and Chase did the rest.
Joe Burrow & Ja'Marr Chase (82-yd TD)

Chase beats #44 Marlon Humphrey on a slant route for an 82-yard TD reception. Chase gained 76 yards after catch, +73 over expected, the most YACOE gained on any play over the last four seasons.#CINvsBAL | Powered by @awscloud pic.twitter.com/paTrxt2iyi

— Next Gen Stats (@NextGenStats) October 24, 2021
Ja'Marr Chase still has a long way to go if he actually wants to break "every record they got at the Bengals", like he proclaimed he would on draft night. The summit of the mountain is deceptively high. Cincinnati has had some damn good receivers in its history, after all.
But if the start to his career is any indication, he could be making Ochocinco and Green a little bit nervous.
Show Your Support
Support the Strike 7 Sports platform's growth by heading over to Fanatics.com and purchasing officially licensed gear from the National Football League. Each purchase made through the text link below goes into the funding of the Strike 7 Sports brand. To proceed, click on the link below and enjoy shopping over at Fanatics.